The 2009 Tavignano Verdicchio dei Castelli di Jesi Classico Superiore is a knock-out white wine from Italy' Marches that comes across as a real crowd pleaser. Made from 100% Verdicchio, it truly raises the bar and further pushes the envelope on quality in the pretty Castelli di Jesi DOC, a pastoral green region of central Italy that sits beside the Adriatic Sea. Bright in color, beguiling in bouquet, and full of flavor, Tavignano's Verdicchio offers up a cornucopia of scents and savors in the form of spring flowers, sweet almonds, heather, stone fruits, and a tangy freshness from the salt spray that emanates from the nearby sea. Full-bodied for a Verdicchio from Castelli di Jesi, Tavignano continues to evolve in the glass for up to an hour or more after opening, gaining length and depth as it emerges from a fresh core of fruit, mineral, and rarified air. Drink this wonderful white wine moderately chilled (40º-45º F), and as often as you can.
Verdicchio dei Castelli di Jesi serves admirably as the traditional fish wine of the Marches, and the 2009 Tavignano Verdicchio dei Castelli di Jesi Classico Superiore will play that role to the hilt. However, Tavignano's 2009 Verdicchio is much more than a pleasant fish wine. Flavorful and harmonious, it pairs beautifully with all kinds of hors d'oeuvres: salmon canapés, stuffed mushrooms, Caprese Salad (ripe red and yellow tomatoes with fresh basil and warm, thinly sliced mozzarella), and smoked Italian meats such as salami, sopressata, and mortadella. Traditional Paninis with cheese and prosciutto as well as grilled sweet Italian sausage with peppers and onions make fine companions to this wine, too. However, one should not neglect the affinity that fine Verdicchio has for accompanying the fruits of the sea. Therefore, lightly fried calamari, grilled rock fish in a tomato and herb broth, and even Cioppino, the spicy Italian version of Bouillabaise, make our list of favorite accompaniments to Tavignano's 2009 Verdicchio, but as you like it. Buon Appetito!
Tenuta di Tavignano is an ancient estate in Italy's Marches. And like so many antique Italian properties, Tavignano has undergone a metamorphosis in the past two decades. The estate's old farmhouse and 30 hectares of vines were taken over in the early 1990's by Beatrice Lucangeli and Stefano Aymerich di Lacaroni, scions of two noble Marchesan families. Together they have implemented a total makeover at Tavignano by replanting the vineyards, completely renovating the 16th century farmhouse, and constructing a new underground winery. With this resurrection has come a meteoric increase in the quality of the wines made at Tavignano, so much so that noted wine critic Robert Parker Jr. once remarked that Tavignano produced "one of the two finest Verdicchios I have ever tasted," and we heartily agree. In addition to producing renowned Verdicchio, Tavignano fashions three excellent red wines, all from indigenous Marchesan varietals. They are Rosso Piceno, Esino, and Colli Maceratesi. Total production at Tenuta di Tavignano is evenly split between Verdicchio and the three red wines. We suspect you will be hearing a lot more about this property as the decade long renovation is now complete and the quality of the wine excellent.
Verdicchio is a white grape variety indigenous to the Marche region of Italy as well as the name of the Marche's most popular white wine. Verdicchio is derived from the word verde, which means green, due no doubt to the grape's greenish yellow hue. Verdicchio is a commonplace name among wines consumers, and so is the striking but hopelessly impractical fish-shaped bottle that encapsulates the most commercial and usually least exciting of Verdicchio's wines from the Castelli di Jesi DOC. However, very few experts and consumers alike know that there are two appellations for Verdicchio in the Marches, Castelli di Jesi and Matelica, and both these appellations produce some of Italy's most pleasing white wines, especially from small estates. High quality Verdicchio is noted for its bright acidity, freshness, and nutty flavors. It is easily the white wine of choice along Italy's Adriatic Coast. And depending upon the vagaries of terroir and attention, Verdicchio can be a light, fresh, eminently drinkable every-day quaff or a wine rich in aroma, flavor, and structure that can age for several years or more in bottle as it the case with Tavignano and other hand crafted Verdicchios. Up to twenty percent of Trebbiano and/or Malvasia, two other local varietals, are permitted in Verdicchio. However, the finest versions like Tavignano contain only 100% Verdicchio.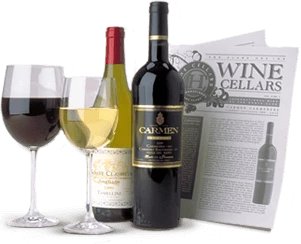 Enjoy Limited Production Estate
Bottled Wines
Discover limited production estate bottled wines such as Vergenoegd's internationally
acclaimed 2005 Cabernet Sauvignon, imported exclusively for our members.
DISCOVER OUR FOUR CLUBS