Year after year Tamellini's Soaves consistently impress critics and consumers alike, as the many 90+ point scores for Tamellini Soaves readily attest. However, no Tamellini Soave DOC to date outshines the quality and purity of the 2014 Tamellini Soave DOC. In the splendid 2014 vintage, Tamellini fashioned an irresistible white wine of delicacy, finesse, flavor and superb minerality. Tamellini's 2014 Soave DOC once again offers Garganega's eye-appealing glint of sunshine from the moment it is poured into the glass. It follows through with hauntingly delicate aromas of acacia, orchard fruits, and wildflowers, which also happily emerge in the mouth to gratify the senses as well as the thirsty throat. Although characteristically light and delicate, there is no lack of flavor here. This 2014 Tamellini Soave finishes with a flourish, making a graceful exit that displays a pleasant hint of raw almond as well as Garganega's subtle minerality and alpine freshness born of its proximity to Lake Garda. To capture all of the delicacy, ethereal flavors and unparalleled freshness that the 2014 Tamellini Soave DOC has to offer, we suggest only moderate chilling (40º-45º F).
Year in and year out, Tamellini Soave provides the perfect opening act to parties and intimate gatherings. In fact, it is one of our go-to aperitifs and starters. The 2014 Tamellini Soave DOC is not only the ideal aperitif because of its ability to cleanse the palate and enliven the soul, it also complements all kinds of seafood, especially white fish, scallops, shrimp, hors d'oeuvres, caviar, and even smoked salmon or trout. It provides superb companionship to chicken, pork, pasta, and risotto, too. A simple mushroom and cheese risotto makes a splendid companion to any Tamellini Soave. As with any estate bottled Soave, it is best to avoid heavy tomato sauces, raw garlic, and piquant spices as companions to the elegant 2014 Tamellini Soave DOC or any Garganega wine, as those condiments may obscure the delicate charm, freshness, and personality of the complex Garganega varietal. Conversely, a platter of mild goat or cow's milk cheeses served with apples, pears, and freshly baked bread will almost always provide an ideal accompaniment to Tamellini's 2014 Soave DOC. Enjoy!
The wines from Soave's top producers continue to impress consumers and connoisseurs alike. Yet, in spite of Soave's recent meteoric rise in quality and availability, less than two dozen growers estate-bottle their Soave today and even fewer fashion their Soave from 100% Garganega – the zone's premier varietal. This state of affairs continues to perplex nearly everyone, especially when one considers that Soave is the largest white wine-producing DOC in Italy. Instead, most Soave growers still provide grapes or bulk juice to be blended into any number of pleasant but innocuous brands of Soave that a few large commercial ventures, whose only current claim to fame is that they have become household names, churn out by the truckload. Until his first commercial bottling in 1998, Gaetano Tamellini was one of those nameless, faceless suppliers, whose superlative Garganega grapes were sold to the massive Soave Cooperative to be diluted with inferior Trebbiano and ground down into the lowest common denominator, despite the consistent, superlative quality of fruit from his prime hillside sites. Fortunately, all that has changed; today, Tamellini stands as a beacon of quality and one of just a handful of Soave producers who makes Soave purely from the elegant, complex Garganega grape.
With the assistance of Paolo Caciorgna, one of Italy's most accomplished white wine makers, Gaetano Tamellini and his brother Pio Francesco took a great leap of faith in 1998 and began estate-bottling their Soave, including exquisite single vineyard offerings. And recently, Tamellini released a delicious Spumante Metodo Classico (made with 100% Garganega grapes in the traditional method). Each of Tamellini's delicious Soave wines expresses the blithe, elegant spirit of Soave. Tamellini Soaves are the kinds of white wines that originally made Soave famous years ago, when writers and cognoscenti alike sang the praises of the Veneto's most enjoyable white wine.
Until several years ago, the Tamellini brothers fashioned at least three distinct Soave wines:Anguane, Le Bine, and the zone's most pleasurable Soave DOC (this month's feature). However, Anguane is a very old vineyard that now requires replanting, so, with the exception of a miniscule amount of Le Bine, all of the estate's finest grapes presently go into Tamellini's Soave DOC, putting Tamellini's Soave DOC (this month's feature) into a class by itself. Tamellini's Soave demonstrates such expressive flavors, purity and precision that it has affectionately been dubbed "the Pouilly-Fuissé of Soave."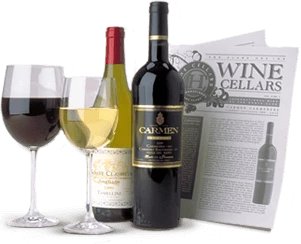 Enjoy Limited Production Estate
Bottled Wines
Discover limited production estate bottled wines such as Vergenoegd's internationally
acclaimed 2005 Cabernet Sauvignon, imported exclusively for our members.
DISCOVER OUR FOUR CLUBS