The 2007 vintage in Northern Italy has turned out to be excellent one for white wines, and the 2007 Tamellini Soave DOC presents itself as one of the stars of the vintage. And just when we thought this estate's outstanding 2005 Soave DOC would be difficult to eclipse, the 2007 Tamellini Soave comes along and outshines all other takers. Tamellini Soave is everything authentic Soave ought to be . . . and more. It sports a light golden robe, a beguiling nose, and a long, lingering, satisfying finish. Reminiscent of the finest Pouilly-Fuissé, the 2007 Tamellini Soave personifies elegance, breed, and plain good, old-fashioned drinking pleasure. Its bouquet is a gratifying combination of ripe creamy fruit, lemon zest, acacia blossoms, and fresh picked almonds. On the palate, a subtle minerality emerges, too, from the wine's textured fruit to provide elegance and a good dose of lip smacking flavors. In fact, several bottles of the 2007 Tamellini Soave disappeared in record time at our last panel tasting, and the dump buckets looked mighty parched after the fact. It's a good thing we learned from the last time we tasted Tamellini wines to have an extra bottle or two of Gaetano's Soave on hand to avoid coming to blows over the last few drops. We suggest serving the 2007 Tamellini Soave only moderately chilled (40º-45º F).
The 2007 Tamellini Soave DOC provides the perfect opening act to a party or intimate gathering. As an aperitif it cleanses and enlivens the palate and amply prepares the senses for the next great gustatory delight. Moreover, this sophisticated Soave provides plenty of pleasure, with and without food. It joyfully accompanies nearly all kinds of white fish, scallops, shrimp, hors d'oeuvres, caviar, and even smoked salmon or trout. It provides superb companionship to chicken, pork, pasta, and risotto, too. A simple mushroom and cheese risotto with a glass of Tamellini Soave can truly make one's day. The only caveat when pairing this Soave with food is that it would be shameful to obscure some of its charm, freshness, and personality by pairing it with obtrusive fare. Consequently, we suggest avoiding heavy tomato sauces, raw garlic, and heavy spices when choosing companionship for this superlative white wine. If in doubt, a platter of mild goat and cow's cheeses, served with apples, pears, and freshly baked bread, offers a terrific simple accompaniment to Tamellini's handicraft that is sure to please. Enjoy!
The wines of Soave have never been better. However, in spite of Soave's recent meteoric rise in quality and availability, only a few dozen growers estate-bottle authentic Soave. This comes as a shock to most consumers and critics alike, especially when one considers that Soave is the largest white wine-producing DOC in Italy. Most Soave growers still provide grapes or bulk juice to be blended into any number of pleasant but innocuous brands of Soave that a few large commercial ventures, whose only current claim to fame is that they have become household names, churn out by the truckload. For many years Gaetano Tamellini was one of those nameless, faceless suppliers, whose superlative Garganega and Trebbiano grapes were sold to the massive Soave Cooperative to be ground down into the lowest common denominator, despite the consistent, superlative quality of fruit from his prime hillside sites. Today, Tamellini can claim to be one of Soave's premier estates as its wines constitute the DOC's finest production. When Soave is born on meticulously tended hillside vineyards that are not ridiculously over cropped; when the passions of the wine grower are noble and aspire to excellence; and when the wine is produced from the Soave's noble Garganega grape alone or with, perhaps, just a touch of the delicate and ethereal Trebbiano di Soave that locals refer to as Verdicchio, then Soave is truly an outstanding wine, magical and irresistible, too. Welcome to the world of Gaetano Tamellini and his exciting and delicious Soave. Each of Tamellini's classic Soaves provides pure drinking pleasure and proof that Soave can be much more than a pleasant quaff. With the assistance of Paolo Caciorgna, one of Italy's most accomplished white wine makers, Gaetano and his brother Pio Francesco took a leap of faith in 1998 and began estate bottling their Soave, including two exquisite single vineyard offerings, Anguane and Le Bine. Each of these ancient vineyard sites expresses the blithe, elegant spirit of true Soave in its own unique way. Tamellini Soaves are the kinds of white wines that originally made Soave famous years ago, when writers and cognoscenti alike would sing the praises of the Veneto's most enjoyable white wine. Until recently, the Tamellini brothers would fashion at least three distinct Soave wines: Anguane, Le Bine, and the zones most pleasurable Soave DOC. However, Anguane is a very old vineyard that now requires replanting, so with the exception of a miniscule amount of Le Bine all of the estate's finest grapes presently go into Tamellini's Soave DOC, putting it into a class by itself. Tamellini's Soave DOC demonstrates such rich fruit and great strength of flavor that it has been dubbed "the Pouilly-Fuissé of Soave" – no mean feat. In an ideal world, one has a case of Tamellini Soave in the cellar and a bottle or two in the cooler; Tamellini's Soave is truly enticing and nothing short of amazing which makes us wonder why more dedicated Soave growers don't take the hint and start putting out the real deal – authentic, sensual, fulfilling Soave that is one of the world's most enjoyable white wines. And unlike the vast majority of Soaves, Tamellini's wines age beautifully for up to four or five years in bottle, so no need to rush through the pleasure.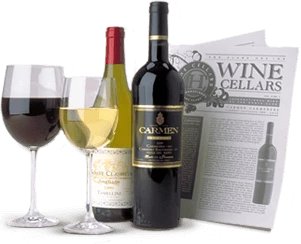 Enjoy Limited Production Estate
Bottled Wines
Discover limited production estate bottled wines such as Vergenoegd's internationally
acclaimed 2005 Cabernet Sauvignon, imported exclusively for our members.
DISCOVER OUR FOUR CLUBS