Zinfandel has been dubbed "California's Chameleon." More than any other grape variety grown in California, Zinfandel adapts to its environment to reflect its terroir and the whims of its winemaker. Michael Talty's 2014 Dry Creek Valley Zinfandel (90% Zinfandel, 7% Petite Sirah, 3% Carignane) embodies the best of Old World and New World winemaking, resulting in a wine that exhibits the pure fruit and brambly elements that Dry Creek Valley happily imparts to its finest Zinfandels along with the added complexity and vitality that Old World-style fine-grained tannins impart. Rich in color and hauntingly aromatic with savory scents of dark berries and bramble, the 2014 Talty Dry Creek Valley Estate Zinfandel immediately establishes itself as a cut above. No wonder Vivino ranked it number 8 of all wines in the world in 2019. Cropped at 2 tons per acre, this Zin's deep-down fruit flavors infused with bramble, spice, black pepper and just the right amount of toasted oak thoroughly delights the palate. The 2014 Talty Dry Creek Valley Estate Zinfandel personifies Dry Creek Valley Zinfandel – a wine whose bold flavors embody its distinctive New World home at the same time that they recall its Old World origins. For optimum enjoyment we strongly suggest affording the 2014 Talty Dry Creek Valley Estate Zinfandel at least 15-20 minutes of aeration before consuming it at cool room temperature (58°-62° F). Many thanks to Michael Talty for his willingness to share his library selection of 2014 Talty Dry Creek Valley Estate Zinfandel with us. Enjoy!
Given its Dry Creek origin and suave personality, the 2014 Talty Dry Creek Valley Estate Zinfandel provides the ideal partner to foods rich in flavor, spice, and soul, whether that be at a fine dinner party or as a mid-week treat. As a distinctive American wine of European origin, consider serving Talty's complex Dry Creek Zinfandel with Braised Lamb Shanks or Loin Lamb Chops served with flash fried broccolini. A seasoned New York Strip grilled to perfection and accompanied by a creamy mushroom risotto provides another winning combination. For those looking for something leaner, consider pairing Talty's Zin with Ground Turkey and White Bean Chili. Veggie burgers topped with goat cheese and organic greens also provide tasty complements to this Zin. Many traditional Italian and Mediterranean classics make splendid companions, too. Penne Pasta with Tomatoes, Olives, Havarti and Parmesan cheeses or nearly any pasta with a creamy Bolognese sauce pairs beautifully with Talty's tasty estate Zinfandel. Burrata and Pasta Fresca, made with fresh buffalo mozzarella, basil, vine ripe tomatoes, olive oil, and herbs also make a splendid statement in the company of Talty's 2014 Dry Creek Valley Zinfandel. Buon Appetito!
Talty Vineyards grows and produces only one varietal, Zinfandel, in the heart of Sonoma County's Dry Creek Valley. Dry Creek has been dubbed "Zinfandel Country" because of the quintessential quality of Zinfandel that emanates from the appellation and the sheer proliferation of old vines that grow dry-farmed and head-pruned in Dry Creek Valley.
Talty is a tiny estate named in honor of William Talty, Michael Talty's father, whose dream it was to own a vineyard and winery. Michael Talty purchased the property in 1997 and quickly turned it into one of California's most prized Zinfandel estates. Although Talty remains a diminutive six-acre estate devoted solely to Zinfandel, the quality of each of the Zinfandels from this boutique venture is irrefutable, as is the meticulous care and attention given each small batch. Talty's old vines (the vineyard was planted in 1963) are cropped to 2 tons per acre or less to insure the ultimate in concentration and intensity. All of Talty's Zinfandels are fermented with wild yeasts in open-top bins before spending at least a year in barrel and an additional year in bottle before release.
Talty presently fashions four top Zinfandels, the William Talty Estate Dry Creek Valley Zinfandel (this month's feature) and three single vineyard offerings, including a tiny production from Dry Creek's Buchignani Garcia Vineyard. Although not a Talty wine, Michael Talty's talented nephew, Dustin Pfaff, fashions an outstanding Petite Sirah at Talty from the prized Bernier Vineyard in Dry Creek Valley.
Although its DNA points to Eastern Europe's Primitivo grape as its ancestor and its New World appearance still remains under investigation, Zinfandel has been dubbed "America's own grape variety." In California, Zinfandel produces a wine quite different from its Croatian and Italian forebears, and nowhere is that more apparent and welcome than in Sonoma County – the spiritual home of Zinfandel. In Dry Creek Valley and along the banks of Sonoma County's Russian River, Zinfandel relishes the cooling Pacific breezes that funnel up the appellations' canyons and valleys, allowing the fruit to bask in the long, dry summer afternoons, which will bring Zinfandel to the pinnacle of perfection. Zinfandel's deep, rich colors, intense berry, bramble, and herb flavors, high alcohol, and lush tannins result in wines that fill the mouth and satisfy all of the senses. One of Zinfandel's keys to success is its extraordinary lifespan, which enables it to produce quality fruit well into old age. In fact, the oldest Zinfandel vineyards (many in California are in excess of 100 years of age) are the most prized. Zinfandel can be quite versatile, too (think White Zinfandel as well as many of California's most celebrated and intense red wines). As an immigrant to our shores, Zinfandel embodies the American experience. It is a grape that has transformed itself over the last century and a half and honed its own unique identity. In the eyes of many, Zinfandel has evolved into a bigger, better, and more complex grape since its arrival in America and acquired an attitude and identity all of its own.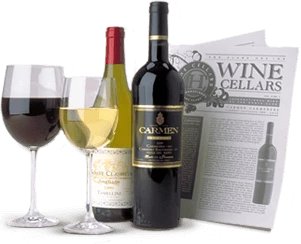 Enjoy Limited Production Estate
Bottled Wines
Discover limited production estate bottled wines such as Vergenoegd's internationally
acclaimed 2005 Cabernet Sauvignon, imported exclusively for our members.
DISCOVER OUR FOUR CLUBS