The 2004 Surfrider is no ordinary California red. It is an expertly crafted meritage selection consisting of Merlot, Cabernet Sauvignon, and Petit Verdot from Rosenthal's estate vineyards. Deeply colored, rich, and full-bodied, Surfrider captures all the aromatic fireworks and intense fruit of the finest reserve offerings from Rosenthal's The Malibu Estate. As one ventures further into Surfrider, the thrill really begins. Blackberry, cassis, an plenty of jammy red fruit flavors slide into the wine's long, dry, intense finish, so hold on for the ride. This majestic red captures the essence of the great Malibu Canyon AVA (American Viticultural Area) with great flavor, purity, and intensity. In addition, Surfrider is further testimony to the outstanding quality of the 2004 vintage in Southern California and a reminder of the supreme winemaking acumen of Christian Rougenet, Rosenthal's talented winemaker. Anticipated maturity: 2007-2014.
One of the most endearing characteristics of the 2004 Surfrider, and all Rosenthal estate wines for that matter, is how easily it pairs with simple fare as well as sophisticated dishes. Even in its youthful splendor, Surfrider is without peer: it is also the rare meritage offering that can stand on its own and beguile. And for those who insist on an accompaniment, a platter of soft, ripe cheeses provides a noble feast to accompany Rosenthal's latest enological success. Port Salut, Havarti, and Muenster constitute some of our favorite cheese selections with this wine. However, for dinner parties and more elaborate meals, we suggest Osso Bucco or grilled lamb chops that have been brushed with extra virgin olive oil and sprinkled with fresh rosemary and thyme. And for those less disposed to lamb, we recommend the finest cuts of beef. Pork, game, ostrich and venison also offer top-notch accompaniments to this wine. Traditional Greek and Lebanese specialties work well, too, especially for those not given to sensory overload. Enjoy!
Surfrider is a special bottling of Bordeaux varietals by Rosenthal The Malibu Estate. The grapes for Surfrider come exclusively from Rosenthal's estate in Newton Canyon, just four miles from the renowned beach and surfers' haven at Malibu. Although only four miles away from the beach as the swallow flies, Rosenthal's vineyards are eons away in terms of climate and terroir. All of Rosenthal's vineyards are situated above the coastal fog line, at least 1,400 feet above the sea, and they are completely sheltered from the salt and spray of the Pacific. These vineyards do, however, receive cooling breezes, which intensify the aroma and fruit for which Rosenthal's The Malibu Estate has become justly famous. When do wine and surf come together? When one takes the first sip of the amazing 2004 Surfrider Red. Since many people associate Malibu with beautiful beaches and surfing, Rosenthal Estate Wines designed a label and designated a special wine that incorporate Malibu's unique coastal lifestyle with fine wines. In doing so, Rosenthal Estate Wines has partnered with the Surfrider Foundation, a grassroots, non-profit, environmental organization that is dedicated to protecting the oceans, waves, and beaches along our shores. Rosenthal Estate Wines donates a percentage of the profits from Surfrider to this worthwhile organization. Rosenthal The Malibu Estate is truly a boutique winery that crafts limited quantities of award winning wines, which makes each bottle of wine from this estate a rare and precious commodity. Only 429 cases of the 2004 Surfrider Red was produced, but this outstanding meritage offering is not only rare, it is exceptional in quality as well as in purpose. Surfrider has already garnered four gold medals in four major wine competitions, including Gold Medal and Best of Class from the prestigious West Coast Wine Competition. We are grateful for the opportunity to feature the 2004 Surfrider Red and wish to offer our thanks to the folks at Rosenthal Estate Wines for sharing such a limited release with us. So, What is a Meritage? Meritage is California's answer to Bordeaux. It is also a term that has come in vogue in the last decade to describe New World blends that are made from traditional red Bordeaux varietals. Therefore, a meritage wine is essentially a blend of three or more traditional red Bordeaux grapes with Cabernet Sauvignon, Merlot, and Cabernet Franc the most notable participants. Malbec and Petit Verdot are the other two possible players. However, there are no legal or proscribed percentages for each grape variety in a meritage wine, so producers are permitted to vary how much of each varietal finds its way into the final offering, much as Bordeaux Châteaux vary their cepages or blends depending upon the estate's desired style of wine and the vagaries of each individual vintage. Nearly all meritage wines must eschew the name of a single varietal on the label because varietal bottling requires that at least 75% of a single variety (in California and in most other states) be present in a blend to be labeled as such. The minimum requirement for varietal labeling in Europe and in most other New World producing wine countries as well is 80%.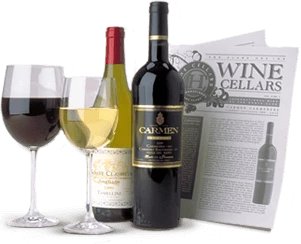 Enjoy Limited Production Estate
Bottled Wines
Discover limited production estate bottled wines such as Vergenoegd's internationally
acclaimed 2005 Cabernet Sauvignon, imported exclusively for our members.
DISCOVER OUR FOUR CLUBS