The adage "the scent alone of a great wine is worth the price of admission" is certainly true in the case of the 2012 Stolpman Vineyards Ballard Canyon Estate Syrah. It offers up a heady aroma of wild forest berries mingled with the soft scents of lavender, violets and rose petals from partial whole-berry fermentation. In the mouth, the wine displays a wealth of flavors, too, along with a velvety texture over a core of beautifully ripe, well-integrated tannins. Reminiscent of some of the great Syrah wines from France's Rhône Valley, the 2012 Stolpman Ballard Canyon Syrah offers depth and complexity along with a big mouthful of hearty Syrah. In order to fully appreciate this exceptional Syrah we strongly suggest serving it at cool room temperature after decanting it for an hour. You can also lay down this Stolpman Estate Syrah for further ageing; it should mature beautifully up to a decade or more in the exceptional 2012 vintage.
The youthful 2012 Stolpman Vineyards Ballard Canyon Estate Syrah warrants a place at any splendid table. Châteaubriand or Filet Mignon served Bordelaise style in a simple red wine reduction sauce offers an ideal complement to Tom Stolpman's 2012 Estate Syrah. Chicken Marsala in a mushroom and Marsala wine sauce and Crown Roast of Pork encrusted with an herb and black olive paste provide more excellent pairings with this wine. Another favorite pairing is a Vegetarian Bouché consisting of roasted root vegetables in a pastry shell. Serve this dish with roasted baby organic potatoes brushed with of olive oil and fresh rosemary. A traditional ratatouille with eggplant, zucchini squash, and plenty of garlic and Provençal herbs offers yet another tasty complement to Stolpman Vineyards classic 2012 Ballard Canyon Estate Syrah. Enjoy!
Stolpman specializes in the production of outstanding Syrah from 153 acres in Ballard Canyon from vineyards that spread along three major limestone ridgelines in California's Santa Barbara County. By implementing revolutionary viticultural techniques, Tom Stolpman has pushed his dry-farmed limestone vines to unprecedented levels of quality. Tom is a founding partner in Stolpman Vineyards and a driving force behind Ballard Canyon receiving designation as its own, unique American Viticultural Area (AVA).
In addition to making top ranked California Syrah, Stolpman Vineyards also cares for the land and the people who make the wine and tend the vineyards. Stolpman farms sustainably, employs no migrant labor and shares profits with all of its workers. Tom and his family along with winemaker Sashi Moorman and viticulturalist Ruben Solorzano head a team that values people and quality of life above all else. We invite you to taste and enjoy all that is good about Stolpman wines.
Ballard Canyon enjoys its own distinct American Viticultural Area (AVA) within Santa Barbara County thanks to Tom Stolpman and a few other like minded individuals who recognized the unique climate and terroir of the area decades ago and pioneered its planting. Ballard Canyon enjoys cool maritime influences from the Santa Rita Hills to the west and warmer temperatures from Happy Canyon to the east. With wind, soil and climate all conducive to the production of great Syrah, Ballard Canyon has become a premier source for exceptional Syrah. Possessing the finesse and complex aromatic profiles of the finest Syrah from France's Rhône Valley as well as the beautiful fruit and physiologically ripe tannins that make California wines so appealing, Ballard Canyon truly shines with this grape variety, so much so that Ballard Canyon is becoming synonymous with great Syrah throughout the world. What Napa Valley is to great Cabernet Sauvignon, Ballard Canyon is to Syrah.
Syrah has been grown for centuries in the Rhône Valley of France, where it is responsible entirely or in part for many of the greatest wines of France (Hermitage, Côte Rôtie, and Châteauneuf-du-Pape specifically). However, the exact origins of the deep purple grape of tremendous flavor known as Syrah remains a question to debate. Nonetheless, historians do seem to agree on several points. First, the variety was brought to Europe from the Middle East, yet when and by whom still remain mysteries. The other point that enjoys widespread consensus is that the name Shiraz, from the Persian city of that name, is the likely origin of the grape variety's name. In any case, Syrah or Shiraz flourishes today not only in the south of France but in other Mediterranean climates. It fares particularly well in Australia, California, Chile and South Africa, where it answers to either Syrah or Shiraz. But no matter the name, Syrah remains one of the world's finest grapes; it earns a place in every serious wine drinker's glass, but only long enough to bring a smile to one's face.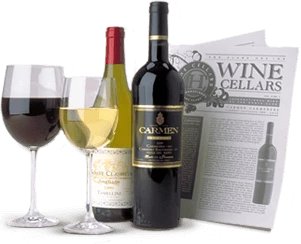 Enjoy Limited Production Estate
Bottled Wines
Discover limited production estate bottled wines such as Vergenoegd's internationally
acclaimed 2005 Cabernet Sauvignon, imported exclusively for our members.
DISCOVER OUR FOUR CLUBS