Stefano Massone never fails to turn in a first rate performance in fashioning exceptional Gavi, as the 2013 Massone Vigneto Masera Gavi will attest. A glass of Massone's Masera Gavi is about as sure of a bet in the world of wine as one can find. The 2013 Masera Gavi offers its usual beautiful straw-colored robe and delicate perfume resplendent with the scents of freshly squeezed grapes, spring flowers and lemon/lime zest. And of course there is Masera Gavi's calling card – a refreshing finish, so reminiscent of the mineral rich waters of a cold mountain stream. Add a soft but refreshing mid palate and impeccable balance to the wine's racy finish and Stefano Massone's 2013 Masera Gavi truly shines. By eschewing the use of oak barrel ageing in favor of highlighting Gavi's natural attributes, he imbues his wine with delicacy of perfume, subtlety of flavor, and a crisp refreshing finish. In the mouth, the savor of soft fruit, crushed flowers, minerals, and citrus oil meld with bright acidity. For optimal enjoyment, we suggest giving this delightful Gavi a moderate chill (about 40º F) before allowing it to slowly evolve in the glass. In fact, we prefer this wine with only a light chill in order to afford the youthful 2013 Vigneto Masera time to open and reveal its layered, nuanced charms. Salute!
Once again, we are impressed by the supreme elegance and purity in Stefano Massone's 2013 Masera Gavi. Consequently, a clean glass and an ample supply of Masera Gavi may be all that are required for the ultimate enjoyment of this wine, as Stefano Massone's 2013 Masera Gavi drinks beautifully as an aperitif. Although often served in the Piedmont as the prelude to a sumptuous meal, we are not apt to relegate this elegant and refreshing Gavi to the sole role of aperitif because well prepared seafood and a bottle of 2013 Masera Gavi can guarantee an incomparable dining experience. Sautéed Sea Scallops, prepared in a cream sauce with unsalted pistachio nuts and Mediterranean herbs, is one of our all time favorite dishes with Massone's Masera Gavi. Pan Seared Red Snapper, Stuffed Flounder, and Sautéed Grouper provide delicious accompaniments to this wine as well. A simple Pasta Primavera and delicately prepared Chicken Francese offer two more outstanding choices of accompaniment. In addition, most cream based sauces and soft cow's milk cheeses pair nicely with Gavi, as the Cortese grape possesses a true affinity for cheeses as well as the fruits of the sea. Enjoy!
Stefano Massone has crafted a model estate in Gavi, and consistently from year to year Massone's Gavis rank as some of the most enjoyable white wines in all Piemonte. Massone works a mere 8 hectares (or just a little less than 20 acres) from which he fashions two exceptional Gavis from two special vineyards: Vigneto Masera and San Cristoforo. Located in Capriata d'Orba in the southeastern section of the Gavi DOC, Massone's vineyards enjoy prime southern exposures.
Stefano Massone is a rarity in Piedmont: he produces only white wine and from a single grape varietal. At his estate, the blithe Cortese varietal rules, and there are no compromises or cut corners. Quality is paramount. Consequently, the estate's Masera and Cristoforo vineyards are farmed organically. There are no herbicides, pesticides, fertilizers, or systemic chemicals used in the vineyards. The rows of vines are sown with ground cover, which is either tilled or mown to turn to humus in alternating fashion. Furthermore, yields are kept very low to assure ripeness and sulfite usage is at a minimum. All of this care allows Massone himself to ferment the delicate golden clusters of Cortese di Gavi to perfection in his modern winery.
In the north of Italy, nestled just between the gleaming Mediterranean Sea and the great Alpine wall as it tumbles out of Switzerland, lies Piemonte, Italy's Piedmont. It is a region of myriad beauty. It is also the region of Italy closest to France in proximity as well as in the sheer quality and variety of exceptional wines it produces. For centuries, Italy's Piedmont remained a prize to be won among warring European powers; no doubt at least in part on account of the province's world famous cuisine that still draws happily on the abundance and quality of local truffles. Yet today, it is the superbly made wines of Italy's Piedmont that garner the most international recognition: complex, hedonistic red wines, still delicate whites such as Gavi, and sweet haunting Muscats. With such exquisite fare, should anyone question why the wines of the Piedmont and the hearty robust delights of the Piedmontese table remain the region's most famous ambassadors to a hungry and thirsty world?
Gavi has been likened to white Burgundy, but the comparison does neither wine justice. At their best, Gavi and white Burgundy possess ripe, rich fruit, a clean mineral quality, and ideal balance, but Gavi will always remain a more delicate wine than white Burgundy. The Cortese varietal, from which authentic Gavi is born, coupled with the soil, climate, and ultimate terroir of the Gavi zone render a decidedly different wine from white Burgundy. Gavi will almost always be the lighter, drier, more ethereal wine, but none the less for the difference. True Gavi provides perfect balance, delicate fruit, and vibrant acidity, which makes it ideal as an aperitif.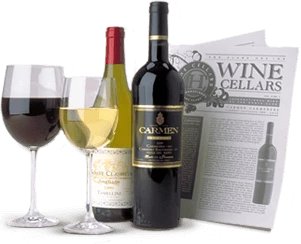 Enjoy Limited Production Estate
Bottled Wines
Discover limited production estate bottled wines such as Vergenoegd's internationally
acclaimed 2005 Cabernet Sauvignon, imported exclusively for our members.
DISCOVER OUR FOUR CLUBS