As one would expect from a Garnacha Tintorera, Sillares' 2017 Almansa Garnacha Tintorera sports an intense, opaque purple robe, but that's not all this wine has to offer. The wine's bouquet offers a delightful array of aromas, beginning with ripe red and black fruits, freshly cut fennel, and subtle wood smoke, vanilla, and spice tones, the latter the result of 6 months in small oak barrels. In the mouth, the buxom 2017 Sillares Garnacha Tintorera further flashes its overt charms by offering plush, textured berry flavors, hints of licorice, and polished tannins. Ripe, fleshy, and brimming with flavor, the 2017 Sillares Garnacha Tintorera finishes long and pleasant, too. For optimal enjoyment, we suggest allowing this wine to breathe at least 10-15 minutes before consuming it cool (56°- 60° F). Enjoy!
As a traditional Spanish red, the 2017 Sillares Almansa Garnacha Tintorera was made for the delights of the table, whether it is to accompany a Sunday roast, hearty mid-week stew, vegetable frittata, or any number of heady Spanish cheeses. In fact, most comfort foods and stick to your ribs kinds of dishes will find great companionship in Sillares' 2017 Garnacha Tintorera. Truffle Pommes Frites dusted with rosemary and melted Parmesan cheese, Texas Barbecue, slow-cooked briskets, and cassoulets top our list of companions to accompany a bottle of Sillares' 2017 Garnacha Tintorera. Bison ribs served with a savory vegetable and garbanzo bean mash topped with a dash of creamy habanero apple butter makes another tasty accompaniment to this rich and flavorful Garnacha Tintorera as neither the wine nor the food will overpower the other. Given the fleshy, robust nature of Garnacha Tintorera, one need not worry much about it being overpowered by many foods.
The 2017 Sillares Almansa Tintorera makes an ideal companion for many of Spain's most celebrated cheeses from cow, goat, and sheep's milk. Arzua-Ulloa, Mahon, and Tetilla from cow's milk, Idiazabal and Manchego from sheep's milk, and the delicious Queso Iberico, a mixture of cow, sheep, and goat's milk, provide especially fine complements to Spain's rich Garnacha Tintorera. To enjoy the world's finest cheeses or to learn more about gourmet cheeses, contact us at www.cheesemonthclub.com.
Terramagna Group is a family business that produces handcrafted wines from high altitude vineyards throughout Castilla La Mancha. Quality and innovation are this group's calling card. Terramagna controls nearly 750 acres of vineyards and has a team of trained enologists to assure full control in the production process and the highest standards of quality in each of the wines it fashions.
Terramagna's vineyards are comprised of more than 14 different grape varietals, including international grape varieties such as Cabernet Sauvignon, Syrah, Malbec, Pinot Noir, and Sauvignon Blanc as well local indigenous grapes such as Garnacha Tintorera, Tempranillo, Monastrell, and Verdejo. The vineyards lie at altitudes between 1,200 and 2,500 feet where they bask in the strong continuous sunlight of Castilla La Mancha's long, hot summers, an environment that is particularly well-suited to the region's autochthonous vines. Terramagna's ideal terroir allows the winery's team to create a bevy of expressive wines with extroverted personalities.
Garnacha Tintorera, also known as Alicante Bouschet, is a red-fleshed grape that possesses the rare distinction of being one of the world's only red grape varieties whose pulp is tinted the color of its skin. The pulp and juice of nearly every red or white vinifera grape variety is clear or amber with Garnacha Tintorera being one of the few exceptions. Such grapes bear the name teinturier after the French word for dyer. Garnacha Tintorera/Alicante Bosuchet is a cross between Grenache and Petit Bouschet, the latter itself a teinturier varietal whose two parents are Aramon Noir and Teinturier du Cher. Garnacha Tintorera/Alicante Bouschet owes its existence to the laborious work of 19th century viticulturist Henri Bouschet who bred two of southern Europe's most prolific varietals to boost the color and vigor of paler, less vital grape varieties.
Although developed in southern France, Garnacha Tintorera is considered to be indigenous to Spain's Castilla La Mancha Almansa D.O. where it has grown since its inception. Its fame and fortune has spread throughout sunny Spain and to other Mediterranean climates where long, hot summers allow the late ripening Garnacha Tintorera to mature fully. Outside of Spain, Algeria, California, Corsica, Israel, and Portugal have been the major beneficiaries of Garnacha Tintorera/Alicante Bouschet. The grape's attributes consist not only of a deep color, which can turn pale insipid reds into something more attractive and formidable, but in deep, rich berry flavors and an extremely high resistance to disease, especially to powdery mildew. When born of mature vines that have not been over cropped, Garnacha Tintorera produces rich, satisfying wines to accompany the heartiest of foods.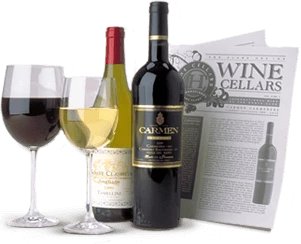 Enjoy Limited Production Estate
Bottled Wines
Discover limited production estate bottled wines such as Vergenoegd's internationally
acclaimed 2005 Cabernet Sauvignon, imported exclusively for our members.
DISCOVER OUR FOUR CLUBS