Soft, succulent, yet fresh and vivacious, the Signal Ridge Bubbles Méthode Traditionnelle Brut offers a very satisfying bubbly that delights the senses. For starters, it exhibits a light pretty bouquet replete with the scents of crisp mountain apples and freshly baked bread. Soft and expansive in the mouth, it glides easily across the tongue before exiting with ease and grace. Unlike most less expensive sparkling wines not made by the Méthode Traditionnelle , Signal Ridge finishes with the same charm it started with. It exhibits neither a flabby finish nor a harsh after burn to mar its performance. Give the Signal Ridge Brut a good chill (35°-40° F), pour it carefully, and then allow its pinpoint bubbles to work their magic as the tiny beads gradually reach for a more ambient temperature in your glass. Enjoy!
Signal Ridge's Bubbles Méthode Traditionnelle Brut provides an ideal way to celebrate an occasion or nothing at all. It makes for a splendid aperitif or a prelude to a sumptuous meal. It pairs easily with all kinds of hors-d'oeuvres, risottos, fish, and light meats. Shrimp, scallops, sautéed shellfish, and lightly fried tempura dishes offer especially tasty accompaniments to the Signal Ridge Brut. Tapas, smoked salmon with capers and onions, and terrines all pair nicely, too, with Roger Scommegna's tasty Méthode Traditionnelle . Steamed crab legs, lobster, prawns, and herb-roasted chicken served with a savory onion and sage stuffing offer other worthy accompaniments, while a plate of fresh fruit and soft, ripe creamy cheeses highlight the freshness and vivacity in the Signal Ridge Brut and constitute other worthy partners at table to accompany Signal Ridge's delightful Brut.
Editor's Note: Signal Ridge Brut is a wine under pressure. Consequently, it should always be well chilled before opening. Always exercise caution when opening a bottle of sparkling wine. Never use a corkscrew. Point the bottle away from people and objects. Use a clean towel or cloth to firmly grip the bottle. Gently remove the wire stopper while firmly holding the cork in place. Then with thumb and forefinger, remove the cork slowly from the bottle. Do not let the cork fly. Enjoy!
Roger Scommegna is a renowned California winemaker and hotelier in Boonville, California where he runs the Boonville Hotel and Table 128 restaurant. In 2001, he teamed up with Charles Bieler and the much lauded Joel Gott to make wine. The trio named their wine company "Three Thieves," a name that is not only memorable but also synonymous with quality and value as "Three Thieves" has fast become one of the wine industry's fastest growing brands.
In his search for the ideal locale for growing Pinot Noir, Roger Scommegna discovered Signal Ridge Vineyard on a mountaintop high above Anderson Valley in Mendocino County. At an elevation of 2,742 feet, Signal Ridge Vineyard claims to be the loftiest vineyard in all of Napa, Sonoma, and Mendocino Counties. Here, Signal Ridge's unique geography just nine miles from the Pacific Ocean results in extreme variations in diurnal temperature, sometimes accounting for swings of as much 40-50 degrees Fahrenheit in less than a 12 hour period. This challenging terroir provides the ideal environment for growing cool weather grapes such as Pinot Noir and Chardonnay for fashioning Méthode Traditionnelle sparkling wines.
Méthode Traditionnelle refers to the traditional, painstaking method of producing sparkling wine that developed over centuries in the Champagne region of France. So synonymous today is the name Champagne with sparkling wine that the nomenclature has been applied generically and indiscriminately to any wine that bubbles, much to the regret of Champagne producers and contrary to international agreement. Authentic Champagne comes only from the Champagne district of France and meets all the approved legal requirements and standards of production, including absolute adherence to the painstaking Méthode Champenoise . Méthode Champenoise is known outside of Champagne as Méthode Traditionnelle . Méthode Traditionnelle requires that secondary fermentation take place in the bottle for sparkling Champagne.
The magic of fine sparkling wine made by the Méthode Traditionnelle comes from encapsulating the bubbles in the very bottle in which the wine begins its life. In the old days, long before the advent of technical wine equipment, temperature control, and central heating, the slow fermentation of grapes in the cool autumn air was often interrupted by winter's chill. With the onset of winter, fermentation would stop completely or at least appear to cease, so the wine was bottled and prepared for distribution. However, during the following spring, temperatures would rise and the fermentation process would begin anew. This delayed completion of fermentation is known as secondary fermentation. Secondary fermentation produces the beautiful bubbles and tiny streams of carbon dioxide that have come to enchant centuries of well wishers and hedonists. What began as serendipity is now one of the wine world's highest art forms.
Since the 17th century several historical personages have contributed to the development of what is now referred to as Méthode Traditionnelle . None is more renowned than Dom Perignon, the legendary blind monk and cellar master of the Champagne Abbey of Hautviller. Although Dom Perignon is often credited with the development of sparkling Champagne itself, the truth is he probably learned the rudimentary technique in southern France from the Benedictine monks at the Abbey at St. Hilaire. However, Dom Perignon was renowned as a master blender and he is credited with capturing the bubbling magic of Champagne by his introduction of wire wrapped cork stoppers and heavier, specially made bottles that contained the pressure of Champagne. Until his improvements were instituted, sparkling Champagne was known as vin diable (the devil's wine) because of its propensity for exploding its container – a potentially lethal proposition that surely rendered more than one monk blind.
Along with Dom Perignon, Le frère Jean Oudart and later The Widow Clicquot are two other historical figures who share in the development of the Champagne Process we now call the Traditional Method or Méthode Traditionnelle . Frère Oudart was a contemporary of Dom Perignon and did much to improve the bottling techniques of sparkling wine. Meanwhile, in the 19th century, Widow Clicquot is revered for her development of remuage or riddling in which each individual Champagne bottle is turned in specially made upright desks known as pupitres, so that the proliferation of sediment and dead yeast cells that naturally occur on account of the Méthode Traditionnelle would slide to the neck of the bottle and be released during what is referred to as disgorgement.
Thanks to centuries of improvements and some of the first true brand name marketing, Champagne and many other traditionally made sparkling wines enjoy a special place at celebrations and tables around the world.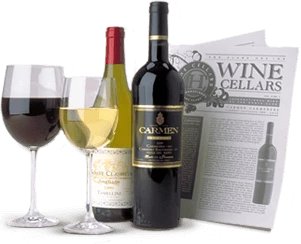 Enjoy Limited Production Estate
Bottled Wines
Discover limited production estate bottled wines such as Vergenoegd's internationally
acclaimed 2005 Cabernet Sauvignon, imported exclusively for our members.
DISCOVER OUR FOUR CLUBS