Dayne and Jill Sherwood continue to excel with Pinot Noir. The 2020 Sherwood Estate Waipara Valley Pinot Noir hails from another splendid vintage on New Zealand's South Island. Moreover, it is every bit as compelling as their expressive, highly touted 2019 Waipara Pinot Noir, as it continues to outshine many Burgundy and New World Pinot Noirs selling for twice the price. The succulent 2020 Sherwood Waipara Valley Pinot Noir offers delicious aromatics, beginning with beguiling scents of ripe cherries, strawberries and crushed cranberries. Charming, simply elegant, and so easy to drink, this medium bodied Pinot Noir follows through on the palate, delivering a delightful mélange of fruit, exotic spices, and a welcome vinosity. The 2020 Sherwood Waipara Valley Pinot Noir provides all the attributes one can expect from well-made, cool weather Pinot Noir: a floral bouquet, a cache of aromatic spices, and crunchy acidity that leaves the palate refreshed and ready for more. For optimal enjoyment, we suggest affording the Sherwood Estate 2020 Waipara Valley Pinot Noir 10-15 minutes of aeration before serving it at cool room temperature (58º-62º F). Anticipated maturity: 2023-2027. Enjoy!
In the company of meats, cheeses, and seafood, the 2020 Sherwood Estate Waipara Valley Pinot Noir positively shines, as New Zealand winemakers are especially adept at crafting wines to fit the bounty of their pristine islands and surrounding seas. Lamb, sheep's cheeses, and seafood dishes pair superbly with Dayne and Jill Sherwood's charming food friendly 2020 Waipara Pinot Noir. Lamb chops, brushed with olive oil and herbs, and grilled to perfection; a salad of fried sheep or goat cheese with red pepper jelly, caramelized onions, basil oil and arugula; calamari tossed with a light wasabi glaze and served over red bean salsa with chipotle remoulade, sprouts and fresh basil oil; seafood pasta salads; and tuna sliders with wasabi and caper aioli are just a few gastronomic delights to accompany Sherwood's delightful 2020 Waipara Pinot Noir. Salmon in a creamy fennel sauce and roast chicken with grilled shitake mushrooms provide tasty accompaniments, too, as does roast turkey in the company of an onion and sage dressing and a healthy side of roasted root vegetables and creamed onions. Enjoy!
A plate of soft cheeses or baked crusted cheeses (baked Brie with almonds and figs immediately comes to mind) in the company of a glass of the 2020 Sherwood Waipara Pinot Noir offers an excellent way to enjoy a bottle of wine or finish a special meal. Cantal and Comté provide wonderful companions, too, as will many sheep's milk cheeses. Moreover, Pinot Noir is a wine to linger over and ponder. It accentuates the flavors in many cheeses, adding immeasurably to every wine and cheese lover's pleasure. Join us at www.cheesemonthclub.com to discover the delectable world of gourmet cheeses!
Sherwood Estate is very much a family business, with Dayne and Jill Sherwood owning and operating their state of the art winery since 1987. Located in Waipara Valley on New Zealand's South Island, the Sherwoods have been two of the early pioneers of premium viticulture in Waipara. Waipara is the fastest growing wine region in New Zealand and an appellation that renowned Master of Wine Bob Campbell calls "one of the unsung heroes of the wine industry." In addition to their excellent estate holdings in Waipara, the Sherwoods own several outstanding vineyards in neighboring Marlborough.
Waipara Valley enjoys a unique location; it lies nestled against the leeward side of the Teviotdale Hills, which sit midway between Christchurch and Marlborough, New Zealand's most famous wine country. These hills admit the warm, drying northerly and westerly winds into Waipara Valley, but they also protect the area from the cold easterly winds that blow from the sea. Snuggling up against these hills with north facing slopes (the equivalent of a highly coveted south facing terrain in the Northern Hemisphere) provides the ideal sun trap for vines. The unique terroir of Waipara with its long, warm autumn days lends itself to the production of round, spicy Pinot Noirs and Rieslings, as well as world class Pinot Gris, Chardonnay and Sauvignon Blanc.
The Sherwoods fashion several lines of wine in limited quantities. Presently, the winery's Heritage Collection and Estate bottlings of Pinot Noir, Chardonnay, Riesling, and Sauvignon Blanc constitute the focus and flagship offerings of the Sherwoods' pioneering estate.
Although Pinot Noir was born in Burgundy a millennium before Cabernet Sauvignon made its appearance in Bordeaux, it also thrives in Champagne, California, Oregon, New Zealand, and in rare hallowed parcels across the planet in addition to its native Burgundy. However, the difficult to grow and often mercurial Pinot Noir varietal demands attention, a cool temperate climate, and a deft hand in the cellar. When all stars align, Pinot Noir yields light to full-bodied wines of stunning aromatics, depth, and length of flavor. Moreover, good Pinot Noir can age gracefully for as long as any wine when stored properly. Not surprisingly, it also yields the world's most expensive wine on average, which makes it all the more attractive to collectors and the grape variety's growing legion of admirers.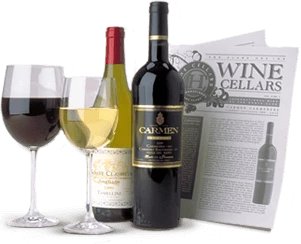 Enjoy Limited Production Estate
Bottled Wines
Discover limited production estate bottled wines such as Vergenoegd's internationally
acclaimed 2005 Cabernet Sauvignon, imported exclusively for our members.
DISCOVER OUR FOUR CLUBS