From the wine's crystalline sunlit hue to its graceful exit down the throat, the 2017 Sherwood Waipara Valley Pinot Gris brings a cheerful welcome that is sure to elicit a smile. An ethereal aroma of ripe apples, pears, and spring flowers wafts from the glass. In the mouth, Sherwood Estate's Waipara Pinot Gris glides across the tongue, delivering a smooth, sensuous texture along with beautiful orchard fruit flavors. Infused within the wine's ethereal fruit is a lively acidity that keeps this Pinot Gris in perfect balance. Moreover, Sherwood's Pinot Gris finishes long and smooth with a pleasant almond or apricot pit twist. Endowed with purity and a winning outgoing personality, it's easy to imagine consuming the better part of a bottle of this Pinot Gris without much more than a notice, but there is more to Sherwood's 2017 Waipara Pinot Gris than a good quaff. Serve it moderately chilled (40°-45° F). Enjoy!
Given the palate appeal and smooth texture of the 2017 Sherwood Estate Waipara Valley Pinot Gris, we found it to shine equally well on its own as an aperitif as it does in the company of a fine meal. In fact, it makes a good match for rich and spicy dishes that are ordinarily hard to pair with wines. Shrimp with vegetables in a red curry sauce, Asian stir fries, and lo mein provide especially tasty accompaniments to Sherwood's splendid 2017 Pinot Gris. Grao Prao and even a fully charged Thai Panang Chicken Curry with coconut milk shouldn't deter this balanced, flavorful Pinot Gris. On the milder side, scallops, salmon, and fresh spring rolls offer other complementary options. A healthy salad of lightly dressed organic greens, pear, crumbled blue cheese, and toasted walnuts provides another tasty companion to Sherwood Estate's Pinot Gris. One of this Pinot Gris's most desirable characteristics is its versatility. It has the ability to accompany almost anything or nothing at all. Cheers and Bon Appétit!
Sherwood Estate is very much a family business, with Dayne and Jill Sherwood owning and operating their state of the art winery since the late 1980s. Located in Waipara on New Zealand's South Island, the Sherwoods have been two of the early pioneers of premium viticulture in Waipara. Waipara is the fastest growing wine region in New Zealand and an appellation that renowned Master of Wine Bob Campbell calls "one of the unsung heroes of the wine industry." In addition to their excellent estate holdings in Waipara, the Sherwoods own several outstanding vineyards in neighboring Marlborough.
Waipara Valley enjoys a unique location; it lies nestled against the leeward side of the Teviotdale Hills, which sit midway between Christchurch and Marlborough, New Zealand's most famous wine country. These hills admit the warm, drying northerly and westerly winds into Waipara Valley, but they also protect the area from the cold easterly winds that blow from the sea. Snuggling up against these hills with north facing slopes (the equivalent of highly coveted south facing terrain in the Northern Hemisphere) provides the ideal sun trap for vines. The unique terroir of Waipara with its long, warm autumn days lends itself to the production of world class Pinot Gris, round and spicy Pinot Noirs, exquisite Rieslings with stunning fruit concentration, and equally appealing Chardonnays and Sauvignon Blancs.
The Sherwoods fashion several lines of wine in limited quantities with the winery's estate bottlings of Pinot Gris, Pinot Noir, Chardonnay, Riesling, and Sauvignon Blanc constituting the focus of the estate's handiwork.
Pinot Gris, a favorite grape of winemakers around the world, is a "white" grape variety that oddly enough is related to Pinot Noir. And, like Pinot Noir, its origins are Burgundy and northern France. Pinot Gris (gris means gray in French) derives its name from the unique smoky, grayish/blue color of its grapes. Pinot Gris has been identified since the Middle Ages and known by its present name for centuries. However, Pinot Gris has assumed several aliases over the years, including Pinot Grigio, Grauburgunder, and Ruländer. Moreover, this chameleon-like grape has traveled far and wide where it takes on different personas nearly everywhere it travels.
No longer grown in its native Burgundy region, Pinot Gris has found a home in nearby Alsace where it continues to be cultivated extensively. Alsace Pinot Gris is highly revered for producing rich, aromatic wines of great character. However, Pinot Gris can be made in a myriad of styles, depending upon the soil, climate, and personal choices of the winemaker. Testimony to Pinot Gris's reputation as a chameleon are the light, ethereal, mineral-driven Pinot Grigio wines of northern Italy, which bear little or no resemblance to their Alsatian cousins, nor the growing array of flavorful and more interesting Pinot Gris offerings from New Zealand and America's Pacific Northwest. In the hands of skilled winemakers, New Zealand, Oregon and Washington State fashion a burgeoning number of dry, highly aromatic wines from Pinot Gris of exceptional character, flavor, and distinction.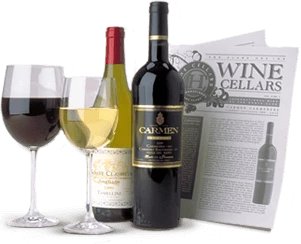 Enjoy Limited Production Estate
Bottled Wines
Discover limited production estate bottled wines such as Vergenoegd's internationally
acclaimed 2005 Cabernet Sauvignon, imported exclusively for our members.
DISCOVER OUR FOUR CLUBS