Sensuous and inviting with a powerful bouquet of black cherry, rose petals, and bergamot, the 2016 Shea Wine Cellars Shea Vineyard Pinot Noir (93 points – Wine Enthusiast, 92 points – Wine Spectator, 92 points - Vinous) is enticing from the moment the nose comes in contact with the wine. Supple and silky with ripe, well-integrated tannins, the 2016 Shea Vineyard Pinot Noir caresses the mouth and ingratiates the palate with a complex array of fruit and floral tones that glide gleefully down the throat. Beautifully textured, lively and provocative, the 2016 Shea Vineyard Pinot Noir combines the grace and complexity of Premier Cru red Burgundy with the pronounced fruit and structure of New World Pinot Noir. Simply delightful! What else should one expect from Dick Shea's marvelous Shea Vineyard? For optimal enjoyment, we suggest affording this elegant, charm-filled Pinot Noir at least 20-30 minutes of aeration before consuming at cool room temperature (58°-62° F). Enjoy!
What better wine could one bring to table than Dick Shea's 2016 Shea Vineyard Estate Willamette Valley Pinot Noir? The wine's multi-faceted personality lends itself to accompanying an array of culinary delights, which run the gamut from beef to fish. Yes, fish! Salmon prepared with a lemon-dill sauce or, better still, pan cooked salmon with baby bok choy, cabbage, and shitake mushrooms in a light ginger sauce makes a healthy, vivacious, downright tasty accompaniment to the 2016 Shea Vineyard Pinot Noir. Roast chicken or turkey served with onion, sage, and sausage stuffing makes another splendid companion. Classic Duck á l'Orange or a simple pan seared duck breast with Pinot Noir sauce makes another fine accompaniment. For an easy, delicious mid-week accompaniment, it's hard to beat a well-made panini with grilled Portabella or Shitake mushrooms, eggplant, zucchini, and your favorite cheese. Bon appétit!
Shea Wine Cellars and Dick Shea's iconic Shea Vineyard, which sit high in the Yamhill Foothills of Oregon's Willamette Valley, are the source of many of Oregon's greatest Pinot Noirs. Planted in 1989 and 1990, the estate's Shea Vineyard sprawls over 140 acres, commanding a bird's eye view of Willamette Valley. Nearly the entire vineyard is dedicated to Pinot Noir, Oregon's signature varietal. A remaining few acres planted to Chardonnay and Pinot Gris also produce award winning wines.
Well drained and completely dry farmed, Shea Vineyard is not only the source of Dick Shea's award winning, highly acclaimed Pinot Noirs, it is also the origin of many of the finest wines made by Oregon's top dozen winemakers. To be allocated grapes from Shea Vineyard, only winemakers with a proven track record for making the highest quality Pinot Noir are permitted to source grapes from Shea Vineyard, Oregon's undisputed "grand cru." Archery Summit, Beaux Freres, Bergström, Ken Wright, Panther Creek, and St. Innocent are just some of Willamette Valley's stars who have sought Dick Shea's magical Shea Vineyard Pinot Noir. California's Sin Qua Non has also been a happy recipient. A little more than a decade after planting, Wine Enthusiast proclaimed in its annual review of Oregon's wines, "It is no coincidence that our top two top rated wines… were made from fruit from Richard Shea's perennially superb Willamette Valley vineyard." Moreover, the list of award winning Pinot Noirs from Dick Shea's iconic vineyard continue to multiply.
Oregon's Willamette Valley was the destination and the dream of thousands of 19th century pioneers as they migrated west across the Great American Desert to "the promised land," a green oasis where crops and orchards bore fruit aplenty. Today, the Willamette Valley retains its original allure. It is the center of the Oregon wine and fruit industries and it has become a haven for many environmental and high tech industries.
Today, the Willamette Valley is home to more than two thirds of the wineries and vineyards in Oregon. At last count there were more than two hundred wineries in this broad and varied valley that follows the Willamette River from north to south for a hundred miles from the Columbia River to just south of Eugene. The Willamette Valley is one of the premier places on Earth for the cultivation of Pinot Noir, one of the finest, yet most difficult grape varieties to grow. So favorable is this land for Pinot Noir that Willamette Valley is mentioned in the same breath as Burgundy and a few select cool weather locations in California as one of the privileged places on Earth for growing the often magical, yet mercurial Pinot Noir grape. Willamette Valley, also, provides ideal terroir for Pinot Gris and other premium white varietals.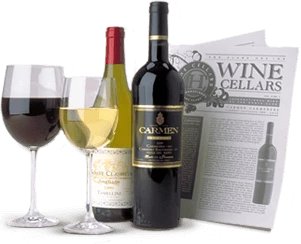 Enjoy Limited Production Estate
Bottled Wines
Discover limited production estate bottled wines such as Vergenoegd's internationally
acclaimed 2005 Cabernet Sauvignon, imported exclusively for our members.
DISCOVER OUR FOUR CLUBS