Sequum's 2019 Kidd Ranch Napa Valley Zinfandel is hedonistic and downright delicious. Produced from 100% Zinfandel grapes, this seductive, bold-flavored Zinfandel offers a beautiful deep garnet color, amplifying aromatics, and plenty of wild berry and bramble flavors all nicely wrapped in silky tannins. Floral with hints of violet, lavender, bramble, and herbs, and exceedingly voluptuous on the palate, the Sequum 2019 Kidd Ranch Zinfandel drinks long and deep but never out of balance. A flash of acidity on the finish adds verve and vigor. Enjoy this rare, complex Zinfandel now and often at cool room temperature (58°-62° F).
The easy to love 2019 Sequum Kidd Ranch Napa Valley Zinfandel can be enjoyed all night long, with or without a morsel, as one can easily forget that this seductive bold-flavored Zin is no lightweight. Nonetheless, it pairs beautifully with all kinds of foods. Few wines equal the 2019 Sequum Kidd Ranch Zinfandel with traditional American favorites and comfort foods. Slow cooked pork barbeque and baby back ribs make splendid companions to this beautiful Zinfandel, as will roast turkey, served with gravy, stuffing, and all the trimmings. The 2019 Kidd Ranch Napa Valley Zinfandel also makes a splendid companion to more elegant fare, including Herb Encrusted Loin Lamb Chops served with a creamy mushroom risotto and flash-fried broccolini. For those looking for something lighter, consider pairing Sequum's 2019 Kidd Ranch Zinfandel with Ground Turkey and White Bean Chili. Veggie burgers topped with goat cheese and organic greens also provide tasty complements to this Zin, as will most traditional Italian and Mediterranean classics such as Penne Pasta with Tomatoes, Olives, Havarti and Parmesan Cheeses and a creamy rich Pasta Bolognese. Burrata and Pasta Fresca, made with fresh buffalo mozzarella, basil, vine ripe tomatoes, olive oil, and herbs also make splendid statements in the company of Sequum's 2019 Kidd Ranch Zinfandel.
Meet Paul Skinner, owner and viticulturist of Sequum wines. While some people simply live off the land, others have a passion for the earth and devote their lives to studying it. Paul does both. With a PhD in viticulture and soil science, and the time honored approach of vignerons or wine growers of yesteryear who practically lived in their vineyards, Paul sees his vines every morning and evening and continually assesses each vine's characteristics for light infiltration, nutrient and water status, crop load, and rate of ripening. He augments his hands-on approach with scientific expertise and the assistance of vineyard workers who carry out Paul's experiments and expertise in pruning, leaf pulling, and crop thinning. Paul also continuously monitors soil moisture and weather sensors to control disease and water stress. In other words, Sequum, which refers to the sequence of layers in a soil, is truly a hands-on approach to viticulture, and the results are beautiful, pure-tasting wines with great flavor.
Paul has worked for decades consulting on viticultural practices and the growing of super premium grapes because great wine is made in the vineyard. He began producing his own wine in 2003. Sequum's Napa Valley Kidd Ranch Vineyard wines are produced and bottled at Pride Mountain Vineyards with whom Paul has had a long association. Less than 600 cases of Kidd Ranch wines are released each year of Cabernet Sauvignon, Syrah, and Zinfandel, combined. Sequum also produces an excellent D'Avino Aglianico from the much warmer Suisun Valley east of Napa Valley.
Although its DNA points to Eastern Europe's Primitivo grape as its ancestor and its New World appearance still remains under investigation, Zinfandel has been dubbed "America's own grape variety." In California, Zinfandel produces a wine quite different from its Croatian and Italian forebears, and nowhere is that more apparent and welcome than in Napa and Sonoma where this sun worshipping varietal basks in the long dry summer afternoons, which bring the grape to the pinnacle of ripeness. Zinfandel's deep rich colors, intense berry, bramble, and herb flavors, high alcohol, and lush tannins result in wines that fill the mouth and satisfy all of the senses.
One of the Zinfandel varietal's keys to success is its extraordinary lifespan, which enables it to produce quality fruit well into old age. In fact, the oldest Zinfandel vineyards (many in California are in excess of 100 years of age) are the most prized. Zinfandel can be quite versatile, too (think White Zinfandel as well as many of California's most celebrated and intense red wines).
As an immigrant to our shores, Zinfandel embodies the American experience. It is a grape that has transformed itself over the last century and a half and honed its own unique identity. In the eyes of many, Zinfandel has become a bigger, better, more complex grape since its arrival in America – a grape variety with a can-do attitude and a unique chameleon-like identity all its own.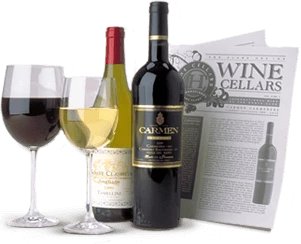 Enjoy Limited Production Estate
Bottled Wines
Discover limited production estate bottled wines such as Vergenoegd's internationally
acclaimed 2005 Cabernet Sauvignon, imported exclusively for our members.
DISCOVER OUR FOUR CLUBS