If ever there were a Barolo to dispel the myth that "the king of wines" is despotic and unapproachable in its youth or is somehow undrinkable before its tenth birthday, the 1999 Seghesio La Villa is just such a wine. Deeply robed, but elegantly tinged with the telltale glint of orange that imbues all Nebbiolo wines as they mature, this stylish Barolo offers up a beautiful complex aroma. Plum, licorice, rose petal, and forest woodland all come to mind. Better still, the same delectable scents carry through on the palate, providing plenty of mid palate appeal and nuance of flavor to savor for quite some time. Elegant, but by no means a lightweight, the 1999 La Villa Barolo possesses a healthy dose of firm ripe tannins to under gird its plush center and assure many more years of pleasurable drinking. As is the case with all Barolo wines, the Seghesio La Villa begs for aeration. Consequently, whenever possible, we suggest an hour or two hiatus in decanter for optimal enjoyment or just five minutes on Accela Breathe, the wonderful new wine tool that allows wines to air quickly, gently, and consistently. For more information on Accela Breathe, contact www.accelabreathe.com
The complex, nuance of flavors that define the 1999 Seghesio La Villa Barolo and all fine Barolo wines for that matter, plead for foods of equal stature. Rarely does one sit around drinking Barolo, but consumed at table with traditional Piedmontese cooking and savory sauces, one comes to appreciate the royal nature of this wine. Risottos, made with authentic Arbio rice of course, constitute many of our favorite choices with the La Villa. A whole chicken, mushroom, and truffle risotto, cooked very slowly and dashed with a first rate balsamic vinegar from Modena makes for a heavenly match. Less regional dishes do well, too. Roast loin of pork, stuffed with a bread, onion, and herb farce provides a savory treat. Marinated steaks and pork tenderloins offer tasty uncomplicated alternatives, too. In addition, Barolo offers one of the finest accompaniments to hard cheeses. Hunks of authentic Italian Parmesan or Provolone cheese pose no threat to this wine and offer a great way to finish a glass of the Seghesio Barolo.
Aldo and Riccardo Seghesio's La Villa Barolo emanates from a single vineyard in the Monforte zone of Barolo. Carefully cultivating a mere 9-acre vineyard, the Seghesios produce a correspondingly small amount of wine that is renowned for its elegance and harmony rather than its brute strength. La Villa is a beautiful small exceptionally steep south-facing slope that can only be worked by hand. Since 1988, Aldo and Riccardo have bottled the meager yields of their prized vineyard as an individual cru or single vineyard offering. The style of La Villa reflects the vineyard's proximity to the better-known La Ginestra. These two crus share similar characteristics, including elegance and finesse – qualities rarely seen in other Barolos. La Villa Barolo's most pronounced characteristics are its unusually deep color, entrancing bouquet, superb texture, and long lingering finish. In addition to superlative Barolo, the Seghesio's also fashion very attractive Dolcetto d'Alba, Barbera, and Nebbiolo from 3 additional acres that lie down the slope from La Villa. During the past decade, the low yield, excellent terroir, and superb winemaking at Seghesio have translated into success for this jewel of a property. Barolo Barolo has affectionately and appropriately been referred to as the "king of wines, and the wine of kings." In a fine vintage and in the hands of a skilled winemaker, Barolo is unquestionably a noble wine, richly deserving of the many accolades that have been bestowed upon it. Born on the Langhe Hills of Italy's Piedmont, on steep craggy Alpine foothills as they tumble out of nearby Switzerland and France, Barolo is the most masculine of Piedmont's three great Nebbiolo wines and the focal point in the region's viticultural tiara. Although Gattinara, typically the lightest and most feminine of Piedmont's great reds, and Barbaresco, sometimes referred to as a baby Barolo for its propensity for being lighter and easier to drink in its youth than its more stalwart neighbor, share the same noble Nebbiolo vine as Barolo, it is Barolo that possesses the pedigree and rules the roost. Barolo's lineage dates back to the Middle Ages and by the mid 18th century its wine had evolved into its present form in the vicinity of Alba, the white truffle capital. Today, the limited production of Barolo generates from the huddled hills of two valleys, Serralunga and Barolo, and their five principal communities, all of which lie to the southwest of the city of Alba and are reputed to impart distinctive characteristics and traits to their respective progeny. The townships of Serralunga, Castiglione Falletto, and Monforte are situated in the Serralunga Valley and are reputed to produce the region's most masculine, longest-lived Barolos. Meanwhile, Barolo and La Morra, from which the more "delicate" wines of the zone are said to flow, are part of the Barolo Valley. However, there are many exceptions and innumerable variations in Barolo on the same theme, and this does not even take into account the decades old debate in Barolo over the relative merits of the modern and traditional styles of Barolo, which have as much to do with individual winemaking techniques as they do the amount and kind of barrel aging the wines receive. In the end, there is great Barolo fashioned in all five of the major townships, in both modern and traditional styles. Salute!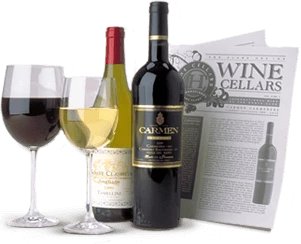 Enjoy Limited Production Estate
Bottled Wines
Discover limited production estate bottled wines such as Vergenoegd's internationally
acclaimed 2005 Cabernet Sauvignon, imported exclusively for our members.
DISCOVER OUR FOUR CLUBS