The 2016 Secret de L'Enfer Chardonnay puts many Mâcon and New World Chardonnays to shame. It relies upon beautifully ripe Chardonnay fruit grown in a mineral rich terroir for its flavor rather than on copious amounts of toasted oak and a host of other "smoke and mirrors." Apple, pear, and apricot scents mingled with the aroma of freshly baked bread waft from the glass. Fresh, energetic, and wonderfully varietal in flavor, the 2016 Secret de L'Enfer Chardonnay expands in the mouth, offering the savory flavors of orchard fruits along with a delightful minerality born of the vineyard's exceptional terroir. Pinpoint precision and balanced acidity provide a moderately long finish and add to the wine's overall appeal. Uncomplicated, but not simple, the 2016 Secret de L'Enfer Chardonnay is a natural tasting Chardonnay that could easily be mistaken for a very fine Mâcon Chardonnay from Burgundy: it exemplifies the varietal and provides plenty of drinking pleasure without the preponderance of oak. Enjoy!
Secret de L'Enfer's 2016 Chardonnay makes a wonderful companion to seafood, salads, pastas and cheeses. Calamari Fritti with a Parmesan and lime aioli makes a tasty appetizer with mineral rich Chardonnay, while Secret de L'Enfer's terroir driven Chardonnay brings a smile to our faces in the company of Blue Crab Cakes topped with a lightly smoked aioli and Lobster Rolls with drawn butter or herbed mayonnaise. Perhaps even more compelling is a super Lobster Mac'n Cheese prepared with cavatappi pasta, Boursin and Gruyere cheeses, Maine lobster, and panko bread crumbs. Scallop stew with scallops, onion, celery, potato and cream gets our nod, too. Roasted or lightly sautéed oysters over a bed of organic spinach, arugula and assorted greens makes for another tasty pairing with the 2016 Secret de L'Enfer Chardonnay. Sliced Fuji apples and Bosc pears in the company of soft and semi-hard cow's milk cheeses also provide tasty, no fuss accompaniments to this exceptional Languedoc Chardonnay. Bon appétit!
The quest for good quality, affordable Chardonnay and Pinot Noir can lead one down many paths, most of them disappointing in the end. While friend and importer Michael Corso was discussing this very subject over dinner with Laurent Coustal, owner and wine maker of Château-Sainte-Eulalie in Minervois, Laurent leapt up from the table, his face beaming. "Let me show you something," he exclaimed as he bounded out of the room.
Tasting the unlabeled bottles that Laurent brought back from the chais, Michael and his group were beaming as they enjoyed the mystery wines. "This is from a neighbor, a good friend of mine, he grows the grapes and makes the wine, and I bottle it for him," Laurent exclaimed. The vineyard is in a remote hilltop area that the locals call 'L'Enfer' or 'Hell' because the terrain is so rugged. This is savagely beautiful land, steep, rocky and remote and quite hellish to work, but the grapes love this forsaken place.
"How much can we get?" was my friend Michael's reply.
"Not much but maybe enough to start," Laurent responded. And thus, at a cozy kitchen table in Minervois, the "Secret de L'Enfer" was discovered: a Chardonnay and Pinot Noir with real character at prices that shame many Burgundy producers who overcharge and under wine. The wines of Secret de L'Enfer are beautiful examples of Burgundy's quintessential varietals and are affordable enough to be enjoyed casually with friends and neighbors without fear of adding to one's mortgage or home equity loan.
The International Wine of the Month Club is pleased to introduce the "Secret de L'Enfer" Chardonnay to our members! Although labeled as Vin de France, "Secret de L'Enfer" is grown and produced in limited quantities in the Minervois region of the Languedoc, and bottled at Château-Sainte-Eulalie by Laurent and Isabelle Coustal.
Château Sainte Eulalie quickly became one of our favorite properties in Languedoc and a favorite among our membership. Under the ownership of Laurent and Isabelle Coustal, Château Sainte Eulalie has joined the top echelon of Languedoc producers. The Coustals are a dynamic couple who have worked assiduously to resurrect and restore the ancient Minervois vineyards surrounding their domaine, which includes many old vines. The Coustals grow Syrah, Grenache, and Carignan, the three traditional and most important grape varietals of Languedoc.
Laurent and Isabelle Coustal are the winemakers and artisans in residence at Château Sainte Eulalie. They fashion several wines from old vines, including Plaisir d'Eulalie and La Cantilène. Both red wines spring from old vines from some of the Languedoc's most renowned terroirs. Plaisir d'Eulalie is picked entirely by hand and bottled unfiltered in order to preserve its freshness and rich, haunting flavors. After more than a decade of outstanding work at Château Eulalie, the Coustals have earned a reputation as two of Languedoc's most talented and consistent winemakers.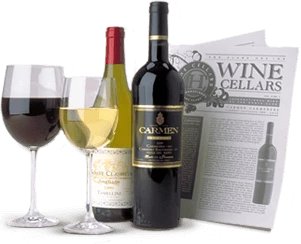 Enjoy Limited Production Estate
Bottled Wines
Discover limited production estate bottled wines such as Vergenoegd's internationally
acclaimed 2005 Cabernet Sauvignon, imported exclusively for our members.
DISCOVER OUR FOUR CLUBS