For Fred Loimer, creator of Schellmann's Ossi Gruner Veltliner, "an ideal wine must be completely dry, complex and elegant, rich in aromas and flavors, intense yet not heavy, and embedded in refreshing acidity." Happily, one finds all of these attributes in Fred Loimer's 2009 Ossi Gruner Veltliner. In Ossi, Loimer has crafted a light, refreshing wine of authentic regional character that faithfully reflects southern Austria's unique terroir. Moreover, the 2009 Ossi is just plain fun to drink. An enticing bouquet of fresh apples and exotic fruits and spices makes for a fine opening act, which Ossi quickly follows up with on the palate in the form of pure fruit, minerals and spice – all set in perfect harmony. Light but not thin, intense but not heavy, a glass or two of Ossi offers the taster a chance to wash away the weather stained cares of life and remain standing. We suggest giving Ossi a moderate chill (38°-40° F) before consuming. Prost!
The 2009 Schellmann Ossi Gruner Veltliner makes a splendid aperitif. Its light, racy flavors cleanse the palate as they satisfy the soul. But Ossi is more than just a good quaff. It complements an enormous variety of foods and it positively shines in the company of spicy, hard-to-pair dishes. It seems the hotter the food, the bolder Ossi becomes. Traditional Viennese specialties such as Veal Paprika and Pork Schnitzel provide ideal companions to Ossi. Yet, Asian stir fries, rich, heart-stopping pâtés, and spicy vegetable dishes comprised of artichoke, asparagus, cucumber, or eggplant fare equally well in the company of Schellmann's Ossi Gruner Veltliner. Indian, Thai, and Mexican foods offer other opportunities for Ossi to shine: mild curries, chicken fajitas, and flour tortillas stuffed with chicken, cheese, and moderately spicy salsa complement Ossi, too. Yet, not everything has to be about heat and spice. Equally satisfying with Ossi are fresh summer fruits and fine cheeses such as Apenzeller or Emmenthaler. Enjoy!
Weingut Schellmann, located just outside of Vienna in the historic town of Gumpoldskirchen, has long been one of Austria's iconic wine properties.  As far back as the Middle Ages, Cistercian monks had discovered the magic in the terroir of Gumpoldskirchen where Schellmann is located, and under the late Gottfried Schellmann this emblematic property became the most innovative wine estate in southern Austria's Thermenregion.  Upon the death of his close friend Gottfried, Fred Loimer who is arguably Austria's most accomplished winemaker, decided to undertake the challenge of making wine from Schellmann's renowned biodynamically farmed vineyards.  His first venture at Schellmann is Ossi, a Gruner Veltliner named in honor of Gottfried's son Oswald.
Fred Loimer has been called "a cheerful epicure who thirsts for life, constantly burning with curiosity. . . a tireless worker, a quality fanatic obsessed with details; someone who doesn't let chance play a role, but instead plans out each and every step."  All this is true, and more, as Fred Loimer is a man with many facets.  Further evidence of Loimer's obsession is his decision to farm all of his vineyards biodynamically – the most rigorous method and approach to sustainable agriculture that extends organic farming to the ultimate.  Indeed, Fred Loimer is fanatical about his wines and their ultimate quality, which is why he is one of Austria's greatest and most heralded winemakers.
As is the case with most Austrian producers, Fred Loimer fashions a larger number of wines (more than a dozen at last count) from his nearly 62 acres of vines.  White wine comprises more than 95% of the estate's production, with Gruner Veltliner and Riesling leading the charge.  And as one would expect, Loimer's single-vineyard estate offerings, Seeberg and Steinmassl for Riesling and Kaeferburg and Spiegel for Gruner Veltliner, are his most illustrious and expensive wines.  He also fashions the excellent Ossi Gruner Veltliner from the Schellmann estate.
Happily, all of Loimer's extraordinary efforts are mirrored in his wines.  Whether it is a simple regional offering or one of his award winning single vineyard Gruner Veltliners or Rieslings, Fred Loimer's wines always provide plenty of pure, natural flavors, a youthful zest, and uncomplicated drinking pleasure.  Ultimately, Fred Loimer's wines reflect his credo: "My wines are to give people pleasure, not a headache."  In our experience and in the opinion of the international press, the fanatical and iconic Fred Loimer has more than succeeded in his quest.  Prost!
Gruner Veltliner is Austria's most important white grape variety. Moreover, it has recently garnered iconic status as the magical varietal behind one of the world's most unique wines. Grown in nearly all of the major wine producing regions of Austria, Gruner Veltliner is at its best around Vienna and atop the steep hillsides above the Danube to the north and west of the capital. In the hands of a skilled winemaker, Gruner Veltliner can yield a fresh, lively wine for near term consumption or a concentrated, complex wine that is capable of long maturation. In either case, Gruner Veltliner offers tremendous flavor, rich fruit, spicy accents, and a citrus-like freshness that make it a perfect match for many difficult-to-pair dishes. So, whether dinner includes traditional Viennese fare, a scrumptious pâté, Asian stir fry, or a just a plain old persnickety vegetable such as asparagus, Gruner Veltliner is nearly always the perfect wine to serve.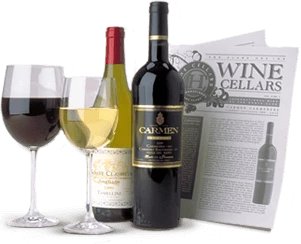 Enjoy Limited Production Estate
Bottled Wines
Discover limited production estate bottled wines such as Vergenoegd's internationally
acclaimed 2005 Cabernet Sauvignon, imported exclusively for our members.
DISCOVER OUR FOUR CLUBS