An artful blend of Shiraz, Cabernet, and Merlot from one of Scarpantoni's original vineyard sites, the 2003 Scarpantoni School Block is the kind of red wine most of the wine drinking world wishes it could drink every night. Deep in color, rich in flavor, and smooth around the edges, the 2003 School Block is the ultimate Australian tonic. More specifically, Scarpantoni's 2003 School Block is an enchanted meritage style blend that combines the best of both worlds. From the New World, it draws ripe fruit and forward rounded flavors; from the Old World, it exudes a sense of breeding, style and charm. Together the components make School Block one tasty, good drinking wine. We suggest consuming this flavorsome meritage offering fairly cool (no more than 66°F), after just a few minutes of aeration.
What makes the 2003 Scarpantoni School Block so appealing as a companion to food is its versatility. It is as close to being a wine for every occasion as a wine can be. It's as if this wine spreads its arms upon opening and says: eat, drink, and wash away the weather stained cares of daily life. Bring it the simple and the sublime, and let the Scarpantoni School Block shine. We have enjoyed it with every thing from pizza and antipasto to fine filets of beef. We also recommend serving it with such interesting and eclectic fare as Fried Green Tomatoes, encrusted with basil, Boursin cheese, and country ham, and served with tomato chutney. A mid week meatloaf or a grilled coriander encrusted tuna steak fits the bill, too. With the 2003 Scarpantoni School Block, you are limited only by your imagination or lack of, so experiment and enjoy.
Editor's Note: Tasting wine is a humbling avocation. Not only is it difficult to choose wines that will appeal to thousands of palates, it constantly amazes us as to how many producers of fine wine there now are in the world, and how easy it is to miss one. Gone are the days when one could list the top one hundred or even one thousand producers of wine, but how is it that the wonderful, award winning Scarpantoni Estate remained under our radar for so long? We have chosen to feature Scarpantoni's School Block after several panel tastings, the last of which returned a unanimous endorsement; and for the record there were over twenty voting members on that panel. Consequently, we are pleased to introduce to you the Scarpantoni Estate. We sincerely hope you enjoy School Block as much as the tasting panel did. The Scarpantoni family comes originally from the Abruzzi region of Italy on the Adriatic Sea. In 1952 Domenico Scarpantoni immigrated to Australia, where he found work in South Australia's McLaren Vale, presently the source of many of Australia's finest Shiraz and Cabernet based wines. As it turns out, Domenico Scarpantoni played a key role in making McLaren Vale the world class wine region it is today. He worked for Hardy's and then Seaview Wines as the vineyard manager. At Seaview he developed the fabulous contour vineyards that made Seaview famous a generation ago. In 1958, Domenico purchased his first property, a 5.6 hectare plot (12 acres) in McLaren Vale. He followed the original McLaren Vale purchase with an even larger acquisition (44 acres) in 1968 when he bought the original school property in McLaren Flat. By 1979, Domenico and his wife Paula and their two sons Michael and Filippo had built a winery on the old school property. However, until the last decade, the Scarpantonis released very little of their estate wines under their own name. Instead, they continued to purchase prime McLaren Vale vineyards and build the family estate into one of South Australia's largest entirely family owned and operated wineries. Today, the Scarpantoni Estate remains a family business, with every step of the production, from viticulture to the packaged product done entirely at the estate. However, Scarpantoni now estate bottles all of its own wines, for which it has earned more than 500 medals and more than a dozen trophies and awards in national wine shows. Presently, Domenico has taken a back seat in favor of his sons Michael and Filippo, who make all the wines at Scarpantoni and run the estate. They produce a bevy of interesting and well made wines, including School Block, Block 3 Shiraz, and Estate Reserve. They also produce varietal bottlings of Chardonnay, Sauvignon Blanc, and Cabernet Sauvignon. And to make matters even more interesting, there is even a fine sparkling red, a serious rosé, a botrytised dessert wine, and a selection of ports. Most assuredly, the Scarpantoni family will never lack for interesting and varied drinking, nor should we. Salud!
Wine and cheese are nearly synonymous, simply because they complement each other. Nonetheless, not every wine is perfect with every cheese, but the 2003 Scarpantoni School Block comes close. This delicious blend of Shiraz, Cabernet, and Merlot complements most soft and semi hard cheeses. We suggest you try it with ripe Camembert, a delicious Welsh cheese like Caerphilly, or an authentic Grafton Village Cheddar. For more information about wine and cheese complements, contact us at www.cheesemonthclub.com.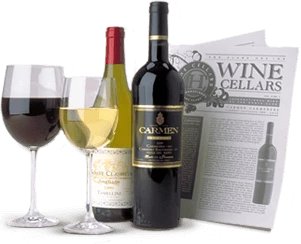 Enjoy Limited Production Estate
Bottled Wines
Discover limited production estate bottled wines such as Vergenoegd's internationally
acclaimed 2005 Cabernet Sauvignon, imported exclusively for our members.
DISCOVER OUR FOUR CLUBS