The1997 Santa Monica Private Reserve Tierra de Sol Cabernet Sauvignon is the progeny of one of Chile's finest vintages. In appearance, it is as youthful and vibrant as any newborn Cabernet. It remains deep in color and imbued with a stylish bouquet that is, perhaps, best described as an infusion of fresh berries, cassis, dark chocolate, and the classic cigar box scent of cedar. The 1997 Tierra de Sol Cabernet Sauvignon recalls all that is beguiling and hauntingly beautiful about classified Bordeaux, and great Chilean Cabernet Sauvignon, too. Moreover, in the tender 1997 Private Reserve Tierra de Sol, one encounters a concentrated core of blackberry fruit, cassis, and plum that deftly overlay hints of chocolate and roasted coffee. For optimum enjoyment, allow this medium-bodied, classically wrought claret to breathe at least thirty minutes or more before consuming, so that it can easily envelop your palate and entwine itself in your gustatory soul. And like all fine Cabernet wines, we strongly suggest that the 1997 Santa Monica Private Reserve Tierra de Sol Cabernet Sauvignon be drunk at no more than 66° F. Enjoy!
Although quite easy and enjoyable to drink on its own, the 1997 Santa Monica Private Reserve Tierra de Sol Cabernet Sauvignon is an excellent food wine. In fact, it seems to us to be the quintessential dinner party wine. And best of all, one need not have a flair for haute cuisine to see this wine shine. A butter and herb roasted chicken, a tender veal chop, or grilled thinly sliced beef tenderloin is all this beautifully aged wine needs to elevate a meal to a feast. For the gourmet or more adventuresome eater, we suggest a grilled loin of lamb with herbed and chèvre stuffed peaches and either a creamy rich risotto or mashed garlic and rosemary infused potatoes. Yum! Most meat ragouts and well prepared stews will complement the 1997 Santa Monica Tierra de Sol Cabernet Sauvignon as well.
Founded in 1976 by Emilio de Solminihac, Santa Monica is one of the more contemporary wineries in Chile. Yet, this superb property is truly an amalgam of Old World charm and modern technology Located in the beautiful Rapel Valley, this historical 19th century property includes a beautiful old hacienda that dates from Chile's colonial past as well as one the tidiest and most up to date wineries in all Chile. Emilio de Solminihac, more affectionately known as Don Emilio to a burgeoning legion of young Chilean winemakers, is the guardian of traditional winemaking in Chile and one of South America's finest winemakers. He is also an affable gentleman who seems cut from a bygone age. Hailing from a wine making family, Don Emilio received his first training in wine as a young man while working in his grandfather's vineyard and winery. Later he would graduate from the Universidad de Chile with a degree in agricultural engineering, and subsequently depart for France, where he would study at the Université de Bordeaux under the legendary Emile Peynaud – then France's most renowned oenologist. While attending the Université de Bordeaux, Emilio earned that venerable institution's esteemed degree in oenology, the first Chilean to do so. Today, Emilio de Solminihac is revered as much for his legacy of fine, age worthy wines as he is for his numerous oenological innovations – many of which have helped to transform the Rapel Valley into the Napa Valley of Chile. In the 1970's Don Emilio returned to Chile. He established an oenological laboratory in Rancagua and began consulting for many local Rapel Valley vineyards and wineries, an experience that brought him an intimate knowledge of the region's terroir. In the meantime, the young Emilio also began teaching oenology and vinification at the Universidad de Chile and the Universidad Catolica de Chile, where he earned a reputation for his unabashed dedication to the production of clean, complex, age worthy wines in the Bordeaux tradition – a devotion he still pursues. Chile in the 1970's was a time of great economic uncertainty. Nevertheless, in 1976, when other growers were continuing to pull up vines because they were barely able to give away their wares, let alone make a living by producing wine, Don Emilio made a fateful decision: he purchased the old Vina Purisma estate outside of Rancagua. Originally planted in 1930, this established 230- acre Rapel property contained many splendid old vines whose yields were meager but whose quality was high. Don Emilio re-named the estate Santa Monica in honor of his wife Monica Fonseca and began with her their family winery. What many considered madness three decades ago has now become a dream come true. Today, Santa Monica reigns as an oasis of calm and simple elegance. Beyond its gates lay long rows of well-tended vines that doze between the towering Andes and the coastal mountain ranges. From these neat rows of vines that hold just about every grape imaginable, Don Emilio fashions a bevy of delicious wines. However, the highly acclaimed Private Reserve Tierra de Sol and Gran Reserva offerings of Cabernet Sauvignon and Chardonnay constitute the signature series at Santa Monica. In them, one can taste and see Don Emilio's passion for making traditional Bordeaux and Burgundy style offerings, with a personal touch. These are complex, age worthy wines that are as endearing as they are enduring.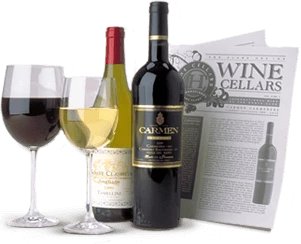 Enjoy Limited Production Estate
Bottled Wines
Discover limited production estate bottled wines such as Vergenoegd's internationally
acclaimed 2005 Cabernet Sauvignon, imported exclusively for our members.
DISCOVER OUR FOUR CLUBS