An aromatic white wine imbued with a bright, fresh, straw-colored hue, the 2016 San Pietro Alto Adige Kerner shines in the glass from the moment it is poured. Hauntingly beautiful in aroma, the 2016 San Pietro Kerner offers gentle hints of freshly picked mountain apples and ripe summer peaches to delight the nose. Similarly, elegant fruit flavors mingle in the mouth with delicate spice tones, including a touch of nutmeg, offering a delightful mélange that comes wrapped in subtle opulence. On the mid palate, the soft texture of San Pietro's 2016 Kerner caresses the mouth, yet the wine finishes with a welcome crisp acidity that leaves the thirsty tongue aching for more. Enjoy this unique white wine moderately chilled (40° F) over the next year or so. With that said, Kerner possesses an uncanny ability to age well in the bottle, so one need not be in a rush. Enjoy!
The eponymous 2016 San Pietro Alto Adige Kerner pairs equally well with cold pasta salads as it does with savory soups, seafood, and light meats. A glass or two of the 2016 San Pietro Kerner in the company of Italian Wedding Soup complete with kale and pork meatballs in a savory broth provides a tasty union as the savory aspects of the soup blend nicely with the wine, without overpowering it. Grilled trout, black drum, and most flaky white fish also make fine companions to Kerner. For a tasty authentic regional pairing, consider Veal Scaloppini or Weiner Schnitzel with this wine. Another regional specialty, breaded pork culets served in a light creamy sauce, also makes a fine companion to the 2016 San Pietro Kerner. Buon Appetito or should we say Guten Appetit!
San Pietro is a registered brand of importer and wine grower Marc Degrazia whose wines have graced Wine Spectator's Top 100 List and garnered world-wide acclaim. San Pietro's vineyards in Italy's Alto Adige were part of a small cooperative until 2017. The principal members of the cooperative continue to supply Degrazia Selections with excellent wines from high-altitude, sustainably-farmed vineyards in Alto Adige. Production cosists of Chardonnay, Lagrein, Pinot Bianco (also known as Weissburgunder), Pinot Grigio, Pinot Nero, Schiava, and small quantities of a rare, highly prized Kerner (this month's selection).
Kerner, named for the German poet Justinus Kerner, is a European hybrid that was bred in Germany in 1929 by August Herold. It is a cross between two Vitis vinifera varietals: Riesling and Trollinger. It flourishes at high elevations in southern Germany and to an even greater extent in northern Italy where it produces a racy aromatic white wine of considerable character. Kerner continues to gain prominence in Italy's Alto Adige, especially in the Isarco Valley, thanks to the grape's resistance to frost, highly charged bouquet, and cornucopia of fruit and spice driven flavors.
In Italian, Alto Adige refers to the high or upper reaches of the Adige, the stony, swiftly flowing river that Ernest Hemingway immortalized in A Farewell to Arms. However, most of the world knows this picturesque country as the Süd Tirol or the South Tyrol. The dual name illuminates this region's splintered history and highlights its continuing split personality. Presently, Alto Adige is officially an autonomous region of Italy, but the region remains primarily German speaking, which underscores the fact that throughout most of its tortured history this beautiful alpine land of lederhosen and loden caps was an integral part of Austria. In fact, it was not until after World War I that the South Tyrol was ceded begrudgingly to Italy.
In spite of or, perhaps, on account of the South Tyrol's plurality, ethnic diversity, and historical factional violence, the present generation of winemakers in Alto Adige of both Austrian and Italian heritage have banded together in the common pursuit of happiness and prosperity. In doing so, the winemakers of the Alto Adige/Süd Tirol have fashioned some of the highest standards for winemaking in all Italy. Consequently, more than 50% of the zone's wines are DOC designated.
While it may be true that white wine is the calling card of Alto Adige and that many of Italy's finest white wines do indeed flow from the pretty hills and valleys of the Alto Adige/Süd Tirol, this industrious, forward thinking region is also renowned for its production of light to medium bodied red wines of supreme bouquet, finesse, and style. So whether it be an outstanding Chardonnay, Kerner, Pinot Bianco, or Pinot Grigio, or one of Alto Adige's little known reds in the guise of Santa Maddalena, Teroldego, or even Lagrein, quality remains the region's unifying common denominator.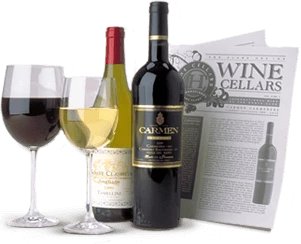 Enjoy Limited Production Estate
Bottled Wines
Discover limited production estate bottled wines such as Vergenoegd's internationally
acclaimed 2005 Cabernet Sauvignon, imported exclusively for our members.
DISCOVER OUR FOUR CLUBS