Quinta de S. Sebastião fashions a string of exceptional red wines, including the thoroughly gratifying 2020 S. Sebastião Vinho Regional Lisboa Syrah/Touriga Nacional Reserva, which offers an inviting, deeply colored robe, an engaging set of aromatics, and plenty of smooth, satisfying red and black fruit flavors. Black cherry and woodland berry notes infused with hints of exotic spices and a refreshing minerality delight the nose and palate. Smooth, polished tannins hold this delightful red blend in perfect stead from start to finish. In fact, the 2020 S. Sebastião Syrah/Touriga Nacional Reserva slips ever so gracefully down the throat to the point that you may find yourself consuming it with abandon. We did. Balanced, generous, and overtly charming, the 2020 S. Sebastião Syrah/Touriga Nacional Reserva is a polished Portuguese red that is best when afforded at least 10-15 minutes of aeration before serving at cool room temperature (no more than 62° F). It can be thoroughly enjoyed now or cellared for several more years. Anticipated maturity: 2022-2026. Enjoy!
S. Sebastião's 2020 Syrah/Touriga Nacional Reserva (60% Syrah, 40% Touriga Nacional) provides the ideal companion to the rich, flavorful dishes for which the Portuguese are renowned, beginning with Portuguese Bean Soup, a heady concoction of beans, sausage, potatoes, carrots and most anything else one cares to add. This soup provides a flavorful one pot dish at the same time that it offers great companionship to S. Sebastião's smooth, flavorful 2020 Syrah/Touriga Nacional Reserva. Marinated pork or lamb, steeped in plenty of red wine, onion, garlic, bay leaves and more, also merits two thumbs up as an accompaniment to S. Sebastiao's Syrah/Touriga Nacional Reserva. To be sure, when the Portuguese talk about marinating, they truly mean marinating. Two or three days is hardly off the charts, but as you like it. But, if something simpler and easier to prepare is more to your liking, consider Beef Sliders with melted Gruyere cheese and slivers of red onion. A trio of roasted red pepper hummus, traditional hummus, and tzatziki in the company of pita chips and cucumber also makes a fine accompaniment. Lasagna, whether beef, cheese or vegetable, works well with this wine, too, but then so will most white and red meats, vegetables, and cheeses. Bom apetite!
Cow, goat, and sheep milk cheeses all offer superb accompaniments to the smooth, flavorful 2020 S. Sebastião Syrah/Touriga Nacional Reserva. Portuguese cheeses such as Evora, Rabaçal, and São Jorge, make especially fine companions to this wine. Smoked cheeses, most notably Gouda and Provolone, pair beautifully, too. However, almost any rindless cheese will complement this wine by accentuating the savory notes in both the wine and the cheese. To enjoy the world's finest cheeses, join us at www.cheesemonthclub.com. Saúde!
Quinta de S. Sebastião is a gem of a winery named for the Christian martyr Saint Sebastian who gave his life to save others from persecution. It is located in a small town north of Lisbon called Arruda dos Vinhos, in one of the sub-regions of the Vinho Regional Lisboa. Quinta de S. Sebastião has a more than 1,000-year tradition of making wine, while the present quinta dates back to 1755, the same year of the great earthquake that destroyed much of Lisbon. It is owned by Portuguese entrepreneur Antonio Parente, who along with winemaker Filipe Sevinate Pinto, has done much to restore S. Sebastião and the surrounding area to its former viticultural glory.
S. Sebastião's vineyards occupy the hills of an old military line of fortification that was known originally as Forte do Cego, and then as Forte de S. Sebastião because of the Quinta. These hills played a crucial role in defending Lisbon against Napoleon Bonaparte's invasion of Portugal. S. Sebastião's vineyards cover these hills, basking in the region's unique location and warm sunny climate, protected from the cold north wind and strong Atlantic gales that make Portugal one of the world's great surfing spots.
The Quinta fashions several outstanding red, white, and rosé wines from indigenous and international grape varieties, but none is more emblematic than this month's feature, the 2020 S. Sebastião Syrah/Touriga Nacional Reserva, which contains Touriga Nacional, Portugal's most esteemed grape variety.
Portugal is home to more than 200 grape varieties, but none is finer or more important than the indigenous Touriga Nacional. Although Touriga Nacional owns Portugal's bragging rights, it is only recently getting to fly on its own. More often than not it forms the backbone of Portugal's greatest red wines, including Port and the finest Douro, Dão, Alentejo, and Lisboa wines. As a low yielding grape, it imparts body, flavor and plenty of tannic structure to blends of Aragonez (Tempranillo) and Syrah, as well as to the legion of indigenous grape varietals that thrive in Portugal.
Touriga Nacional is a dark skinned grape that yields tannic and complex wines with a great ability to age. It thrives in hot, dry climates and is also highly resistant to fungus, all of which makes Touriga Nacional increasingly attractive around the world as the planet heats up. Although the cultivation of Touriga Nacional remains low outside of Portugal, other locales like Australia, California, South Africa, and even France are now increasing their cultivation of this grape. Beginning in 2022, Touriga Nacional is one of the seven new grape varieties permitted in Bordeaux and Bordeaux Supérieur wines according to France's Institut National de l'Origine et de la Qualité (INAO), the nation's appellation governing body. With global warming playing havoc in the world's wine regions, Touriga Nacional's fortunes are sure to continue and will likely encounter a meteoric rise.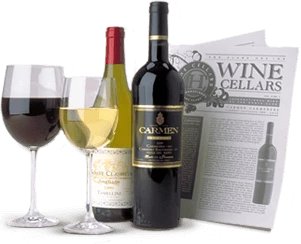 Enjoy Limited Production Estate
Bottled Wines
Discover limited production estate bottled wines such as Vergenoegd's internationally
acclaimed 2005 Cabernet Sauvignon, imported exclusively for our members.
DISCOVER OUR FOUR CLUBS