Garnering 92 points from Master of Wine Tim Atkin's South African report, the bold and complex 2017 Rustenberg Stellenbosch Chardonnay bears more than a passing resemblance to the traditional Napa Valley Chardonnays of the 1970s – the very wines that challenged France's superiority with Chardonnay and established California as the New World's premier wine producer. The 2017 Rustenberg Stellenbosch Chardonnay offers enticing aromas of apple, apricot, coconut, orange peel, and toasty oak. In the mouth, Rustenberg's Chardonnay is equally rich and balanced. It fills the mouth with complex fruit flavors tempered with hints of marzipan and fresh acidity, all wrapped in creamy oak from a 12 month hiatus in barrel. Add the further complexity imparted by wild yeast fermentation in barrel and Rustenberg's 2017 Stellenbosch Chardonnay presents itself as world class wine and a real Chardonnay lover's dream. Enjoy this wine now or lay it down for another year or two to gain additional maturity. For optimal enjoyment, we suggest moderate chilling (40° F) and a few minutes in a clean glass to allow it to blossom. Enjoy!
With the 2017 Rustenberg Stellenbosch Chardonnay, Rustenberg demonstrates that it is equally adept at crafting world class Chardonnay as it is fashioning stunning red wines. Given the balance, flavor and depth of their 2017 Chardonnay, it pairs superbly with seafood, pastas, roast turkey, risottos, pork and veal. Poached salmon in tarragon-infused butter sauce that is served over a bed of crunchy organic greens makes a tasty companion to the Rustenberg Chardonnay. A creamy vegetable or mushroom risotto provides good company, too. Butternut ravioli, served with a light Chardonnay cream sauce with sage, apple, and walnuts offers an additional treat in the company of the 2017 Rustenberg Chardonnay. Turkey served with an onion and sage stuffing also makes a case for itself in the company of Rustenberg's Chardonnay, as does creamy polenta with mushrooms and thyme. Mild goat and creamy crusted cheeses such as Brie also offer tasty, simple to prepare companions to the 2017 Rustenberg Chardonnay.
Stellenbosch and the surrounding wine lands of South Africa's Western Cape hardly receive the attention and excitement they deserve. No viticultural area or major wine producing region in the world presents itself more spectacularly. The sheer physical beauty of Africa's Western Cape, paired with commanding waves of well-tended hillside vines and the proliferation of centuries old Cape Dutch architecture, makes Stellenbosch both stunningly beautiful and unique among the great wine regions of the world. And Rustenberg is one of the oldest and most influential wine estates in this majestic wine land.
Rustenberg was founded in 1682. It lies nestled in the valley of the Simonsberg, at the very heart of the Stellenbosch wine region. Rustenberg produces a full range of wines, including Chenin Blanc, Chardonnay, Sauvignon Blanc, Cabernet Sauvignon, Merlot, Roussanne, Syrah, and several exciting blends. This family owned property enjoys a rich heritage and an ethos that have been informed by many centuries of human influence striving to understand and work with nature to produce wines of distinct character that are true to their terroir, variety and style. At the International Wine of the Month Club, we have enjoyed over the years all of Rustenberg's wines, including the estate's flagship red wines, Peter Barlow Cabernet Sauvignon and John X. Merriman, the latter a Bordeaux blend named in honor of a former owner of Rustenberg. However, what impresses us most now is the tremendous level of quality Rustenberg has attained with their estate Chardonnay and Chenin Blanc. The 2017 Rustenberg Chardonnay especially (this month's feature) offers exceptional quality and value, further burnishing Rustenberg's reputation as a source for world class white wines as well as red wines.
Located on the Western Cape less than an hour north of Cape Town, the picture post card town of Stellenbosch and the surrounding mountains form a dramatic backdrop for what has been heralded as the most beautiful wine country in the world. Although one may debate that claim and the various picturesque merits of other world renowned wine regions, what is not in question is the integral role Stellenbosch has played for more than three centuries in the formation of South African wine. Stellenbosch is unquestionably South Africa's oldest and most important wine producing region. It is South Africa's Napa, Sonoma, and Santa Barbara counties all in one. It contains a myriad of microclimates and is responsible for high quality red and white wines from a host of varietals, including Cabernet Sauvignon, Shiraz, Chardonnay, Chenin Blanc, Sauvignon Blanc, Semillon, Viognier, and South Africa's most unique varietal, Pinotage, a cross between Pinot Noir and Cinsault. From wineries in Stellenbosch old and new flow an enormous variety of wines that are both world class and wholly unique in character.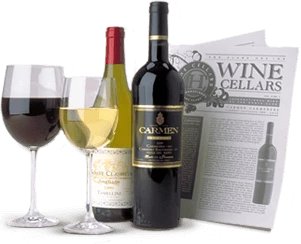 Enjoy Limited Production Estate
Bottled Wines
Discover limited production estate bottled wines such as Vergenoegd's internationally
acclaimed 2005 Cabernet Sauvignon, imported exclusively for our members.
DISCOVER OUR FOUR CLUBS