A sensuous, downright sumptuous wine from the hills just west of the historic town of Oakley in Contra Costa County, the 2005 Rosenblum Cellars Planchon Vineyard Zinfandel is a tour de force in winemaking. Derived from head pruned, dry farmed vines up to a century old, this hedonistic Zinfandel is about as good as it gets. Exotic, almost mesmeric scents of berry, bramble, currant, and smoke caress the nose, but the wine's amplifying olfactory is merely a prelude to the symphonic flavors that follow to tantalize the palate. Gobs of black cherry, currant, cocoa, plum, vanilla and spice fill the mouth with hedonistic delight and then linger on long past the wine's explosive crescendo. Yet, never once does this opulent Zinfandel lose its form, balance, or sophisticated feel. Smooth and charming from beginning to end, one would hardly recognize the nearly 15% alcohol that keeps this masterpiece together. In short, the 2005 Rosenblum Cellars Planchon Vineyard Zinfandel is not to be missed. And for those souls for whom patience is not yet a virtue, they can simply pop the cork on this superb Zinfandel and know that the party has already begun. After just a few minutes in the glass, the 2005 Rosenblum Cellars Planchon Vineyard Zinfandel is ready to reveal every bit of it exuberant charm. As always, cool room temperature (no more than 66° F) will do the utmost justice to this outstanding Zinfandel as well as one's ability to taste and enjoy it.
What we like best about the 2005 Rosenblum Planchon Vineyard Zinfandel, after its great flavor of course, is how well it pairs with food, or not. In the ideal world, one has a bottle of the 2005 Planchon Zinfandel to share with dinner and a second to while the night away. Rosenblum's Planchon Vineyard Zinfandel provides an outstanding complement to roast turkey and all the trimmings, steaks, pork roasts, spare ribs, and game. However, it may be most at home with traditional Mediterranean delights straight out of the brick oven. Southern Italian favorites such as baked ziti, eggplant or zucchini Parmigiana, lasagna, and manicotti provide great complements to this wine. After all, Zinfandel, or more accurately its ancestor Primitivo, thrives in southern Italy, where it marries perfectly with the tomato rich sauces of Italy's Mezzogiorno. Moreover, Zinfandel became the grape of choice in the United States among many Italian immigrant winemakers, and with good reason: They were able to mold Zinfandel in the last century and half into an American classic that paired beautifully with their food. However, we should not lose sight of the fact that Rosenblum's Zinfandels are made with good old-fashioned, hedonistic pleasure in mind, so they will complement both simple and sophisticated dinner party fare as well as provide a solitary respite from life's drudgery, with nothing but a glass to speak its praises. Nonetheless, we would be remiss not to call attention to the affinity this ripe, succulent Zinfandel has for handcrafted chocolates, especially dark chocolate truffles. In our experience no other wine pairs better with fine chocolate than great Zinfandel, so while you are finishing off that second bottle of the 2005 Planchon after dinner with family and friends, why not sneak in a piece or two of great chocolate from Lake Champlain or Leonidas Chocolatiers? To discover additional chocolate pairings or to learn more about one of life's other great pleasures, please visit our In Pursuit of Chocolate website at www.chocolatemonthclub.com, and enjoy more of the best that life has to offer.
Rosenblum Cellars is one of a just a few dozen California wineries that are internationally known. Located in Alameda, California, Rosenblum Cellars fashions 40 different wines in any given vintage – almost all in small lots from California's finest vineyards. Begun in 1978 by veterinarian Dr. Kent Rosenblum, this remarkable winery began as a basement operation. In Rosenblum's own words, "Winemaking was a hobby gone wild." And aren't we glad it did. Rosenblum Cellars has evolved into a world class winery whose specialties include many award winning Zinfandels and a bevy of delicious Rhône style wines from single vineyards. In 1978 after years of making wine out of his home, Kent Rosenblum and several close friends took the great leap of faith and passion: they bought property next to the infamous Dead End Bar in Oakland, once a prohibition speakeasy, and began their own winery, Rosenblum Cellars. The winery's first great success was with Zinfandel, which Rosenblum and his cohorts made fashionable by turning out a dozen or more top notch wines from the mercurial Zinfandel grape. From the beginning Kent focused on fashioning exceptional vineyard designate wines from mountainside dry farmed, head pruned, old vines. And the public response was sensational. In 1986, Rosenblum Cellars won the sweepstakes at the San Francisco Fair Wine Competition with its George Hendry Reserve Zinfandel. The winery promptly moved into its present location in Alameda and has never looked back. Under Kent's watchful eye Rosenblum Cellars has fashioned some of California's most compelling wines. Once considered unworthy of critical acclaim, vineyard designate Zinfandels have become the rage and the darling of connoisseurs and critics alike – thanks in large part to Kent Rosenblum and his team. Although Zinfandel and Rosenblum Cellars are nearly synonymous, this world-class winery also crafts award-winning Cabernet Sauvignon, Merlot, Chardonnay, and most recently Rhône varietals such as Syrah, Petite Sirah, Mourvèdre, Viognier, Marsanne, and a truly outstanding Roussanne from the Fess Parker Vineyard in Santa Barbara County.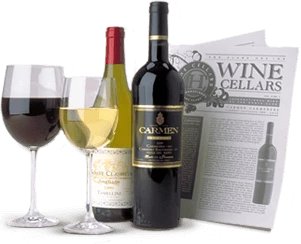 Enjoy Limited Production Estate
Bottled Wines
Discover limited production estate bottled wines such as Vergenoegd's internationally
acclaimed 2005 Cabernet Sauvignon, imported exclusively for our members.
DISCOVER OUR FOUR CLUBS