The 2015 Robertson Number One Constitution Road Shiraz more than lives up to Constitution Road's lofty reputation as the winery's flagship offering. From the wine's saturated purple color through to a long, captivating finish, which captures the heart and soul of the varietal, Robertson's 2015 Number One Constitution Road Shiraz turns in a first-rate performance. Intense aromas of rich ripe blackberry, Luxardo Cherry, and plum fruits intertwined with seductive spice tones waft from the glass. In the mouth, what appears to be a forbidding opaque potion becomes a voluptuous, almost velvety elixir that caresses the palate with delicious dark fruits, hints of clove, cardamom, cinnamon, and traces of black pepper – all chief calling cards of the finest Shiraz. And, as the wine takes a long, well-deserved curtain call, supple fine-grained tannins combine with a pleasant patina of French oak to provide structure and lift. The 2015 Robertson Number One Constitution Road Shiraz is a wine that offers bold flavors without the after burn of so many younger, less attractive Shiraz and Cabernet based wines. Enjoy the 2015 Robertson Number One Constitution Road Shiraz now through 2025. For optimal enjoyment we suggest at least 15-20 minutes of aeration before serving at cool room temperature (58°-62° F). Enjoy!
South Africa offers a multitude of culinary choices and more than its share of gustatory delights. By drawing upon South Africa's multicultural make-up, which encompasses traditional African, Indian (South Africa has the largest Indian population outside of India) and European food traditions, Robertson's 2015 Number One Constitution Road Shiraz possesses a nearly endless array of delicious accompaniments. South Africa's tasty free range beef, lamb, antelope, and ostrich (prepared in a myriad of ways with or without exotic spices) provide wonderful complements to Robertson's star wine. However, simple slow cooked dishes offer good companionship, too. Consider slow cooked pulled pork in spicy barbecue sauce or beef brisket sliders with arugula, broccoli slaw, aged white Cheddar and bourbon barbeque sauce. Spinach and goat cheese ravioli topped with a rich tomato sauce and served with sautéed mushrooms also makes a splendid partner to Robertson's commemorative wine. Light curries and hard aged cheeses make fine companions, too.
Robertson Winery sprang to life in 1941 in an old chapel originally established by Scottish missionaries. Nestled between mountains in the Robertson Valley, the winery draws life from the nearby Breede River and a vibrant close-knit farming community founded in 1852 that counts seven generations of winemakers and a wealth of viticultural experience.
Although Robertson began operation in 1941, it wasn't until 1984 that Robertson started bottling wine under its own label. Like many South African wineries, Robertson served as a source of wine for many of the nation's top producers. With its acumen and experience, Robertson quickly assembled an incredible portfolio of South African wines, from high quality affordable varietals to robust hedonistic treasures that rival the best South Africa has to offer.
Robertson's flagship offering is a voluptuous bold Shiraz named Number One Constitution Road (this month's feature). Robertson Winery first released the special Constitution Road Shiraz in 2004 to commemorate ten years of democracy in South Africa under the nation's new constitution. They continue to fashion this dense purple wine with enormous personality from the winery's finest Shiraz grapes to celebrate the abundance that surrounds them and sustains the community. The folks at Robertson suggest serving their finest offering, the 2015 Robertson Number One Constitution Road Shiraz, with a joyous gathering of family and friends to celebrate abundance, a request we can heartily endorse and are happy to make available to our members.
Whether we refer to this great varietal as Syrah or Shiraz, we are talking about the same illustrious grape. Syrah has been grown for centuries in the Rhone Valley of France, where it is responsible in all or in part for many of the greatest red wines of France (Hermitage, Côte-Rôtie, and Châteauneuf-du-Pape to name a few). Until recently, there has been much debate as to the true origin of the full-flavored Syrah/Shiraz varietal. Once thought to have originated around the Persian city of Shiraz, whose wines were much admired by connoisseurs and conquerors, including Alexander the Great, scientific evidence now cites southern France as Syrah's birthplace as the scion of two indigenous varietals. However, one point that everyone seems to agree upon is that the name Shiraz, from the Persian city of that name, is the origin of the moniker Shiraz for the Syrah varietal.
Syrah flourishes today not only in the south of France but in other Mediterranean climates, including many appellations in California. It fares particularly well in Australia and South Africa, too, where it yields rich, full-bodied red wines of distinction, which are most often called Shiraz. Syrah/Shiraz ranks among the greatest red grape varietals in the world, standing with Cabernet Sauvignon, Pinot Noir, Sangiovese, and Tempranillo as the non plus ultra among the planet's red grape varietals.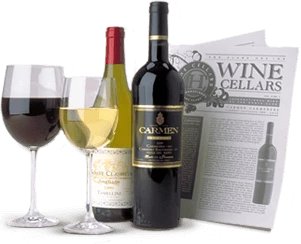 Enjoy Limited Production Estate
Bottled Wines
Discover limited production estate bottled wines such as Vergenoegd's internationally
acclaimed 2005 Cabernet Sauvignon, imported exclusively for our members.
DISCOVER OUR FOUR CLUBS