2017 Roald Sonoma Coast Chardonnay grows along the western edge of Sonoma County where the Pacific's maritime influence provides characteristic cool temperatures and fog. The vines for the 2017 Sonoma Coast Chardonnay grow in a mountain vineyard overlooking the Petaluma Wind Gap, where they are constantly bathed in a gentle sea breeze. The cool coastal weather allows for a long hang time and the development of the wine's beautiful white gold color, floral fragrances, and crisp acidity. In the mouth, delicious flavors of crisp apples, crème brulée, and freshly baked bread straight from the oven work their magic. The delightfully complex, mineral-driven 2017 Roald Chardonnay offers delicious flavors and a smooth, savory finish from a combination of climate, geography, and artful winemaking. Only 300 cases of this smooth, medium-bodied Chardonnay were produced. Enjoy Greg Nelson's charming 2017 Roald Chardonnay moderately chilled (40°-45° F) now and over the next several years.
Greg Nelson's smooth, satisfying 2017 Roald Sonoma Coast Chardonnay needs little or nothing to shine. Yet, who can resist pairing this exemplary Chardonnay with some of the finest morsels one can muster? In the company of the Roald Chardonnay, one could happily begin an evening with a mixed green salad topped off with caramelized walnuts, poached pears, tomatoes, and feta or mild chèvre, all tossed with a Champagne vinaigrette. Steamed blue crabs, scallops in puffed pastry, poached salmon, or nearly any grilled white fish that is served with an herbed mayonnaise also offer superb companionship to Roald's Sonoma Coast Chardonnay. Crab Imperial, Prince Edward Island mussels in a creamy broth, stuffed Alaskan halibut or cod, and most seafood dishes that rely upon butter or cream in their sauces will complement this wine, as well as provide ample reason to pour a second or third glass. For tasty pairings that don't emanate from the sea, consider a cheese and pear risotto, Chicken Cordon Bleu, or Chicken Fricassee, as they, too, will provide excellent companionship to Greg Nelson's exemplary Chardonnay. And for the more adventuresome, Indian Bhel Puri, a mélange of puffed rice, dried vermicelli, onions and fresh coriander, can be a tasty treat. Enjoy!
Roald Wine Company is a unique wine venture by veteran winemaker Greg Nelson. Greg named his enterprise Roald after his father, Roald Nelson, a man known for his character and generosity as well as his great expertise in supply chain management. Greg's overriding quest is creating wines that embody character and generosity, the very same qualities his father modeled throughout his life.
Greg Nelson's accomplishments are legendary in their own right and his path to winemaking quite distinctive. Like many of us, he discovered the wonderful world of wines, both European and Californian, while at college. Wine quickly became a passion for Greg as he continued his studies. He would later earn a PhD in Biology at UC San Diego for discovering the sweet taste receptor and the umami taste receptor. He was also appointed a Beckman Scholar with the Arnold and Mabel Beckman Foundation. Greg subsequently received a Hewitt Fellowship and his publications have appeared in the scientific journals Nature and Cell. Greg's interest and accomplishments in biology and his passion for wine inevitably led him to winemaking in Sonoma County with some of California's greatest winemakers. He worked in both the cellar and the lab for numerous wineries, including Ramey and Martinelli, and he helped found Conarium before founding Roald Wine Company.
Roald turns out a bevy of exciting wines in small lots, everything from Chardonnay to Zinfandel, including Roald's 2017 Sonoma Coast Chardonnay (this month's feature).
Chardonnay is not only the most widely cultivated white varietal on the planet; it is also the most treasured. Twice each year at harvest time (because the seasons are reversed in the northern and southern hemispheres) in its native France and in countless locales on six continents, Chardonnay grapes command premium prices. In tribute, Chardonnay produces the finest, most flavorful dry white wines in the world to which writers and connoisseurs devote countless columns and untold hours exalting its virtues and dissecting its flavors. Whether it be from Chablis or Champagne, Sonoma or the Santa Lucia Highlands, or from the most illustrious of vineyards perched atop the slopes of Corton and Montrachet, Chardonnay is the yardstick by which all other dry white wines have come to be measured.
With food, Chardonnay is a peerless match. Chablis and other Chardonnays that see little or no oak provide superb complements to seafood. Fuller, richer, and more heavily oaked renditions of Chardonnay, typified by the finest examples from California and France, pair beautifully with more complex fare, such as rich cream sauces, poultry and white meats. Moreover, the finest Chardonnay wines shine on their own and require nothing but a clean glass to please the palate.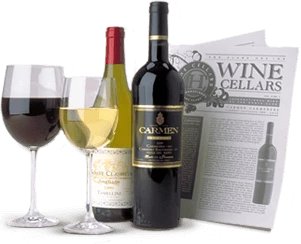 Enjoy Limited Production Estate
Bottled Wines
Discover limited production estate bottled wines such as Vergenoegd's internationally
acclaimed 2005 Cabernet Sauvignon, imported exclusively for our members.
DISCOVER OUR FOUR CLUBS