The 2006 Red Belly Black Chardonnay is a 100% Chardonnay that is sourced from several sites that lay atop an ancient limestone sea bed near Padthaway, Australia's most renowned appellation for Chardonnay, as well as the Chardonnay friendly limestone cliffs above the Murray River. Together, these sites endow the 2006 Red Belly Black Chardonnay with a set of complex aromatics and a myriad of flavors that are nearly as indicative of French Chablis as they are of Australian Chardonnay. Partially aged "sur lie" (on the skins and yeast) in small American and French oak barrels, the 2006 Red Belly Black Chardonnay exhibits a flamboyant, fruit driven nose, a rich, creamy texture, and a wealth of citrus flavors that explode on the finish . Lemon, lime, nectarine, and melon all come front and center in this delightfully dry, easy to drink Chardonnay. We suggest serving the 2006 Red Belly Black Chardonnay fairly cool (40º - 45º F), but not ice cold. Enjoy!
Considering the wine's soft, up front fruit and its long, dry, citrus finish, Angove's 2006 Red Belly Black Chardonnay could serve as the model, food friendly Chardonnay to pair with simple and exotic fare. Maryland style Crab Cakes; Sautéed Oysters; Crispy Tender Shrimp, lightly fried and served with a spicy sweet Thai sauce; Steamed or Friend Pot Stickers, stuffed with minced pork and spices; or Tilapia, lightly grilled and served with a tangy mango chutney, all provide excellent accompaniments to Angove's 2006 Red Belly Black Chardonnay. Grilled Chicken and Bowtie Pasta, tossed with extra virgin olive oil, roasted garlic, and plenty of fresh basil, offers another favorite complement to this delicious Chardonnay. Tapas and moderately spicy starters pair nicely with the Red Belly Black Chardonnay, too, but why stop there? Given this wine's up front appeal, we highly recommend a little experimentation; we doubt you will be disappointed. Enjoy!
Red Belly Black wines are named for the Red Belly Black snake that is indigenous to South Australia's bush land areas where the Angove family has crafted wines for five generations. The Angoves fashion Red Belly Black, Nine Vines, and other premium Australian wines from the finest viticultural areas of South Australia. Angove's Pty. Ltd. is one of Australia's largest privately owned wineries. It began with Dr. William Angove, an accomplished general practitioner and surgeon, who emigrated with his wife and young family from Cornwall in 1886 to establish a medical practice in South Australia. Although he enjoyed a distinguished medical career, Dr. Angove's most enduring legacy survives in the viticulture of South Australia. His early experimentation with vines, winemaking and distilling led to the establishment of a proud family business. Dr. Angove's initial plantings at the township of Tea Tree Gully in the Adelaide foothills were the forerunner of one of the largest vineyards in the southern hemisphere — the magnificent Nanya Vineyard at Renmark in the Riverland of South Australia. Since 1950, Angove's has steadily expanded its operations and structure. The Renmark facility has grown to become a major winemaking and distilling entity with storage capacity for more than 15 million liters of wine and spirits. In Australia, Angove's is known not only for its fine table wines (still wines under 14% alcohol), but its exceptional line of fortified wines and spirits. Angove's produces sherry, port, vodka, and an especially fine line of pot stilled brandies under the name of St. Agnes. The 5 Star Liqueur Brandy from St, Agnes is a gold medal winner that consistently receives the highest critical acclaim from tasters and critics. In 1983, the fourth generation of the family took control of Angove's when John Carlyon Angove succeeded his father as Managing Director of the company. John has taken up where his father left off, with increased development and investment in all aspects of the winery. In addition, Victoria, John's eldest daughter and a member of the fifth generation, is now actively involved in ensuring ongoing growth in her role as International Business Development Manager, so much so that Angove's wines can be found today in over 30 different countries around the globe. This is testimony to Victoria's ability and the outstanding quality of Angove's many critically acclaimed, award winning wines. This month' feature, the 2006 Red Belly Black Chardonnay, has garnered high acclaim from Wine Spectator and other highly touted wine publications.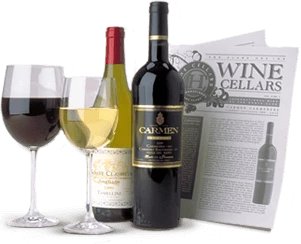 Enjoy Limited Production Estate
Bottled Wines
Discover limited production estate bottled wines such as Vergenoegd's internationally
acclaimed 2005 Cabernet Sauvignon, imported exclusively for our members.
DISCOVER OUR FOUR CLUBS