The first duty of a traditional white Vinho Verde is to be crisp, fresh, and delicious. And good white Vinho Verde actually seems to dance and sparkle, much like the summer sun, as it shimmers on a shining sea. Raza's 2013 Vinho Verde is definitely very good Vinho Verde, and it more than sparkles and dances in the mouth. It offers a fresh, enticing bouquet along with plenty of exhilaratingly crisp fruit, an intriguing minerality and a citrus twist – all of which make it incredibly appealing and emi-nently drinkable. If you're looking for a Chardonnay look-alike with big buttery notes, complex wood tones and high alcohol, you won't find any of that in Vinho Verde, and that includes Raza's quintessen-tial 2013 Vinho Verde. What makes Vinho Verde so attractive, and Raza's 2013 offering in particular, is its racy, effervescent quality. Give this wine a good chill and enjoy it as it unfolds in the glass. The wine's initial spritz will quickly dissipate and fresh racy qualities will emerge. Raza's 2013 Vinho Verde, like nearly all Vinho Verde, is meant to be drunk young in the full bloom of youth, so nothing will be gained by ageing this wine. Enjoy it now and over the next year.
At home in Portugal and now around the world, too, as Vinho Verde is enjoying immense worldwide popularity, this unique white wine of Portugal is guzzled throughout the day and evening and is paired with nearly everything – most notably Portugal's abundant seafood. As a quintessential Vinho Verde, the 2013 Raza complements shrimp, shellfish and all kinds of fish, even bacalhau, a Portuguese staple. Bacalhau, or salted cod, may not sound appetizing to the uninitiated or to those who have never tried a good one, but many delicious Portuguese dishes incorporate bacalhau. Bacalhauis especially popular at holiday time, prepared with cream and potatoes or with tomatoes, olives, hard boiled eggs, white wine and a variety of herbs. Just as popular is sipping Vinho Verde with salads and light appetizers. A pear and arugula salad or a mixture of baby organic greens topped with a mild goat cheese and a light balsamic vinaigrette offers another rewarding way to drink a glass or more of the 2013 Raza Vinho Verde. But Raza goes down just as easily by itself. It doesn't need anything but a clean glass to shine. Enjoy!
Quinta da Raza is located in the verdant Vinho Verde region of northwest Portugal, where it is home to proprietors José Diogo and Mafalda Texeira Coelho. Quinta da Raza is not only José and Mafalda's home, it's their life. They cultivate 100 acres of prime vineyard with a unique terroir, created by gentle green slopes with a magnificent exposure to the sun. The estate's idyllic microclimate is created by a mantle of mountains to the west and the nearby Tamega River Valley, which prevent the strong Atlantic winds from buffeting the region with wind and rain. While Quinta da Raza is sheltered from the mari-time rains that often afflict other vineyards in the Vinho Verde region, Quinta de Raza receives more sun than most other vineyards in the region, which is the key to Raza's success and producing the region's finest Vinho Verde.
Winemaker José Diogo fashions several fine white Vinho Verde offerings each year as well as a rosé and red Vinho Verde. Raza (this month's offering) is the estate's most quintessential white wine, offer-ing freshness and effervescence – hallmarks of Vinho Verde. The Coelhos' Raza Vineyard has won the prize for the best vineyard at the International Fair of Galiza, Spain many times since 1999, which only serves as testimony to the dedication and quality that emanates from this outstanding property. José Diogo has also been awarded the The Grape Grower of the Year Award by the Viticulture Commission of the Vinho Verde Region.
Vinho Verde covers a vast expanse of northwest Portugal. Like so many other European viticultural ar-eas, Vinho Verde is not only a distinct appellation, it is also a wine. Vinho Verde literally means "green wine." Without a doubt, green is the color that best describes the light, slightly evanescent white wines that flow freely from the Vinho Verde DOC. Such wines have come to be associated with the name Vinho Verde and represent the vast majority of wines sold under the label Vinho Verde. Such wines em-anate from the lush green hills that lie inland from the northern port city of Porto, which ironically has imparted its name to Port and Portugal's fullest, longest lived red wine. However, the designation Vinho Verde may also be used for the region's rosé and red wines – none of which come close to resembling the great fortified wine called Port. Vinho Verde can be made from any number of indigenous grape va-rieties, including Alvarinho (also known as Albariño in Spain), Arino, Azal, and Trajadura for the re-gion's quintessential fresh, white wine, and Amaral, Azal Tinto, Borraçal, Brancelho, and Espaderiro among a host of others for red and rosé wines.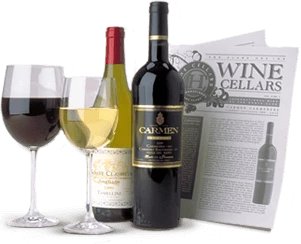 Enjoy Limited Production Estate
Bottled Wines
Discover limited production estate bottled wines such as Vergenoegd's internationally
acclaimed 2005 Cabernet Sauvignon, imported exclusively for our members.
DISCOVER OUR FOUR CLUBS