Post COVID, we are thrilled to once again feature the very special 2018 P.S. Garcia Bravado Old Vine Red Blend (40% Syrah, 36% Carignan, 14% Grenache, 9% Petit Verdot, 1% Mourvèdre). Still big, bold, and beautiful after four years of age, the 2018 P.S. Garcia Bravado (93 Points – Tim Atkin) truly lives up to its name. Made from vines averaging 120 years of age, the 2018 P.S. Garcia Bravado offers up heady aromatics, intense lush flavors, and superb focus. Freshly crushed blackberries, blueberries, and plums, all imbued with a cache of spices, leap from the glass to delight the nose as well as the palate. Although quite bold, the 2018 Bravado possesses excellent focus. Bravado's lush old vine fruit is incredibly balanced by mature ripe tannins and an energetic core of acidity from very old Carignan vines. The result is a long, lip-smacking finish. Reminiscent of some of the best California old vine field blends, P.S. Garcia's 2018 Bravado makes a great statement and offers a whole lot to like. Not only does Felipe Garcia's 2018 Bravado pay tribute to Chile's patrimony and MOVI's passion for authentic wines, it also demonstrates the inherent quality of old vine field blends. We suggest serving the 2018 P.S. Garcia Bravado at cool room temperature (58°-62° F). Anticipated maturity: 2020-2028. Enjoy.
P.S. Garcia's 2018 Bravado Itata Valley Old Vine Red Blend needs little else than its ebullient personality to win the day. The wine's extroverted personality makes it an ideal sipping wine for those who relish boldly flavored wines. It's an equally welcome partner to down home stick to your ribs cooking. Comfort foods in the form of cherry-braised short ribs, barbequed flank steak with scalloped potatoes and grilled balsamic glazed Portobello mushrooms, and grilled sausage and lentil chili all make splendid companions to P.S. Garcia's 2018 Bravado. A Chicken Fried Steak with mashed potatoes and green beans, Spaghetti Bolognese with sautéed spinach, and almost any hearty dish with a side of Mac'n Cheese will taste all the better in the company of a glass of the 2018 P.S. Garcia Bravado, which will not only ennoble the food but also cut through the fat. For a special treat, consider pairing P.S. Garcia's Bravado with Sancocho, a hearty Caribbean and Latin American specialty. It's a delicious beef stew made with yucca and root vegetables all in a delectable rich broth. Buen Provecho!
Who can resist pairing the world's finest cheeses with P.S. Garcia's buxom 2018 Bravado? Not us! Double Gloucester, Iberico, Manchego, Reblochon, Stilton, and many other flavorful cheeses can easily hold court with the 2018 Bravado. The pairing provides the ideal way to finish a comfort meal. For more expert pairings or to procure the finest gourmet cheeses, visit us at www.cheesemonthclub.com to enjoy all the best in life.
Felipe Garcia created P.S. Garcia in 2006. In that year, Felipe and fellow winemaker Connie Schwaderer were working for large Chilean wineries. Each shared a passion for creating truly authentic Chilean wines – wines that reflect the oenological patrimony of Chile, its people, and longstanding wine traditions. Together they identified the vineyards, fruit, and old vines that fit the style of wines they longed to make. When their respective employers issued them an ultimatum to abandon their personal project and dreams or leave their stable jobs, they chose the road less traveled, launched P.S. Garcia, and made their first "truly Chilean wine."
Inspired at first by old-vine Carignan from Chile's Maule Valley, Felipe started VIGNO (Vignadores de Carignan), an organization devoted to producing Carignan, one of Chile's original European grape varietals. In 2009, Felipe and Connie took their passions a step further by forming a group with other like-minded small wineries in Chile called MOVI: Movimiento de Viñateros Independientes (Movement of Independent Vintners). Both organizations are now firmly established and are responsible for Chile's growing number of small independent wineries that fashion an exciting array of wines from old vines and heirloom grape varieties.
Felipe and Connie bring formidable experience to P.S. Garcia. Before teaming up with Felipe and launching P.S. Garcia, Connie studied agricultural engineering at the Catholic University of Valparaíso with a post-graduate specialization in enology from the University of Chile. She served as the winemaker for two Chilean wineries: Viña Agustinos from 2001 to 2009, and Viña Veranda from 2003 to 2009. Felipe's background is in agricultural engineering and enology from the University of Chile. Prior to establishing P.S. Garcia, he served as winemaker for Viña Calina from 2000 to 2006 and later at Viña Casas del Bosque, one of Chile's most critically acclaimed wineries, from 2006 to 2009.
P.S. Garcia produces three exceptional authentic Chilean wines beginning with Bravado (this month's feature), a delicious old vine field blend emanating from the Piedra Lisa and Bellavista Vineyards in the Itata Valley. Both vineyards are farmed organically with vines in excess of 120 years of age. Facundo, a blend of Carignan and Bordeaux varietals, and Vigno, a rare offering from 100% very old Carignan vines, round out P.S. Garcia's eminent portfolio of authentic Chilean wines.
The Itata Valley, which lies hundreds of miles south of Chile's capital Santiago, is nicknamed the "Chilean Tuscany." With rolling green hills similar to those of Tuscany, Itata is home to some of Chile's oldest viticultural history and a wealth of ancient bush vines, including Carignan, Cinsault, Muscat, Pais, and others. Sufficient rainfall and ideal growing conditions allow many vineyards to be dry farmed and organic.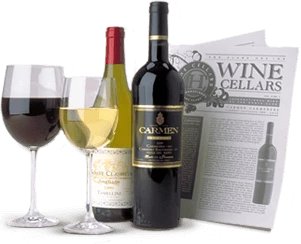 Enjoy Limited Production Estate
Bottled Wines
Discover limited production estate bottled wines such as Vergenoegd's internationally
acclaimed 2005 Cabernet Sauvignon, imported exclusively for our members.
DISCOVER OUR FOUR CLUBS