Poggio ai Mandorli's 2007 Chianti Classico Riserva is rich, aromatic Chianti that comes dressed to the nines in an intense ruby robe. Made from 90% Sangiovese, 5% Merlot, and 5% Cabernet Sauvignon, there is nothing wimpy about this Chianti Classico. Yet, this Riserva offers elegance and finesse in both aroma and flavor to balance its bright structure and ripe tannins. Scents of wild berries, violets, and wood smoke flow from the glass almost immediately after the wine has been poured. They are followed by a coterie of velvety flavors with just the right touch of acidity and tannic clout on the finish to assure further ageing and complexity. Pure, ripe, and round Poggio ai Mandorli's 2007 Riserva Chianti Classico is truly classic Chianti. For optimal enjoyment, we suggest 20-30 minutes of aeration for this wine before serving at cool room temperature (60°-66° F). Salute!
The velvety, superbly crafted 2007 Poggio ai Mandorli Chianti Classico is an ideal wine to bring to table. It pairs beautifully with everything from Tuscany's classic country cooking to a wide range of international fare. For starters, Ribollita, a traditional Tuscan soup that's based upon bread, beans, kale, and other local fare, is one of our favorite dishes to pair with Chianti, and it's also one of the healthiest and simplest to make. Thick lentil soup with ham and plenty of root vegetables makes another fine accompaniment as does an aged Porterhouse or New York Strip Steak that's been brushed with olive oil, garlic, mint, and rosemary. Pheasant or quail, stuffed with braised vegetables, porcini mushrooms and a hint of truffle makes for another splendid accompaniment. And as this delightful Poggio ai Mandorli Riserva ages, lamb will likely become another favorite accompaniment in the form of a juicy leg of lamb, savory lamb shank, or even a juicy lamb burger with gorgonzola cheese and all the fixings. Buon Appetito!
Poggio ai Mandorli is in many ways the quintessential Chianti Classico estate. It lays tucked away among the folds and hills of Tuscany's pastoral landscape, a land of shimmering olive trees, wooded hill tops, and beautiful vines located just outside of Strada in Chianti. In true Tuscan tradition, Poggio ai Mandorli is a working farm in every sense of the word. Vines cover 37 acres of the estate's 128 acres, while Poggio ai Mandorli's olive groves that are devoted to the production of world class extra virgin olive oil comprise nearly 50 acres of the estate. The balance of the property serves other agricultural pursuits or remains wooded, home to the region's wide array of game.
Poggio ai Mandorli fashions three splendid wines: a charming Chianti Classico, a full-bodied Sangiovese I.G.T., and the winery's flagship offering, a most impressive Chianti Classico Riserva that is made from all estate grown fruit. Poggio ai Mandorli also crafts outstanding olive oil from its more than 1900 olive trees.
Chianti is a sea of vines amid the pastoral slopes of Tuscany. Between Florence and Siena over one hundred and fifty thousand acres of vines share the hills and hollows of this ancient land with olive groves and grain fields, bleating sheep, and woods full of oak and chestnut. Chianti is the largest DOCG in Italy, producing more than two hundred million liters of wine each year from seven distinct districts. Consequently, Chianti is, in fact, many different wines from over seven thousand registered growers in seven distinct districts and their outlying areas.
Chianti Classico is just one of those seven official areas of Tuscany entitled to bear the name Chianti on its label. Chianti Classico is, also, the wine from the heart of Chianti, and its producers must belong to the Chianti Classico Consorzio or Consortium. The Chianti Classico Consorzio is the most recognizable consortium in Tuscany and its members have the highest voluntary standard of excellence among Chianti producers. The Chianti Classico Consorzio seeks to define, improve, and promote the wines of Chianti Classico. The majority of producers within the confines of Chianti Classico belong to the consortium, but not all. Standards are strict: the monitoring of prescribed grape varieties, vineyards, yields, alcohol levels, and even a tasting of every member's wines are part of the consortium's annual ritual of enforcement. The Gallo Nero or Black Rooster seal on the neck of the bottle identifies a wine to be authentic Chianti Classico.
Today, Chianti is only a red wine, but this has not always been the case. Until the early 16th century, the opposite was true. Only the white wine of central Tuscany was called Chianti, but during the Renaissance the dry red wine of the area, which was commonly referred to as Vermiglio by Michelangelo and his Florentine contemporaries, also adopted the name Chianti. By law, all Chianti must meet certain legal and qualitative standards. Chianti must contain only certain prescribed grape varieties, with Sangiovese always playing the starring role (at least 80% in Chianti Classico). Cannaiolo, Colorino, and small amounts of Cabernet and Merlot are other permitted red varietals for Chianti. And although no longer required, two white grape varieties are still permitted in Chianti. Some traditional Chianti producers still use small amounts of white grapes in the form of Trebbiano and Malvasia in producing their Chianti. Hence, there is a great variety in quality and styles in Chianti from which to choose.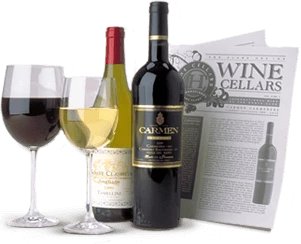 Enjoy Limited Production Estate
Bottled Wines
Discover limited production estate bottled wines such as Vergenoegd's internationally
acclaimed 2005 Cabernet Sauvignon, imported exclusively for our members.
DISCOVER OUR FOUR CLUBS