A gorgeous deep ruby robe sets the table for the majesty of the 2004 Podere Il Palazzino La Pieve Chianti Classico. Better yet, within a few minutes of pulling the cork, entrancing, profound aromas emerge from this heaven scented, medium-bodied Chianti. A bouquet of deep down fruit, sizzling bacon, and lush woodlands resplendent with wild strawberry, iris, and violet, springs from the glass. However, the best is yet to come. On the palate, the Il Palazzino La Pieve is pure pleasure, exhibiting a rich, textured feel that is best described as "of the finest silk and satin." It is indeed this fine tactile quality that sets this great Chianti Classico apart from the pack of good, but often angular, wines that flow from Chianti and the surrounding Tuscan countryside. Furthermore, with a little breathing time, the Il Palazzino La Pieve becomes a seamless garment. From its heavenly aroma to its structured, long finish, the 2004 La Pieve explodes with flavor, vitality, and most of all pleasure. Drink the 2004 Il Palazzino La Pieve at cool room temperature (about 65° F). Anticipated maturity: 2008-2014.
Fire up the grill and bring on the meat for the 2004 Il Palazzino La Pieve Chianti Classico, but no pedestrian cuts need apply. Even with its great depth of flavor, the Il Palazzino La Pieve remains an elegant medium-bodied wine. Filet Mignon, pork tenderloin, tender cuts of veal, and roasted game birds top our list of companions. In fact a stuffed, slowly grilled veal chop wins our highest recommendation. A splendid Porcini mushroom or truffle infused risotto or pasta dish would fill the bill, too. However, we suggest you save heavy tomato sauces and such for fuller, simpler wines than the Il Palazzino La Pieve. This wine is too pure and complex to be buried beneath strong spicy flavors or heavily garlic-laden sauces. Enjoy!
In the hills south of Gaiole, the young but erudite husband and wife team of Andrea and Allessandro Sderci produce some of the most seductive wines in all of Chianti Classico. Working hillside vineyard plots in excess of 1300 feet, this remarkable couple has created a model estate where the flawless excellence of its wines is unsurpassed, even by many of the older, more famous estates in Tuscany. Moreover, the Sdercis are passionately committed to their work and they are always searching for ways to "push the envelope" and improve their already superb offerings. In 1984, when the archaic and highly idiosyncratic laws proscribing both white and red grapes for Chianti Classico were changed, Il Palazzino eliminated entirely the Trebbiano and Malvasia (white grapes that were theretofore required) from its blend. By totally eliminating the old canonical blend of white varietals from its Chianti Classico, Il Palazzino has avoided the all too common danger of precocious oxidation. Since this legal change set free the producers of Chianti Classico, Il Palazzino has fashioned pure, rich, Chianti Classico wines that possess a remarkably appealing ruby robe and supreme elegance – attributes that not all Chiantis can claim. The removal of white grapes has, also, added to the longevity of Il Palazzino's wines. Today in fine vintages, five and ten year old versions of this remarkable estate's two single vineyard offerings are just reaching the height of their perfection and the ultimate expression of Il Palazzino's great terroir. And as one would imagine, only the finest clones of Sangiovese and Canaiolo, Tuscany's two best red varieties, find their way into the estate's Chianti Classico, and the evidence is in the supreme purity of the wines from Il Palazzino's two outstanding single vineyards: "Argenina" and "La Pieve". As just one more example of how meticulous the Sdercis are about their Chianti Classico, they severely limit the amount of wine they produce. At harvest time the grape selection at Il Palazzino is brutal, with only the finest, unblemished clusters being retained. The same persnickety selection prevails at assemblage, when only the top barrels are used for the estate-bottled wines. These practices heighten to an almost exasperated degree the archetypal qualities that have distinguished the Chianti Classico wines of Gaiole from the rest: complexity, finesse, warmth, richness, and a bouquet of exceptional wealth are the results. Chianti Classico: A Region, a Wine, and a Consortium Chianti is a sea of vines amid the pastoral slopes of Tuscany. Between Florence and Siena over one hundred and fifty thousand acres of vines share the hills and hollows of this ancient land with olive groves and grain fields, bleating sheep, and woods full of oak and chestnut. Chianti is the largest DOCG in Italy, producing more than two hundred million liters of wine each year from seven distinct districts. Consequently, Chianti is, in fact, many different wines from over seven thousand registered growers in seven distinct districts and their outlying areas. Chianti Classico is just one of those seven official areas of Tuscany entitled to the name Chianti to its labels. Chianti Classico is, also, the wine from the legal heart of Chianti and its producers must belong to the Chianti Classico Consorzio or Consortium. The Chianti Classico Consorzio is the most recognizable consortium in Tuscany and its members have the highest voluntary standard of excellence among Chianti producers. The Chianti Classico Consorzio seeks to define, improve, and promote the wines of Chianti Classico. Most of the producers within the confines of Chianti Classico belong to the consortium, but not all. Standards are strict: the monitoring of prescribed grape varieties, vineyards, yields, alcohol levels, and even a tasting of every member's wines are part of the consortium's annual ritual of enforcement. Today, Chianti is only a red wine, but this has not always been the case. Until the early 16th century, the opposite was true. Only the white wine of central Tuscany was called Chianti, but during the Renaissance the dry red wine of the area, which was commonly referred to as Vermiglio by Michelangelo and his Florentine contemporaries, also adopted the name Chianti. By law, all Chianti must meet certain legal and qualitative standards. Chianti must contain only certain prescribed grape varieties, with Sangiovese always playing the starring role. Cannaiolo, Colorino, and small amounts of Cabernet and Merlot are other permitted red varietals for Chianti. And although no longer required, two white grape varieties are still permitted in Chianti. Some traditional Chianti producers still use small amounts of white grapes in the form of Trebbiano and Malvasia in producing their Chianti. Hence, there is a great variety of sizes and styles of Chianti from which to choose.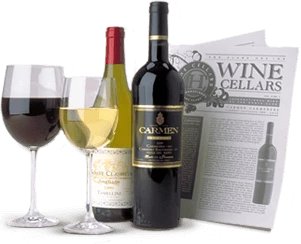 Enjoy Limited Production Estate
Bottled Wines
Discover limited production estate bottled wines such as Vergenoegd's internationally
acclaimed 2005 Cabernet Sauvignon, imported exclusively for our members.
DISCOVER OUR FOUR CLUBS