Chardonnay and Merlot are the two most difficult varietals for consumers to agree upon. Chardonnay poses a unique challenge because everyone seems to have a different idea of what good Chardonnay should taste like, while the difficulty with Merlot is finding quality examples that reflect both varietal character and a specific terroir – no easy task. We hit the jackpot in Pietra Santa's 2010 Cienega Valley Estate Merlot. It hails exclusively from Pietra Santa's own estate vineyards and it is cropped at a mere 2 tons per acre, which affords both the grape and the terroir the opportunity to shine in the wine. As quintessential Merlot, Pietra Santa's 2010 Estate Merlot boasts ripe, concentrated aromas and flavors reminiscent of cassis, cherry and plum with added hints of cedar and loam. A velvety texture and beautiful mouth feel make perfect foils for the wine's balanced extracted flavors, while offering considerable drinking pleasure. As the gapes for this wine enjoyed a long hang time, with harvesting in mid to late November after a cool and unusually prolonged growing season, Pietra Santa's Merlot reminds us of the best of California and Bordeaux. Several panel members even compared the 2010 Pietra Santa Estate Merlot to classic St. Emilion – high praise indeed. For optimal enjoyment, we sug-gest affording Pietra Santa's 2010 Estate Merlot at least 15-20 minutes of aeration before serving at cool room temperature (60°-65° F).
The 2010 Pietra Santa Cienega Valley Merlot offers round concentrated flavors, which makes it a great food wine and easy to pair with a variety of dishes. As Pietra Santa's proprietors are self-proclaimed "foodies," they offer a number of exciting pairings with their wines. Jayme Nunn's recipe for Pan Seared Duck Breast with a cherry infused sauce wins a place in our hearts with her family's Estate Merlot. Another family recipe consisting of Flank Steak served with spinach and mushrooms gets a nod as well. Better still, try serving the Pietra Santa Estate Merlot with Beef Tenderloin, stuffed with mushrooms and truffles. Rack of Lamb makes another splendid accompaniment. If your mouth's not watering yet, you've probably just had dinner. In any case, why not save some room for Dark Chocolate Merlot Tarragon Truffles? They're a splendid way to end a meal and finish a glass of 2010 Pietra Santa Estate Merlot. Enjoy!
Pietra Santa is a family run estate producing outstanding artisanal wines and olive oils. It is located 25 miles from Monterey Bay in the beautiful Cienega Valley. Founded in the early1850s by Frenchman Theophile Vache, it is now owned by the Blackburn family. Pietra Santa fashions an array of delicious wines, thanks to the acumen of Italian winemaker Alessio Carli and the estate's unique terroir. The es-tate's proximity to the coast allows cooling maritime breezes to temper the summer sun, resulting in a long growing season and vibrant balanced wines. Moreover, the winery is located on the San Andreas Fault, which has created soils rich in granite and limestone that naturally lower vineyard yields and add distinctive flavors to the wines. The winery was named Pietra Santa, Italian for "Sacred Stone," in honor of these exceptional soils.
Although Pietra Santa spans more than 400 acres spread across Cienega Valley, adjacent bench lands, and the nearby Gabilan Mountains, only 120 acres are devoted to wine grapes. Each of the winery's nine grape varieties benefits from the estate's varied terrain. Chardonnay and Pinot Grigio enjoy steep, ter-raced hillsides where they thrive under the bright morning sun as well as cool, afternoon shade. Mean-while, Pinot Noir and Sangiovese are grown on the moderate bench land, while Zinfandel, Cabernet Sauvignon and Merlot are planted in the deepest parts of the valley to receive maximum sun exposure. Pietra Santa's oldest vineyards date to 1905.
What is perhaps most impressive about Pietra Santa is how winemaker Alessio Carli brings out the best in each of Pietra Santa's varietals. Tuscan by birth, Alessio first learned to make Chianti with his father. He then went on to study agronomy at college and later earned a graduate degree in enology. In Tus-cany, he spent two years at Fattoria Il Castagno where he supervised the fattoria's production of both wine and olive oil. He also served as Assistant Winemaker at Badia a Coltibuono, one of Chianti's most celebrated estates, before coming to California in 1990. He has worked exclusively with Pietra Santa since 1998. His expertise with Sangiovese, an indigenous Tuscan grape, is second to none, yet all of his red wines offer exceptional balance and flavor, especially this month's feature, the 2010 Estate Merlot. This makes choosing one Pietra Santa progeny over another at Pietra Santa akin to "Sophie's Choice." Alessio's olive oils are exceptional as well, though they are available in very limited quantities, much like the estate's wines. In short, Pietra Santa is one of California's rising stars, and its wines are not to be missed.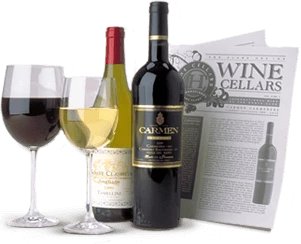 Enjoy Limited Production Estate
Bottled Wines
Discover limited production estate bottled wines such as Vergenoegd's internationally
acclaimed 2005 Cabernet Sauvignon, imported exclusively for our members.
DISCOVER OUR FOUR CLUBS