We have been waiting years for Pietra Santa to have enough of their exceptional un-oaked Chardonnay to offer our club members, and the time has finally come. Reminiscent of the finest wines from France's Maconnais, the 2014 Pietra Santa Cienega Valley Chardonnay displays a bright sun-kissed Chardonnay color that evokes a smile, but that's just for starters. The best of this wine is still to come. Pietra Santa's 2014 Chardonnay offers up a beautiful set of aromatics, including soft scents of apple blossom, acacia flower, and lemon zest, all of which carry through to the palate. In the mouth, there is nothing wimpy about this un-oaked Chardonnay. Rather, the citrus and floral tones so prominent in the bouquet melt into the wine's pure fruit flavors and pronounced minerality to offer a racy, fulfilling mouthful of wine. Unencumbered by a preponderance of oak, Chardonnay's distinctive varietal flavor shines through in Pietra Santa's 2014 Chardonnay. Enjoy this well-made Chardonnay moderately chilled (about 40º F) now and for the next couple of years.
We could sit and sip the 2014 Pietra Santa Cienega Valley Chardonnay all day without an accompaniment, but add fresh Dungeness crab, prawns or other shellfish for double the pleasure and a veritable feast. Grilled, poached or smoked fish complements Pietra Santa's mineral rich Chardonnay, too. Pietra Santa pairs each of its wines with several original recipes. Two of Pietra Santa's favorite seafood pairings with their Chardonnay include Crab Cakes with Aioli Sauce, served over a bed of fresh greens, and Shrimp Risotto with Meyer Lemon and Truffle Oil. Other flavorful pairings include chicken salads prepared with walnuts, grapes, and a bit of mild curry. Seafood crepes and Piedmontese-style risottos present additional opportunities to showcase the Pietra Santa's 2014 Chardonnay. Buon Appetito!
Pietra Santa is a family run estate producing outstanding artisanal wines and olive oils. It is located 25 miles from California's Monterey Bay in the beautiful Cienega Valley. Founded in the early 1850s by Frenchman Theophile Vache, it is now owned by the Blackburn family. Pietra Santa fashions an array of delicious wines, thanks to the acumen of Italian winemaker Alessio Carli and the estate's unique terroir. In addition, the estate's proximity to the coast allows cooling maritime breezes to temper the summer sun, resulting in a long growing season and vibrant balanced wines. Moreover, the winery is located on the San Andreas Fault, which has created soils rich in granite and limestone with a preponderance of stones that naturally lower vineyard yields and add distinctive flavors to the wines. The winery was named Pietra Santa, Italian for "Sacred Stone," in honor of these exceptional soils.
Although Pietra Santa spans more than 400 acres spread across Cienega Valley, adjacent bench lands, and the nearby Gabilan Mountains, only 120 acres are devoted to wine grapes. Each of the winery's nine grape varieties benefits from the estate's varied terrain. For example, Chardonnay and Pinot Grigio enjoy steep, terraced hillsides where they thrive under the bright morning sun as well as the cool, afternoon shade and maritime breezes. Meanwhile, Pinot Noir and Sangiovese are grown on the moderate bench land, while Zinfandel, Cabernet Sauvignon and Merlot are planted in the deepest parts of the valley to receive maximum sun exposure. Pietra Santa's oldest vineyards date to 1905.
What is perhaps most impressive about Pietra Santa is how winemaker Alessio Carli brings out the best in each of Pietra Santa's varietals. Tuscan by birth, Alessio first learned to make Chianti with his father. He then went on to study agronomy at college and later earned a graduate degree in enology. In Tuscany, he spent two years at Fattoria Il Castagno where he supervised the fattoria's production of both wine and olive oil. He also served as Assistant Winemaker at Badia a Coltibuono, one of Chianti's most celebrated estates, before coming to California in 1990. He has worked exclusively with Pietra Santa since 1998. His expertise with Sangiovese, Tuscany's indigenous progeny, and Pinot Grigio, Northern Italy's favored white varietal, is second to none. However, singling out one progeny over another at Pietra Santa short changes the estate's other outstanding wines and exceptional estate grown olive oils. Alessio Carli fashions a refreshingly dry, un-oaked Chardonnay (this month's feature) that displays great minerality and pinpoint precision, as well elegant, well-endowed Pinot Noir. But these are just a few of the splendid wines this beautiful estate has to offer. In short, Pietra Santa has quietly become one of the Central Coast's finest, most reliable wineries.
In addition to an enviable portfolio of wines, Alessio Carli fashions an exceptional array of olive oils at Pietra Santa that should not be missed.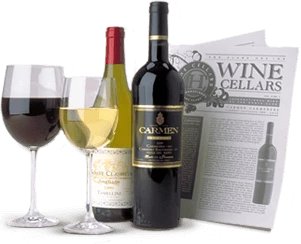 Enjoy Limited Production Estate
Bottled Wines
Discover limited production estate bottled wines such as Vergenoegd's internationally
acclaimed 2005 Cabernet Sauvignon, imported exclusively for our members.
DISCOVER OUR FOUR CLUBS