The 2005 Zemmer Alto Adige Pinot Grigio is a bright, clean, full-bodied Pinot Grigio that amplifies both the grape varietal and the style of wine for which Alto Adige is justly renowned. In other words, Zemmer has once again hit the mark with his 2005 Pinot Grigio and demonstrated why Alto Adige remains Italy's premier DOC for Pinot Grigio. Wrapped in a sunny yellow robe, Zemmer's exemplary 2005 Alto Adige Pinot Grigio exudes a beguiling bouquet of spring flowers, stone fruits, and minerals. And unlike many other Pinot Grigio's, this offering won't wilt in the glass. It remains full and rich on the palate, and it finishes completely dry with a long, lemon drop finish that continues on long after the wine has found its way home. Simply put, Zemmer's Pinot Grigio combines eminent drink ability with real flavor and panache. Consequently, we found this wine to be nearly irresistible. It is no wonder that many a commentator has referred to Zemmer's wines as "sexy." Enjoy this noble Pinot Grigio well chilled (35°-40° F) or only slightly cool (50° F) . . . as you like it. We think you will enjoy it just about any way you can get it.
Well made Pinot Grigio is one of the world's consummate aperitifs. It, also, renders a great service to food, especially when food accompaniments involve seafood, light pasta dishes, and salads. The 2005 Zemmer Alto Adige Pinot Grigio more than rises to the aforementioned challenge and it goes a step further. Because it possesses a highly aromatic profile and plenty of body and flavor to back up its initial appeal, we have served it at elegant dinner parties; with Zemmer's wines there is no need to worry that guests will grow bored of his Pinot Grigio's crisp, mouth filling flavors or that the wine will tire before the salad. The 2005 Zemmer Alto Adige Pinot Grigio pairs especially well with a variety of hors d'oeuvres, including tapas. It is a natural with sushi, sashimi, California rolls, and tempura, too. Some other favorite accompaniments include grilled shrimp, served with a light Dijon mustard and dill sauce; real lump crabmeat mixed with a chive cream and served over a Parmesan tuile; oysters sautéed in butter, cream, and fresh herbs; and grilled trout with almonds. Pasta Primavera provides another successful marriage. However, regardless of what you choose to serve with the Zemmer Pinot Grigio, we suggest you invite someone special over to enjoy it with you for the true wine lover is never stingy.
In Cortina amidst the alpine hills and valleys of the South Tyrol (Alto Adige) nestles the Zemmer family winery. Founded in 1928 by Peter Zemmer, this family owned and run operation has recently emerged as one of the zone's leading producers of both white and red wines, thanks to the visionary leadership of Helmuth Zemmer – the firm's current guardian. Helmuth Zemmer credits much of his success as a winemaker to the legendary Friulian producer, Vittorio Puitti, even though Zemmer's wines are more readily accessible when young than Puiatti's and often exhibit a different initial set of aromatic characteristics as well. Nevertheless, the overall style of both men's wines – pure and full throttle – has not gone unnoticed by critics and consumers alike who admire the consummate attention to quality that one finds in the wines from these estates. The hallmark of Zemmer's wines is always a pure, precise, highly focused aroma that defines the essence of the varietal or varietals from which the wine is made. In addition, the aroma of a Zemmer wine is merely the prelude to the rich flavors that lie within. Zemmer's wines are consistently gratifying libations that appeal to the purist taster; they are completely unmanipulated expressions of their cepage and terroir. In other words, no smoke or mirrors are employed here. The annual harvest comes only from Zemmer's own vineyards and from those that are bound by tradition to the Zemmer property. White wines, most notably Chardonnay, Pinot Bianco, Pinot Grigio, and a luxury blend labeled Cortinie Bianco dominate this producer's outstanding portfolio, but Zemmer also fashions fine, full-bodied red wines that merit serious attention. Alto Adige or Sud Tirol? In Italian, Alto Adige refers to the high or upper reaches of the Adige, the stony, swift flowing river that Ernest Hemingway immortalized in A Farewell to Arms. However, most of the world knows this stunning country as the Sud Tirol or the South Tyrol. The dual name illuminates this region's splintered history and highlights its continuing split personality. Presently, Alto Adige is officially an autonomous region of Italy, but the Alto Adige or South Tyrol remains primarily German speaking, which underscores the fact that throughout most of its tortured history this beautiful alpine land of lederhosen and loden caps was an integral part of Austria. In fact, it was not until after World War I that the South Tyrol was ceded begrudgingly to Italy. In spite of or, perhaps, on account of the South Tyrol's plurality, ethnic diversity, and historical factional violence, the present generation of winemakers in Alto Adige of both Austrian and Italian heritage have banded together in the common pursuit of happiness and prosperity. In doing so, the winemakers of the Alto Adige/ Sud Tirol have fashioned some of the highest standards for winemaking in all Italy. Consequently, more than 50% of the zone's wines are DOC designated, while a substantial portion of the area's non-DOC offerings constitute Alto Adige's most expensive and illustrious offerings (Zemmer Cortinie Bianco for example) simply because DOC regulations do not yet provide for imaginative, luxury blends. While it may be true that white wine is the calling card of Alto Adige and that many of Italy's finest white wines do indeed flow from the pretty hills and valleys of the Sud Tirol, this industrious, forward thinking region is also renowned for its production of light to medium bodied red wines of supreme bouquet, finesse and style. So whether it be an outstanding Chardonnay, Pinot Bianco or Pinot Grigio or one of Alto Adige's little know reds in the guise of Santa Maddalena, Teroldego, or even Lagrein, quality remains the region's unifying common denominator.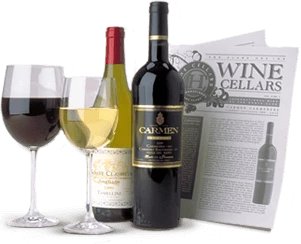 Enjoy Limited Production Estate
Bottled Wines
Discover limited production estate bottled wines such as Vergenoegd's internationally
acclaimed 2005 Cabernet Sauvignon, imported exclusively for our members.
DISCOVER OUR FOUR CLUBS