An extremely hot, dry year throughout Europe, the 2003 vintage tested the mettle of many in Montalcino. Yet, from Pertimali and the zone's other privileged sites, the 2003 Brunellos are nothing short of profound. With that said the 2003 Pertimali Brunello di Montalcino is perhaps the finest Brunello of the vintage – a monumental wine of great color, depth, and complexity. Imbued with the personality of its maestro, the 2003 Pertimali Brunello di Montalcino sings with its soul. It offers up a stunning bouquet of roses, black cherry, tar, scorched earth, and wild herbs. On the palate, the wine is equally beguiling as it reveals a core of rich layered fruit along with seemingly endless complexity. Big, beautiful and highly concentrated, this remarkable young Brunello remains fresh and balanced from the moment it is poured. Yet, one need not be in a hurry; Pertimali's 2003 Brunello di Montalcino evolves in the glass for hours, revealing secrets of untold beauty and power. We suggest you sit back, listen, and enjoy! And for those folks fortune enough to afford a few extra bottles, we highly recommend they put at least a few bottles of the 2003 Pertimali Brunello away for a rainy day. Enjoy!
A wine as profound as the 2003 Pertimali Brunello di Montalcino rarely needs an accompaniment to shine. Yet, a bottle of Livio Sassetti's magical Brunello can turn a well prepared meal into a vision of paradise, so why not have it all? When all is said and done, what is great wine without equally enticing food? So, why not serve the 2003 Pertimali Brunello di Montalcino with a thick, tender veal chop, smothered in a succulent brown sauce, or consider preparing a whole aged beef tenderloin topped with truffle butter and served with garlic mashed potatoes? Braised lamb shanks, stuffed quail, and venison tenderloin offer other top notch pairings with Livio Sassetti's outstanding Brunello. In fact, we can hardly think of a food that wouldn't taste better with this Brunello. Buon Appetito!
Livio Sassetti's beloved Pertimali is one of Tuscany's iconic properties. Situated in a small, sun blessed bowl sculpted into the slopes of Montalcino, Pertimali lies protected from the briny, often fierce southwesterly winds that blow off the nearby Tyrrhenian Sea to wreak havoc upon the vines of less fortunate Brunello producers. All 6 hectares (13.2 acres) of Sassetti's Brunello flow from this sunny spot located on the hill of Montosoli, a privileged place that enjoys a well-deserved reputation as the supreme cru of Montalcino. More importantly, Sassetti's sublime Brunello di Montalcino consistently attests in good vintages and bad to the superb terroir of Pertimali and the consummate skill and dedication of its guardian and his two attentive sons Lorenzo and Luciano. A visit to Pertimali is truly a unique experience and certainly one of the most memorable in the world of wine. However, we suggest one put aside all preconceived notions, including the images of glamorous Tuscan villas and glitzy new wineries, the kind that have sprouted up in recent years and sprawled along the wine routes and byways of Tuscany to obscure the work of traditional Tuscan artists and artisans. No, a visit to Livio Sassetti's Pertimali more closely resembles a walk back in time or a venture into a timeless, fantastic world where all kinds of unknown plants and produce flourish. Aside from his beloved wine, Livio Sassetti raises organic fruits and vegetables of every style and color. Much of this produce he has cloned himself, crossing tomatoes with potatoes and inventing all kinds of crops of fantastic color, shapes, and size. At first glance Pertimali appears more like a well-tended Jurassic Park than one of Italy's iconic wine estates. However, one glance at Pertimali's impeccably tended vineyards and the first sip of Livio Sassetti's magical wine convince the visitor of the seriousness of the man behind the legend. Livio Sassetti has been called "a curiously paradoxical man of disappearing kind: a very able winemaker who scrupulously vinifies his wines, and at the same time a man of ancient ways and principles," by his importer Marc De Grazia. Indeed, Sassetti is all that and more. He follows the cycles of the moon in planting and harvesting and practices the tenets of biodynamic viticulture. He is a guardian of the land and its traditions. Livio Sassetti is, also, a man who will stay up all night in the cellar to mind his wine and assure that it is fermenting at precisely the right temperature, and then go and meet friends and winemaking neighbors in the morning for breakfast and order a cappuccino rosso, senza scuma (a red cappuccino without foam, or more precisely, a glass of Brunello wine). A poet, balladeer, and one of the ablest practitioners of the Tuscan art of lyrical bantering, Livio Sassetti remains a myth and a mystery to many in the world of wine. Nonetheless, what everyone who knows wine can agree upon is that Sassetti's Brunello di Montalcino is second to none. In addition to fashioning great Brunello, Sassetti and sons produce what may be the zone's quintessential Rosso di Montalcino, a rich complex wine that emanates from Brunello but is aged only one year in cask. Furthermore, the Sassettis make very fine Montescudaio, a serious red wine from the hills opposite Montalcino, and they craft tiny quantities of Moscadello di Montalcino and other curiosities that one is sure not to find anywhere else. Pertimali is a unique place after all, not unlike Rip Van Winkle's magical hollow, but most assuredly more than well worth the venture.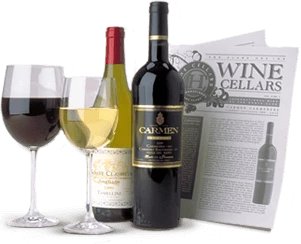 Enjoy Limited Production Estate
Bottled Wines
Discover limited production estate bottled wines such as Vergenoegd's internationally
acclaimed 2005 Cabernet Sauvignon, imported exclusively for our members.
DISCOVER OUR FOUR CLUBS