Sauvignon Blanc enjoys a long history at Pedroncelli and the 2017 Pedroncelli East Side Vineyards Sauvignon Blanc is a classic rendition from this venerable estate on its 90th anniversary. Enjoyable upon release, the 2017 East Side Vineyards Sauvignon Blanc offers up a bright sun-splashed color and an attractive set of aromatics replete with soft citrus scents, hints of pineapple and dried honey. Round and mouth filling, the wine's aromatic profile re-emerges on the palate, offering a pleasant mélange of tropical fruits with a citrus twist. Comprised of a percentage of the prized Musqué clone of Sauvignon Blanc, Pedroncelli's East Side Vineyards Sauvignon Blanc is not overly herbaceous; instead, it exhibits a pleasant roundness that complements the grape's natural acidity. Enjoy this wine moderately chilled (38°-40° F) now and throughout the year!
Appetizers, hors d'oeuvres, salads, and light entrées provide ideal accompaniments to the 2017 Pedroncelli East Side Vineyards Dry Creek Sauvignon Blanc. Sushi and crudités, accompanied by a light dip, make excellent opening acts with which to pair this wine. Hummus with roasted red pepper and stuffed mushroom caps work well as starters, too. As entrées, Grilled Thai Prawns, Shrimp Salad with Avocado and Orange, and almost any white fish, such as cod, flounder or mahi-mahi served with a fresh cucumber sauce or vegetable relish, get our nod as they offer tasty, heart-healthy accompaniments to this wine. Hearty salads, served with fresh greens and grilled marinated chicken strips, and bowtie pasta in an herb infused cream sauce constitute other favorite pairings with Pedroncelli's 90th Anniversary Edition 2017 East Side Vineyards Sauvignon Blanc. They also point to the versatility and food-friendly quality of this wine. And then of course, there is always that aperitif before dinner when a glass of Pedroncelli Sauvignon Blanc provides an excellent prelude to a special evening. Enjoy!
Pedroncelli celebrated its 90th anniversary in 2017. Very few California wineries can claim a lineage as long and illustrious as Pedroncelli, and even fewer California wineries are still family owned. Since 1927, the two constants at the Pedroncelli estate in Sonoma County's Dry Creek Valley have been family and wine. Started by Italian immigrant John Pedroncelli, Sr., the Pedroncelli's pre-Prohibition property is located 25 miles from the Pacific where warm days and cool nights provide the ideal climate for grapes to ripen slowly and fully.
John, Sr.'s namesake, son John, grew up on the family property and remained principal winemaker at Pedroncelli from 1948 until his passing in 2015. John's brother Jim was actually born in the winery's offices, which were formerly the family's home. Jim has overseen marketing and sales at the winery since 1955. Jim only half-jokingly tells visitors, "I was born in this office and I will probably die here as well." We are happy to say that Jim remains alive and well and going strong. In addition to Jim, John and Jim's children and children-in-laws all work in various capacities at the winery, as the family happily watches a fourth generation buzz about the property. In short, Pedroncelli remains an authentic family-owned and run winery where the family's unwavering philosophy to produce wines that are flavorful, balanced, affordable, and reflective of their terroir have stood the test of time through four generations. Rare as it is today, the Pedroncelli family is one California family that has not yet traded in its name or sold its soul to a corporate conglomerate.
Obviously, stability and tradition play important roles for the Pedroncelli family as it collectively pursues its shared passion for producing quality wines. Yet, Pedroncelli's vineyards have only gently expanded to 105 acres from the property's original 90 acres, and the family continues to seek innovative means of improving production and quality, without compromising the family tradition or expanding rapidly. Instead, the Pedroncellis highlight specific vineyards in the winery's Vineyard Selection Series, a decision that allows them to pursue an uncompromised commitment to quality. This practice also provides a glimpse of the guided, practical approach that this family has to marketing.
Although red grape varietals predominate at Pedroncelli with Merlot, Petite Sirah, Pinot Noir, Sangiovese, and of course Zinfandel garnering the most attention, Pedroncelli's Sauvignon Blanc has quietly become one of California's leading Sauvignon Blancs.
Pedroncelli wines are known for their consistent quality from vintage to vintage: they always exhibit rich fruit flavors, layered balance, and a readiness to drink upon release. Above enjoying the quality of their wines, however, partaking in a glass of Pedroncelli wine is like becoming a member of the family and sharing in their love of wine.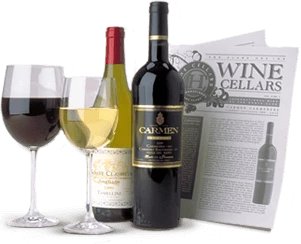 Enjoy Limited Production Estate
Bottled Wines
Discover limited production estate bottled wines such as Vergenoegd's internationally
acclaimed 2005 Cabernet Sauvignon, imported exclusively for our members.
DISCOVER OUR FOUR CLUBS