The 2008 Pedroncelli Dry Creek Valley East Side Vineyards Sauvignon Blanc is bright and crisp and as fresh as the morning sun. It also carries a subtle, refreshing minerality that speaks favorably of the East Side Vineyards' terroirs. Light floral and citrus aromas perform a fine duet as they waft from this dazzling, straw colored wine. Embracing and downright huggable, the fruit of this bracing Sauvignon Blanc mingles deliciously around the palate. Citrus notes reminiscent of pink grapefruit meld with the scent and savor of ripe figs, melon, and freshly picked herbs. Combined with balanced acidity and just the perfect touch of minerality, this Sauvignon Blanc fills the mouth and exits gracefully with a distinctive refreshing quality. We suggest serving the 2008 Pedroncelli Dry Creek Valley East Side Vineyards Sauvignon Blanc well chilled (35º-40º F), and then allowing it to warm slightly in the glass.
We suggest you serve the 2008 Pedroncelli Dry Creek Valley East Side Vineyards Sauvignon Blanc alone or pair it with a variety of appetizers or first course selections. Sushi and crudités, accompanied by a light dip, make excellent opening acts with which to pair this wine. Curry, garlic, cucumber, and hummus flavors all work well with this Sauvignon Blanc, too, and lend themselves to various vegetable dips. Grilled tilapia, served with a fresh cucumber sauce or vegetable relish; hearty salads; grilled chicken breasts; and even bowtie pasta in an herb infused cream sauce served as a first course or as a light entrée constitute other favorite pairings with Pedroncelli's East Side Vineyards Sauvignon Blanc and point to the versatility and food-friendly quality of this wine. And then of course, there is always that aperitif before dinner when a good glass of Sauvignon Blanc provides a respite from the weather stained cares of life. Enjoy!
Since 1927, there have been two constants on the Dry Creek Valley Pedroncelli estate in Sonoma County: family and wine. Started by Italian immigrant John Pedroncelli, Sr., the estate vineyards are located just 25 miles from the Pacific where the grapes from this pre- Prohibition property produce full fruit flavors thanks to the valley's warm days and cool nights. John, Sr.'s son and namesake, John, grew up on the property and has been principal winemaker at Pedroncelli since 1948. John's brother Jim was actually born in the winery's offices, which doubled in those days as the Pedroncelli family home. Jim has overseen marketing and sales at the winery since 1957. Jim and John's children and children-in-law work in various capacities at the winery, and the family happily watches a fourth generation buzz about the property. In short, Pedroncelli remains an authentic family-owned and run winery. Rare as it may be, this is one California family who has not yet traded in its name or its soul to a corporate conglomerate. Obviously stability and tradition play important roles for the Pedroncelli family as they collectively pursue a shared passion for producing quality wines. Yet, Pedroncelli's vineyards have only gently expanded to 105 acres from the original 90 acres, and the brothers continue to seek innovative means of improving production and quality, without rapid expansion or even the thought of compromising their family tradition. Highlighting specific vineyards with a Vineyard Selection Series provides one example of the family's commitment to specials terroirs and overall quality. Pedroncelli wines are expertly made and known for consistent quality, regardless of the vagaries of vintage: rich, yet subtle fruit flavors; layered balance; and readiness to drink upon release are constant calling cards at Pedroncelli. Above enjoying the quality of their wines, however, partaking in a glass of Pedroncelli is like becoming a member of the family and sharing in their love of wine. Sauvignon Blanc, Merlot, Petite Sirah, and Zinfandel are just a few of the Pedroncelli family's finest offerings.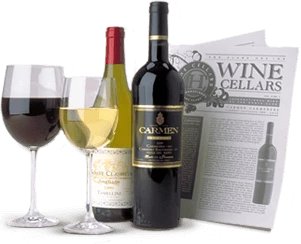 Enjoy Limited Production Estate
Bottled Wines
Discover limited production estate bottled wines such as Vergenoegd's internationally
acclaimed 2005 Cabernet Sauvignon, imported exclusively for our members.
DISCOVER OUR FOUR CLUBS