The 2003 Pedroncelli Dry Creek Valley Merlot Bench Vineyards bursts with flavor and easily distinguishes itself among its brother Merlot. When afforded just a few minutes of aeration, an elegant, smooth aromatic profile promises richness in the glass. Loaded up front with fruit flavors, such as black cherry and blueberry, the Bench Vineyards Merlot smoothly layers on a distinct patina of oak that adds to the wine's hedonistic feel. A spicy finish lingers and completes the lush, pleasure seeking side of this Merlot. We suggest serving Pedroncelli's 2003 Bench Vineyards Merlot at cool room temperature (but no more than 66°F).
Pair the 2003 Pedroncelli Dry Creek Valley Bench Vineyards Merlot with medium to full-flavored entrÉes to allow the wine's fruity, yet well balanced profile to add sophistication to a meal. Rotisserie Chicken with sage and rosemary, Veal Milanese, and Cashew Crusted Pork Chops offer easy to prepare, yet dinner-party worthy options with the Bench Vineyards Merlot. However, even a simple dish of pasta with grilled vegetables will provide a good accompaniment to this tasty Merlot. In fact, nearly any well-prepared meat or cheese dish will shine in the company of a bottle of Pedroncelli's 2003 Bench Vineyards Merlot.
Since 1927, two constants at the Pedroncelli estate in Sonoma County's Dry Creek Valley have been family and wine. Started by Italian immigrant John Pedroncelli, Sr., the Pedroncelli estate vineyards are located 25 miles from the Pacific where the grapes from this pre- Prohibition property ripen fully and produce full fruit flavors because of Dry Creek Valley's ideal climate of warm days and cool nights. John, Sr.'s namesake, son John, grew up on the property and has been principal winemaker at Pedroncelli since 1948. John's brother Jim was actually born in the winery's offices, which were formerly the family's home. Jim has overseen marketing and sales at the winery since 1957. Jim only half jokingly tells visitors "I was born in this office and I will probably die here as well." Jim and John's children and children-in-laws work in various capacities at the winery, and the family happily watches a fourth generation buzz about the property. In short, Pedroncelli remains an authentic family-owned and run winery. Rare as it may now be, this is one California family that has not yet traded in its name or its soul to a corporate conglomerate. Obviously, stability and tradition play an important role for the Pedroncelli family as it collectively pursues its shared passion for producing quality wines. Yet, Pedroncelli's vineyards have only gently expanded to 105 acres from the property's original 90 acres, and the brothers continue to seek innovative means of improving production and quality, without rapid expansion or compromising family tradition. Highlighting specific vineyards in the winery's Vineyard Selection Series (i.e. Dry Creek Valley's Bench Vineyard) provides one example of the family's commitment to quality. It, also provides a glimpse of the guided, practical approach that this family has to marketing Lovingly made, Pedroncelli wines are known for their consistent quality from vintage to vintage: they always seem to exhibit rich fruit flavors, layered balance, and a readiness to drink upon release. Above enjoying the quality of their wines, however, partaking in a glass of Pedroncelli is like becoming a member of the family and sharing in their love of wine. Sauvignon Blanc, Merlot, and Zinfandel are just a few of Pedroncelli's finest Sonoma County offerings. Merlot: Always a Bridesmaid, Never the Bride No More Until the 1970's Merlot lived in the shadow of its younger, more robust sibling Cabernet Sauvignon. Both Merlot and Cabernet Sauvignon are traditional French varietals whose origins are attributed to Bordeaux. However, after the 19th century phylloxera scourge in France, Merlot lost some of its prominence in Bordeaux and elsewhere in favor of the thicker skinned, more age worthy Cabernet Sauvignon. This phenomenon has occurred in spite of the fact that many of Bordeaux's greatest red wines are still produced primarily from Merlot. The great Château Petrus, Bordeaux's most expensive red, and nearly all of the finest wines of St. Émilion are based upon Merlot. However, Bordeaux is not the only wine region today where Merlot thrives. From its native France, Merlot has traveled the world. It is now cultivated on six continents and has over the last two decades become a staple in California, Australia, South Africa, and South America, not to mention its recent proliferation in southern France and the rest of Europe. Moreover, Merlot is a very prolific grape variety when left to its own devices. Consequently, nearly everywhere it is cultivated, severe pruning is the key to the quality quotient with this varietal. Merlot suffers from a susceptibility to spring frosts and a very thin skin, too, which leave it open to rot. However, where conditions are right and the soil is well drained Merlot thrives. So, no more is the venerable Merlot vine the perennial bridesmaid.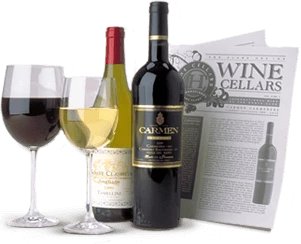 Enjoy Limited Production Estate
Bottled Wines
Discover limited production estate bottled wines such as Vergenoegd's internationally
acclaimed 2005 Cabernet Sauvignon, imported exclusively for our members.
DISCOVER OUR FOUR CLUBS