Wow! Rafael Cañizares has fashioned a world-class Verdejo in the 2007 Paso a Paso to match many of the finer, more expensive examples of this varietal from Rueda, the traditional home of Verdejo. Pure fruit, stone, and citrus all present themselves in the finest fashion in the 2007 Paso a Paso Verdejo. In the nose and on the palate this wine dances and shimmers. It runs the gamut between lush, hedonistic fruit and cold steel. Lest you think this unattractive, we ask you to consider what a wine would be like without fruit? And then, what would become of a white wine without a fresh, cold, crisp finish? Put these attributes together and you have Paso a Paso's 2007 Verdejo. In addition, if you let this wine sit a few minutes in the glass and shed its initial chill, all kinds of fresh melon scents and flavors emerge, tantalizing the tongue and begging for another sip. There is even subtlety and complexity here. In order to go the distance with this wine, we suggest you chill it moderately (38º-45º F) and then allow it to evolve in the glass: there is more to this wine than first meets the tongue. Enjoy the trip!
The 2007 Paso a Paso Verdejo provides the perfect aperitif. It is also a natural party wine and a superb partner to seafood, pasta, and risotto. Carnaroli Risotto served with wild morels, caramelized broccoli, and a healthy dose of Parmesan Reggiano provides a splendid accompaniment and a terrific way to start an evening. And with its racy fruit, hedonistic flavor, and crisp finish that simultaneously quenches the thirst as it awakens the gustatory passions that haunt the mind, the 2007 Paso a Paso Verdejo provides a great companion to tapas and the freshest sushi. Grilled Sea Bass with steamed jasmine rice, Bacon Crusted Swordfish with grilled Portobello mushrooms, and Potato Encrusted Grouper served with shitake mushrooms and smoked salmon duxelles are just a few of the favored dishes that can evoke paradise in the presence of the 2007 Paso a Paso Verdejo. Steamed shrimp, mussels, clams, and oysters provide other good bets with this flavorful, very-easy-to-drink white wine. Crusted cheeses such as Brie, Camembert, and Explorateur provide outstanding, easy-to-prepare accompaniments, too.
Paso a Paso, meaning step by step in Spanish, is another successful venture of the indefatigable Jorge Ordonez, one of the leading importers of Spanish wines in the United States. Like its red predecessor and cousin Mano a Mano, Paso a Paso springs from the finest terroir in La Mancha and is already playing to great critical acclaim. And once again, everything about Paso a Paso reflects Ordonez's natural hands-on approach to winemaking. Perhaps even more importantly, Paso a Paso further establishes La Mancha as a quality wine-producing region for both white and red wines. La Mancha is just beginning to show the world that its only claim to fame is not Cervantes' celebrated hero Don Quixote. With his first release of Mano a Mano in 2004 and now Paso a Paso in 2008, the Spanish oenologist Rafael Cañizares offers testimony to what Ordonez and others are claiming about La Mancha: it is a veritable treasure trove of undiscovered wines, many from old vines. Paso a Paso's vines average 40 years or more. Moreover, Rafael Cañizares demonstrates that the great Verdejo variety in La Mancha is now every bit as good as the wonderful Tempranillo that the world has begun to expect from this once-forgotten wine region. Jorge Ordonez Jorge Ordonez is one of the most influential names in Spanish wine. From virtual obscurity in 1987, Ordonez has risen to the position of guardian, prophet, and zealot all in the name of Spanish wines. He has advanced and revolutionized the Spanish wine industry in all respects. Moreover, he has educated and introduced Americans to a treasure trove of fine Spanish wines. When he started his quest in 1987, the then-27-year-old Jorge Ordonez was a voice in the wilderness. Two decades ago, the quality and variety of Spanish wines for export had become nothing short of dismal. Spanish wine sales lagged far behind that of France, Italy, and California; and overall quality was variable at best. By the force of his dynamic, visionary personality and sheer hard work, Ordonez has brought fine Spanish wines to the forefront of American wine drinking. At the same time, the now-47-year-old Ordonez has improved the overall quality and consistency of Spanish wines. Presently, he oversees an amazing portfolio of more than 130 Spanish wines from 40 different wineries. His name on a bottle of Spanish wine is as close to a seal of quality and value as one can find, simply because "When nobody cared about Spanish wines," Ordonez proclaims, "I was there." Robert Parker, Jr., the influential wine critic, has twice named Jorge Ordonez Wine Personality of the Year. Others have dubbed this remarkable man the best friend Spanish wine ever had, while still others claim that Ordonez has provided the impetus for the present renaissance in Spanish wines. Indeed, this is the Siglo d'Oro or Golden Age of Spanish wine, thanks in large part to Jorge Ordonez and a few other like-minded visionaries.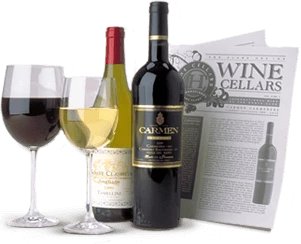 Enjoy Limited Production Estate
Bottled Wines
Discover limited production estate bottled wines such as Vergenoegd's internationally
acclaimed 2005 Cabernet Sauvignon, imported exclusively for our members.
DISCOVER OUR FOUR CLUBS