The serious, warm-hearted Albert Pasanau has fashioned another enviable Priorat in his 2010 Ceps Nous. As a classic Priorat, Ceps Nous exhibits a deep purple robe and youthful polished flavors. It drinks well from the time it is poured and promises even more to come. Redolent with the scents of berry fruits, forest woodlands, anise and spice, the 2010 Ceps Nous dazzles the nose and satiates the palate. Plush, sophisticated, deep down flavors make Pasanau's Ceps Nous positively enthralling. A blend of Garnacha with healthy dollops of Cabernet Sauvignon, Merlot, and Syrah, the 2010 Ceps Nous reflects the finest attributes of Priorat. For optimal enjoyment, give this round, flavorful, palate pleasing Priorat an hour or more to breathe: it will more than reward your patience.
Invariably, food and wine enhance each other. And although Albert Pasanau's sexy, full-bodied 2010 Pasanau Ceps Nous can stand firmly on its own, it positively shines when brought to table. We have enjoyed this delicious Priorat with simply prepared dishes as well as many classic Spanish favorites. Fine cuts of beef, lamb, and pork are completely at home in the presence of Ceps Nous. Yet, authentic paella made with chicken, shrimp, scallops, and at least a few slices of chorizo sausage is a clear standout in the presence of Pasanau's classic Ceps Nous. So is a well prepared veal chop. Traditional Spanish specialties marry well with this wine, too, as do many regional Italian specialties such as Chicken with Black Olives and Capers, Three Cheese Soft Polenta, and Crepes with Porcini Mushrooms. The 2010 Ceps Nous won't fade in the presence of hearty stews, black beans and rice, or spicy fajitas, either. In fact, it will be better for the challenge. Enjoy!
Since the 1990s, the Pasanau family and their beloved Priorat have achieved international fame. Today, Priorat remains Spain's "hottest" wine producing region, fashioning an increasing number of sensational wines. At the forefront of Priorat's success has been the Pasanau estate.
Pasanau commands the high ground in Priorat, literally and figuratively. At over 2,400 feet, Pasanau's Finca La Planeta, which is devoted entirely to Cabernet Sauvignon, dominates Priorat's arid landscape. Planted on gravelly scree and slate this 12.5-acre vineyard yields in great vintages one of the most intense and unique of all Priorat wines. The Pasanau estate includes equally impressive parcels of ancient, ungrafted Garnacha and Mazuelo vines from which La Morera – a traditional Priorat style of wine – is fashioned. Yet, equally impressive is Pasanau's Ceps Nous, a delicious, more contemporary style of Priorat, comprised primarily of one of Priorat's traditional grape varietals, Garnacha (Grenache), to which a healthy dollop of Mazuelo (also known as Cariñena or Carignan), Cabernet Sauvignon, Merlot, and Syrah from young vines is often added. Small amounts of excellent Viognier are also crafted at this exceptional property.
Working out of a small modern bodega that was completed in 1995, Pasanau fashions some of Spain's most compelling wines. Here, grapes are routinely picked quite late, often not until late October, in order to extract the greatest intensity from each low yielding vine. All tanks are gravity fed and racking and fining are done only during a full moon using all natural ingredients, which says quite a bit about this estate's commitment to excellence as well as its biodynamic practices.
Priorat is a rugged, breathtaking landscape of high mountains and sheep-studded pastures in which every village and hamlet appears steeped in history. Here the first Carthusian Monastery in Spain was founded in the 12th century. And during the 20th century, one of the greatest and most decisive battles of the Spanish Civil War took place in Priorat on the banks of the Ebro River. However, what sets Priorat above other, more familiar wine producing regions is its expanse of ancient, ungrafted vines of Garnacha (Grenache) and Cariñena (also known as Carignan or Mazuelo) to which varying amounts of exceptional Cabernet Sauvignon, Syrah, and Merlot are added. What results adds up to lush, full-bodied, complex wine. Furthermore, the best wines of Priorat age remarkably well and can compete with the finest wines made anywhere in the world. Not surprisingly, Priorat is then one of only two Spanish wine regions (Rioja is the other) to earn Spain's much coveted Denominaciones de Origen Califcadas status in recognition of Priorat's consistent high quality. Unfortunately, the wines of Priorat have become increasingly pricey; they are presently on average the most expensive of all Spanish wines.
The central part of Priorat, often referred to as Priorat històric, is famous for its llicorella soil, a mixture of brown slate and solid rock. Here all of the Priorat's premium grape varieties thrive in the dry, continental climate that for all intents and purposes may as well be light years away from the nearby Mediterranean Sea, a mere twenty miles distant. However, no where else in Spain do Grenache, Carignan, and Cabernet Sauvignon express themselves with such force and dignity as in Priorat. Consequently, we will be seeing more wines from this privileged appellation, and with good reason: the quality quotient in Priorat is second to no other viticultural area on the planet.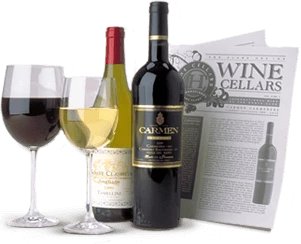 Enjoy Limited Production Estate
Bottled Wines
Discover limited production estate bottled wines such as Vergenoegd's internationally
acclaimed 2005 Cabernet Sauvignon, imported exclusively for our members.
DISCOVER OUR FOUR CLUBS