Deep, dark, and deliciously brooding, Palazzo Maffei's 2016 Amarone della Valpolicella conjures images of classic Italian wines of yesteryear. Deep, haunting aromas and flavors reminiscent of blackberry, kirsch, forest woodlands, tar, and faded roses haunt the senses. Rich in flavor, and bold in body and spirit, this young Amarone is just beginning to show its depth and power. The scion of an outstanding vintage, the 2016 Palazzo Maffei Amarone is built for the long haul. Initially reticent, it requires an hour of aeration to shed some of its youthful ardor and relinquish a very satisfying dose of fruit, spice, and delightful floral flavors that will make mouths beg for more. Yet, what Maffei's 2016 Amarone della Valpolicella now yields are just mere glimpses of what one can expect from this wine. Balanced, bold, and complex, this Amarone is poised to pop. Enjoy it now and over the next decade or more, served between 58°-62° F and after the aforementioned aeration time.
Amarone is a wine to ward off the chill of a cold winter night and accompany the heartiest of fare, including the finest cuts of meat and the world's most exquisite cheeses. Palazzo Maffei's 2016 Amarone della Valpolicella is the ideal choice for all such occasions. Braised Short Ribs in Amarone wine served over polenta or mashed potatoes earns two thumbs up. Beef cheeks make a fine substitute for the short ribs and offer an authentic glimpse at a classic local dish. Other favorite Venetian pairings with Maffei's Amarone include Brasato all'Amarone (braised beef with Amarone risotto) and Bigolo col'Anara (fresh pasta with duck sauce). Lamb, wild boar, venison, pot roast, and hearty stews make ideal companions, too, as do duck, game birds, and all kinds of flavorful risottos. And perhaps the most rewarding glass of Amarone is the last, enjoyed in the company of a fine aged Parmigiano Reggiano, Pecorino, Gorgonzola, or Aged Gouda. Let the power and warmth of Palazzo Maffei's 2016 Amarone della Valpolicella warm your body and enliven your soul. Enjoy!
Palazzo Maffei is an ancient estate that for centuries belonged to the Marquis Maffei, whose aristocratic family once ruled Verona. The first recorded mention of the estate appeared in 1600, though this exceptional wine producing property dates back even further.
Founded in 1925, Palazzo Maffei has been run by four generations of the Cottini family, and is currently headed by Diego and Annalberta Cottini who are now the owners and guardians of the estate's aristocratic winemaking tradition. The Cottinis are experts in the production of the region's traditional wines, including Valpolicella's premier wine, Amarone, which requires a lengthy, painstaking method of production called Appassimento. The Cottinis are equally adept at fashioning the region's other celebrated wines, which include Veneto's most popular red and white wines: Valpolicella Ripasso Superiore, Valpolicella, and Corvina from the region's red grapes, and Soave and Lugana (the latter one of this writer's favorite white wines) from white grapes that emanate from the hills above nearby Lake Garda.
Palazzo Maffei's 30 acres of vineyard possess a special terroir, which spreads over hills up to nearly 1,500 feet above sea level. The vineyard's high elevation, unique microclimate, calcareous soil, and perfect sun exposure lend themselves to a wide fluctuation between day and night time temperatures, resulting in balanced wines with intense aromatics, concentration, and great aging potential – the ideal ingredients of world-class Amarone.
Amarone is one of Italy's most prized wines. It is a special red wine made near Verona in the Valpolicella area of Italy's Veneto using the Appassimento method. Appassimento requires extensive air drying of select physiologically ripe Corvina, Corvinone, and Rondinella grapes before pressing and extensive barrel ageing. The dehydration of the grapes results in concentrated, complex wines with a higher than average alcohol content and an illusion of sweetness in good vintages that is balanced by strong ripe tannins. Amarones are especially age-worthy red wines that can easily offer outstanding drinking pleasure for 15-20 years or more. In their youth, Amarone is best consumed with food, while mature versions are often enjoyed on their own or with a few crumbles of the finest aged cheese.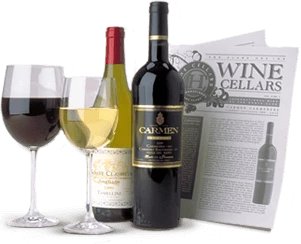 Enjoy Limited Production Estate
Bottled Wines
Discover limited production estate bottled wines such as Vergenoegd's internationally
acclaimed 2005 Cabernet Sauvignon, imported exclusively for our members.
DISCOVER OUR FOUR CLUBS