Painted Wolf's 2022 The Den Swartland Chenin Blanc warrants serious attention. Every bit deserving of high praise and 93 Points from Decanter, this Chenin Blanc may also lay claim to being the finest quality and value Chenin Blanc in the market today. Best of all, the 2022 Painted Wolf The Den simply tastes great. It offers a sensuous perfume of green apple infused with hints of honeysuckle and wisteria. In the mouth, Painted Wolf's 2022 The Den Chenin Blanc is fresh and light on its feet, offering beautiful fruit flavors and a gentle minerality. Walking the perfect line between textured fruit and Chenin Blanc's natural acidity, the dry 2022 Painted Wolf The Den Chenin Blanc positively sings from the glass from the very first sip through to a smooth, sophisticated finish, which made us beg for more. Enjoy this balanced, tasty, and utterly satisfying Chenin Blanc moderately chilled (40°-45° F) now and for the rest of the decade. Anticipated maturity: 2023-2028. Enjoy!
The 2022 Painted Wolf The Den Swartland Chenin Blanc truly requires nothing more than a thin clean glass to shine. But, better still, it provides a natural companion to shrimp, prawns, clams, mussels, oysters, scallops, and most anything else with a shell that once swam in the sea. South Africa's rich culinary history includes an exciting mélange of African, Asian and European influences along with a wealth of exotic spices, all of which find a welcome companion in Chenin Blanc – a grape that responds beautifully to spicy foods. Calamari Tempura, Chicken Satay, Thai Green Curry Chicken with vegetables, Grilled Halibut topped with mango salsa, and Angels on Horseback (Scallops Wrapped in Bacon) provide especially tasty accompaniments. Other winning companions to the 2022 Painted Wolf The Den Chenin Blanc include Tandoori Chicken and Fresh Vietnamese Spring Rolls. A fine selection of cheeses such as L'Amuse Brabander Goat Gouda, Brie, and Camembert also make splendid counterparts to Painted Wolf's fresh and delicious Chenin Blanc. Bon Appétit!
We first met Emily Borg at her home in Swartland on South Africa's Western Cape. We sat in the kitchen and tasted through her entire portfolio of Painted Wolf Wines, and I can assure you there was plenty of good wine to taste. However, what impressed me and the two panel members who accompanied me that day was not only how well-made and unique each of the Painted Wolf wines was, but how dedicated Emily and her winemaker husband Jeremy are to their conservation efforts on behalf of the endangered Painted Wolf, also known as the African Wild Dog (Lycaon pictus).
Painted Wolf was founded by Jeremy and Emily Borg with two equally important purposes in mind: to produce fine wines with "a distinctive South African feel" and to fund research and conservation efforts on behalf of African Wild Dogs, an intriguing and highly endangered species. Funds from the sale of every bottle of Painted Wolf Wines go toward the Borgs' conservation efforts.
Drawing inspiration from the African Wild Dog, Painted Wolf winery is comprised of a community of talented individuals who provide the best available grapes and technical skills to Painted Wolf Wines. Two distinguished members of this pack are friends Billy (Guillermo) and Penny Hughes who grow the outstanding grapes for Painted Wolf's Guillermo Pinotage in Swartland's renowned Kasteelsig Vineyard. Because Painted Wolf focuses primarily on the production of distinctive South African wines, Pinotage and Chenin Blanc constitute the winery's two major players, although Painted Wolf's excellent Shiraz and Grenache based wines merit equal attention.
Chenin Blanc emanates from France's Loire Valley, where it produces everything from spritely still and sparkling white wines to several of France's most luscious and long-lived dessert wines. In cool climates such as France' Anjou and Touraine regions, where weather conditions can vary enormously from vintage to vintage, the high-acid Chenin Blanc grape variety runs the gamut of styles. On account of its natural acidity and ability to adapt to varying soils and climates, Chenin Blanc has traveled the world, much like Chardonnay, Cabernet Sauvignon, and other French varietals.
Chenin Blanc has made its way to Australia, California, and elsewhere, but nowhere is the illustrious Chenin Blanc variety more important than in South Africa, where it is known as Steen and has become South Africa's most widely cultivated grape. In fact, South Africa may warrant the distinction of receiving the first Chenin Blanc vines outside of France, as it is believed that Chenin Blanc was brought to South Africa's Western Cape as early as the 16th century by Dutch settlers and, perhaps, again in the 17th century among the wave of French Huguenots who sought asylum in South Africa from religious persecution. And, like its French counterpart, South African Chenin Blanc is of exceptional quality and fashioned in a myriad of styles.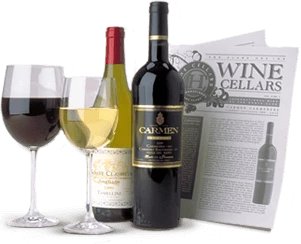 Enjoy Limited Production Estate
Bottled Wines
Discover limited production estate bottled wines such as Vergenoegd's internationally
acclaimed 2005 Cabernet Sauvignon, imported exclusively for our members.
DISCOVER OUR FOUR CLUBS