Drought comes as a curse to farmers, but it can be a boon to the quality of a wine as drought has the propensity to limit the quantity but raise the quality. Such was the case in 2019 in Northern California as the concentrated, bold-flavored 2019 Obsidian Ridge Estate Red Hills Cabernet Sauvignon (93 Points – Wine Enthusiast) aptly attests. This wine is another outstanding effort from this prized estate. From this deep purple potion springs entrancing aromas of blackberry, black currant, mulberry, and a trove of spices – cinnamon, cardamom, and vanilla. In the mouth, a deep draught of black fruits, dark chocolate, graphite, and exotic spices explodes in the mouth, thoroughly captivating the palate. Brimming with flavor as well as firm, ripe tannins, the 2019 Obsidian Ridge Estate Cabernet Sauvignon reveals its class as well as its power, all of which make for delicious drinking now and for years to come. For optimal enjoyment, we suggest affording this youthful Cabernet Sauvignon 30 minutes of aeration in a glass or decanter at cool room temperature (58°-64° F) before imbibing. Laying down several bottles of the 2019 Obsidian Ridge Estate Red Hills Cabernet Sauvignon to drink throughout the decade will surely pay handsome dividends, too. Anticipated maturity: 2023-2030. Enjoy!
The hearty, complex 2019 Obsidian Ridge Estate Red Hills Cabernet Sauvignon deserves the company of the finest cuts of meat and the freshest vegetables and legumes. Lamb tenderloin rubbed with fresh garlic and then basted with olive oil, rosemary and thyme pairs beautifully with this wine. Braised Short Ribs and Ossobuco earn two thumbs up as well. Braised venison served with caramelized onions offers another tasty companion. And yes, dry aged beef, preferably a Rib-Eye or Porterhouse, topped with a complex Cabernet au jus or Portabella mushrooms in a rich, herb-infused sauce makes a splendid companion. A rich lentil soup with carrots and sweet and hot Italian sausage provides another tasty pairing with Obsidian Ridge's complex 2019 Estate Cabernet Sauvignon. A plate of high quality cheeses consisting of Fontina, Saint Aubray, and smoked Gouda offers a simple to prepare yet satisfying accompaniment. Bon Appétit!
Obsidian Ridge consistently fashions distinctive full-bodied Cabernet Sauvignon, which comes as no surprise to those familiar with this award-winning estate. Moreover, most of California's greatest Cabernet Sauvignons flow from the hillsides and mountaintops of the Mayacamas Range of Northern California in Napa Valley and the Red Hills American Viticultural Area (AVA) in neighboring Lake County, just over the Napa border. The Red Hills AVA in particular provides the ideal soil and climate for the thick-skinned, sun-worshipping Cabernet Sauvignon – the planet's most revered red grape variety. It is here that the Obsidian Ridge Vineyard is planted at 2,640 feet atop the Mayacamas Range. Red Hills is a relatively new American Viticultural Area named for the distinctive volcanic soils that define this spectacular mountain appellation. Obsidian Ridge's 105-acre estate vineyard sits on a steep slope of red soil shot through with obsidian gravel – the perfect terroir for Cabernet Sauvignon. The vineyard's exceptional, unrestricted drainage and meager soil fertility yield a flavorful, powerful Cabernet Sauvignon that ages well.
Obsidian Ridge is owned and run by Tricycle Wine Partners, Michael Terrien and Arpad and Peter Molnar (the latter formally of Molnar Family Vineyard), who also produce Poseidon Vineyard's outstanding Chardonnay and Pinot Noir in Carneros. At Obsidian Ridge, the partners, along with award-winning winemaker Alex Beloz and their small Obsidian Ridge team, grow the grapes, oversee the vineyard, make the barrels, and craft the wine – a rare occurrence in California where so much of the state's wines are produced by large corporate entities who source grapes from numerous growers and locales and allow outside entities to tend to the details. At Obsidian Ridge, it is all hands on deck, and no one is afraid to get his hands dirty.
Cabernet Sauvignon is one of the most widely cultivated of the world's noble red grape varieties. For centuries it was thought to be an ancient varietal, but DNA studies conducted in the 1990s revealed that Cabernet Sauvignon is not nearly as old as was once thought. Moreover, what is even more startling is that Cabernet Sauvignon is actually the offspring of Cabernet Franc (a red variety) and Sauvignon Blanc (a white variety).
The origin of Cabernet Sauvignon has traditionally been attributed to Bordeaux, where it holds court with Merlot, Cabernet Franc, Malbec, Petit Verdot, and in rare instances Carmenère. The combination of any three or more of these varieties is what is known in Europe as the Bordeaux Blend or in California and elsewhere as a Meritage selection. However, Cabernet Sauvignon thrives under warm, even hot, semi-arid conditions, which is one reason why this noble variety has been extensively and successfully cultivated in Argentina, Australia, California, Chile, South Africa, Spain and elsewhere. In particular, Cabernet Sauvignon enjoys a privileged place in American viticulture, and it is unquestionably California's most prestigious red varietal, both in consummate quality as well as price. California's Alexander Valley, Napa Valley, and Red Hills AVA are generally acknowledged to produce the New World's finest Cabernet Sauvignons. However, Argentina, Australia, Chile, South Africa, and Spain also fashion world class Cabernet Sauvignon, and the list is sure to grow
In flavor profile, Cabernet Sauvignon can vary considerably, depending upon climate and terroir. However, blackberry, blackcurrant (often referred to as cassis), and mulberry flavors are most often associated with this premium variety. Earthy and herbaceous aromas such as cedar, eucalyptus, graphite, and tobacco are also common. Moreover, of all the world's red grape varieties, Cabernet Sauvignon has the greatest propensity for successful ageing. Cabernet Sauvignon also contains high amounts of antioxidants and resveratrol, which render its wines some one of the most healthful.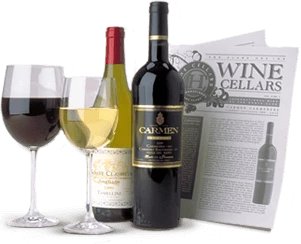 Enjoy Limited Production Estate
Bottled Wines
Discover limited production estate bottled wines such as Vergenoegd's internationally
acclaimed 2005 Cabernet Sauvignon, imported exclusively for our members.
DISCOVER OUR FOUR CLUBS