The 2008 Nine Vines Viognier is classic in every way. Produced from 100% Viognier that was fermented on its lees, this partially barrel-fermented rendition of the Rhône Valley's greatest white wine puts most other New and Old World Viogniers to shame, including several well-known Viogniers from prestigious French appellations selling for twice the price. Straw colored with an enticing glint of green and an amplifying bouquet of spring flowers, stone fruits, apricots, and pears, the 2008 Nine Vines Viognier is an absolute pleasure to sniff as well as sip, savor, and just downright gulp. Endowed with rich fruit, excellent balance, and 14.5% alcohol the wine drinks beautifully from start to finish. In short, this is no wimpy fruit bomb of a Viognier; the folks at Angove's have put together first class Viognier for true drinking pleasure. We suggest serving the 2008 Nine Vines Viognier moderately chilled (40º- 45º F), and as often as possible. Enjoy!
Viogner has been heralded for centuries as an aperitif extraordinaire, and the 2008 Nine Vines certainly upholds the grape's legendary status. In the Nine Vines, Angove's has fashioned a strong, vinous, seductive Viognier that can handily hold court without a coterie of attendants. At the same time, it would be a travesty to deny this classic Viognier the delights of the kitchen. For starters, we have enjoyed this wine with a wide range of cuisines and dishes. Seafood hors d'oeuvres constitute some of our favorite parings with this wine. Thai Crab Ran Goons, Carolina Low Country Crab Cakes, Angels on Horseback (scallops wrapped in bacon and seared to perfection), and Scottish Salmon, served with onions, capers and cream cheese on toasted French rounds, have proven to be tried and true friends to this Viognier. Asian specialties, such as fresh spring rolls stuffed with vegetables, rice noodles, and fresh shrimp; and Vietnamese Noodles with a taste of lemongrass provide other excellent accompaniments. Baked, poached or sautéed white fish, especially when served in a light cream sauce or with fruit based chutney, provide other palate pleasing accompaniments. Pork Tenderloin offers another pleasing option, providing it is roasted rather than grilled, and served with a delicate, fruit based salsa. Mild cow's milk cheeses and pâtés provide other winning combinations with the 2008 Nine Vines Viognier.
Nine Vines belongs to Angove's Pty. Ltd., one of Australia's largest privately owned wineries. This winery began with Dr. William Angove, an accomplished general practitioner and surgeon, who emigrated with his wife and young family from Cornwall in 1886 to establish a medical practice in South Australia. Although he enjoyed a distinguished medical career, Dr. Angove's most enduring legacy survives in the viticulture of South Australia. His early experimentation with vines, winemaking and distilling led to the establishment of a proud family business. Dr. Angove's initial plantings in the township of Tea Tree Gully in the Adelaide foothills were the forerunner of one of the largest vineyards in the southern hemisphere — the magnificent Nanya Vineyard at Renmark in South Australia's Riverland. Since 1950, Angove's has steadily expanded its operations and structure. The Renmark facility has grown to become a major winemaking and distilling entity with storage capacity for more than 15 million liters of wine and spirits. In Australia, Angove's is known not only for its fine table wines (still wines under 14% alcohol), but its exceptional line of fortified wines and spirits. Angove's produces sherry, port, vodka, and an especially fine line of pot stilled brandies under the name of St. Agnes. The 5 Star Liqueur Brandy from St. Agnes is a gold medal winner that consistently receives the highest critical acclaim from tasters and critics. In 1983, the fourth generation of the family took control of Angove's when John Carlyon Angove succeeded his father as Managing Director of the company. John has taken up where his father left off, with increased development and investment in all aspects of the winery. In addition, Victoria, John's eldest daughter and a member of the fifth generation, is now actively involved in ensuring ongoing growth in her role as International Business Development Manager, so much so that Angove's wines can be found today in over 30 different countries around the globe. This is testimony to Victoria's ability and the outstanding quality of Angove's many critically acclaimed, award winning wines. Like most Australian wineries, Angove's fashions an entire portfolio of wines. Angove's Vineyard Select offerings and the distinct Nine Vines Series are this family's top wines. Angove's Nine Vine Series is an exemplary line of wines. It is so named because only nine vines remain from the original 19th century Tea Tree Gully Vineyard in the Adelaide Hills that Dr. Angove planted. These ancient vines serve as a reminder of the vibrancy of a wine growing region that has played a vital role in the development of a nation as well as an integral part in the Angove family's winemaking heritage.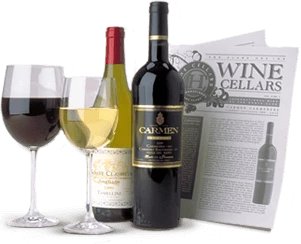 Enjoy Limited Production Estate
Bottled Wines
Discover limited production estate bottled wines such as Vergenoegd's internationally
acclaimed 2005 Cabernet Sauvignon, imported exclusively for our members.
DISCOVER OUR FOUR CLUBS