The 2007 Angove's Nine Vines Shiraz (94%) Viognier (6%) is ample testimony to South Australia's reputation for furnishing the world's finest Shiraz. Made in the famous Côte Rôtie style of France's Rhône Valley, an appellation where small quantities of aromatic white Viognier grapes are often added to the brooding dark Shiraz must, the 2007 Nine Vines Shiraz Viognier captures all the inherent beauty of the classic blend, a cépage that offers the consumer plenty of aromatic fireworks along with depth, power, and a velvet-like texture. For starters, the Nine Vines Shiraz Viognier exhibits a nose redolent with crushed blackberry, exotic fruits, bacon fat, vanilla, and spice. And in the mouth the Nine Vines remains surprisingly textured and smooth for such a young offering: it exudes plenty of berry fruit flavors and soft vanilla tones that melt inexorably into the firm tannic structure and hefty alcohol that give this wine its long finish and healthy underpinning. We suggest you give this delicious Rhône style red at least thirty minutes of aeration before serving (at no more than 66º F). Anticipated maturity: 2009-2014.
Given the rich flavor profile and the velvety texture of the 2007 Nine Vines Shiraz Viognier, it possesses a wealth of culinary complements from which to choose. Rich, stick-to-your-ribs kinds of fare provide premier showcases for the Nine Vines Shiraz Viognier. Consequently, filet mignon or a whole beef tenderloin served medium rare with grilled or sautéed portabella mushrooms; rack of lamb encrusted with a glazed onion and herb manioc; venison stew; and rich heady cassoulets all get our nod to accompany the 2007 Nine Vines Shiraz Viognier. A heady ratatouille served with homemade pasta, a hunk of aged cheese, and some freshly baked bread; and grilled Ahi tuna on focaccia with an authentic Provencal aioli or herb mayonnaise provide other superb complements.
Nine Vines belongs to Angove's Pty. Ltd., one of Australia's largest privately owned wineries. This winery began with Dr. William Angove, an accomplished general practitioner and surgeon, who emigrated with his wife and young family from Cornwall in 1886 to establish a medical practice in South Australia. Although he enjoyed a distinguished medical career, Dr. Angove's most enduring legacy survives in the viticulture of South Australia. His early experimentation with vines, winemaking, and distilling led to the establishment of a proud family business. Dr. Angove's initial plantings in the township of Tea Tree Gully in the Adelaide foothills were the forerunner of one of the largest vineyards in the southern hemisphere — the magnificent Nanya Vineyard at Renmark in South Australia's Riverland. Since 1950, Angove's has steadily expanded its operations and structure. The Renmark facility has grown to become a major winemaking and distilling entity with storage capacity for more than 15 million liters of wine and spirits. In Australia, Angove's is known not only for its fine table wines (still wines under 14% alcohol), but also for its exceptional line of fortified wines and spirits. Angove's produces sherry, port, vodka, and an especially fine line of pot-stilled brandies under the name of St. Agnes. The 5 Star Liqueur Brandy from St. Agnes is a gold-medal winner that consistently receives the highest critical acclaim from tasters and critics. In 1983, the fourth generation of the family took control of Angove's when John Carlyon Angove succeeded his father as Managing Director of the company. John has taken up where his father left off, with increased development and investment in all aspects of the winery. In addition, Victoria, John's eldest daughter and a member of the fifth generation, is now actively involved in ensuring ongoing growth in her role as International Business Development Manager, so much so that Angove's wines can be found today in over 30 different countries around the globe. This is testimony to Victoria's ability and the outstanding quality of Angove's many critically acclaimed, award-winning wines. Like most Australian wineries, Angove's fashions an entire portfolio of wines at varying levels of quality and age worthiness. Angove's Vineyard Select offerings and the distinct Nine Vines Series are this family's top wines. Angove's Nine Vine Series is an exemplary line of wines. It is so named because only nine vines remain from the original 19th century Tea Tree Gully Vineyard in the Adelaide Hills that Dr. Angove planted. These ancient vines serve as a reminder of the vibrancy of a wine-growing region that has played a vital role in the development of a nation as well as an integral part in the Angove family's winemaking heritage. Shiraz or Syrah? Whether we refer to this great varietal as Shiraz or Syrah, we are talking about the same illustrious grape. Grown for centuries in the Rhône Valley of France, where it is responsible for all or part of many of the greatest red wines of France (Hermitage and Châteauneuf-du-Pape specifically), the exact origin of this full-flavored varietal remains in debate. However, historians do agree that it was brought to Europe from the Middle East, but when and by whom remains a mystery. Some historians maintain that it was the Crusaders who first brought Syrah to France, while others point to the earlier Roman legions under Probes, and yet others claim it was the remnants of Alexander the Great's army on its return from Persia. The latter theory is particularly intriguing, since Alexander himself was so enamored of the wines he found around the city of Shiraz in Central Persia that he insisted on staying there, far longer than he should have, apparently, since he died there. Nonetheless, the one point that has been ascertained that everyone seems to agree upon is that the name Shiraz, from the Persian city of that name, is the origin of the varietal's name. In any case, Syrah flourishes today not only in the south of France but in other Mediterranean climates. It fares particularly well in California and Australia, where it is often called by its original name – Shiraz. Australia's Barossa Valley is home to many of the oldest un-grafted Shiraz vines on earth, many of which are crafted into wines of extraordinary flavor, power, and texture.
Fine gourmet cheeses and well-made wines share a natural affinity for one another. In our experience, Rhône style wines, and the 2007 Nine Vines Shiraz Viognier in particular, have a proclivity for soft and semi-hard cheeses. Consequently, a firm highly flavored English cheese like Wensleydale offers a superb accompaniment to the Nine Vines Shiraz Viognier. The creamy texture and full nutty flavors of Wensleydale truly accentuate the savory fruit in the wine. Other gourmet cheeses, too, such as Reblochon from France and a Mahon from Spain, offer more noble partnerships with the Nine Vines Shiraz Viognier. For more advice on wine and cheese pairings or to learn more about gourmet cheeses we suggest you contact us at www.cheesemonthclub.com. Enjoy!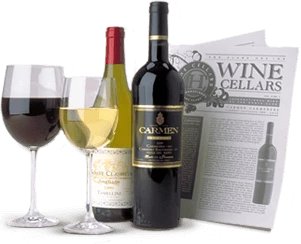 Enjoy Limited Production Estate
Bottled Wines
Discover limited production estate bottled wines such as Vergenoegd's internationally
acclaimed 2005 Cabernet Sauvignon, imported exclusively for our members.
DISCOVER OUR FOUR CLUBS