The 2011 Nidia Rueda Verdejo establishes Nidia as one of the finest and most consistent boutique producers of Verdejo. Nidia's 2011 Verdejo is a worthy successor to the winery's excellent 2010 Verdejo and may ultimately eclipse the splendid 2010. The vibrant 2011 Verdejo once again exhibits an attractive robe the color of the Castilian sun, a light that illuminates the shimmering Spanish countryside and its undulating rows of vines and olive trees that wave in the breezes that sweep the meseta. Yet, what is most impressive about this Verdejo is not its color but its bouquet and flavor–a mélange of orchard fruits and citrus infused with clean mineral tones. Delicate, savory flavors emerge in this wine and carry over into the wine's smooth, racy frame. Such attributes allow Nidia's Verdejo to deliver substantial mouth feel, yet remain crisp and refreshing. Medium–bodied but long on varietal character, the 2011 Nidia Verdejo is one easy wine to drink. It's both ethereal and savory, all at the same time. Enjoy this vibrant Verdejo well chilled or cool, depending upon your tastes. We liked this wine iced cold, but we found it even more attractive at more modest temperatures (40°-45° F). Enjoy!
Rueda Verdejo provides an ideal complement to all kinds of fish, seafood, tapas, and cheese, a calling Nidia's 2011 Verdejo answers with the utmost delight. But first we suggest serving Nidia's versatile Verdejo as an aperitif to enjoy au naturel, before introducing anchovy or pimento stuffed green olives or mild Chorizo. After the tapas, bring on the scallops shrimp or prawns, prepared Provençal style in a heady white wine, garlic, and tomato sauce. Fish soups and seafood tacos work well, too, with Nidia's full, balanced flavors. Calamari Frito and fish and chips offer other rewarding complements to this wine. Cod, either fresh or dried (baccalà), offers a tasty traditional pairing to enjoy with this Verdejo as well. Crab Cakes, sushi and sashimi pair nicely, too. Melon wrapped in prosciutto, or better still, thin slices of Spain's peerless Jamon Ibérico offers yet another delectable pairing. And then there is cheese. Appenzeller, English Cheddar, or almost any Spanish cheese will complement Nidia's fresh, clean flavors.
One of the greatest rewards in the world of wine is discovering a gratifying wine from a little known winery. One of our latest white wine finds hails from Bodegas Nidia, a tiny winery founded in 2005 in Spain's Rueda, the ancestral home of Verdejo. Bodegas Nidia cultivates a mere 12 acres of Verdejo vines that average nearly 25 years of age, from which they produce a delicious, full-bodied 100% Verdejo. Bodegas Nidia fashions traditional Rueda Verdejo that embodies the grape's full, ripe varietal character. Taste and see!
Rueda lies to the northwest of Madrid in an historic part of ancient Castilla y León. Rueda, especially the town of Nava del Rey and the surrounding countryside, is known for its extraordinary architecture. Many opulent churches, monasteries, and mansions punctuate the region, highlighting Rueda's important role in the medieval Reconquest of Spain from the Moors.
Wine production has been an integral part of Rueda since the 11th century, when King Alfonso IV offered freehold ownership of land to those prepared to resettle Rueda after the Reconquest. Monastic orders quickly took up the King's offer and built monasteries with vineyards to provide a steady wine supply. Soon the vineyards of Rueda had become the primary suppliers of wine to the itinerant medieval Castilian court. The viticultural glory and commercial success of Rueda and its noble Verdejo grape would last until phylloxera devastated the region between 1909 and 1922, destroying more than two-thirds of the region's vineyards. Subsequently, the vines chosen for replanting were unfortunately selected for yield rather than quality, which means the high yielding Palomino replaced Verdejo as the main grape in Rueda. Furthermore, the little Verdejo that was made had no chance to mature; it was sold locally in bulk.
Fortunately, the sagging fortunes of Rueda took a turn for the better in the 1970s. Marqués de Riscal, a leading Rioja producer, came to Rueda and set up a bodega to make young, fresh white wines from native Verdejo grapes. Meanwhile, Angel Rodriquez was launching his quest at Martinsancho to revive Verdejo and restore the indigenous varietal to its former glory. As a result of these efforts Rueda won D.O. (Denominación de Origen) status in 1980, and it has never looked back. In order for a wine to bear the name Rueda, it must contain at least 50% Verdejo. Rueda is presently Spain's leading D.O. for still premium white wines.
Verdejo is a premium white grape that has long been cultivated in Spain. Its origin is believed to be North Africa, though its spiritual home is Rueda, an important viticultural area northwest of Madrid in an historic part of Spain's ancient province of Castilla and León. Verdejo likely arrived in Rueda with the Moors sometime prior to the 11th century. After being decimated by phylloxera in the early 20th century, Verdejo was saved from extinction and re-planted widely throughout Rueda in the 1970s. With the advent of modern wine equipment, Verdejo has never been better. It produces a smooth, highly aromatic wine that is rich in varietal character.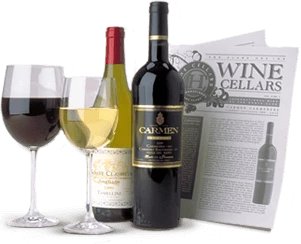 Enjoy Limited Production Estate
Bottled Wines
Discover limited production estate bottled wines such as Vergenoegd's internationally
acclaimed 2005 Cabernet Sauvignon, imported exclusively for our members.
DISCOVER OUR FOUR CLUBS