Napa Cellars has in recent years emerged as one of the top purveyors of Napa Valley Sauvignon Blanc. Bold and beautiful, the 2006 Napa Cellars Sauvignon Blanc embodies a thrilling cornucopia of appealing flavors. And this most recent Sauvignon Blanc from Napa Cellars is simply chocked full of the scents and savors: melon, fig, quince, tropical fruit, and fresh citrus gush from the glass. Actually, it is hard to imagine a better California Sauvignon Blanc than this offering from Napa Cellars. Rich in fruit but still crisp and supremely dry, the 2006 Napa Cellars Sauvignon Blanc is a joy to drink from the first sip to the last. No heavy oak tones mar the wine's depth of fruit and wealth of flavor. Moreover, this Sauvignon Blanc finishes with a long burst of flavor and crisp acidity that assure its further development. For optimal drinking we suggest putting a good chill on the 2006 Napa Cellars Sauvignon Blanc (about 40° F) and then allowing it to open as you sip or guzzle as the case may be. However, as much as we wanted to sip and savor this wine, we found it so appealing straight away that it disappeared down our throats with a hushed silence and a collective nod of approval. Enjoy!
Although it may still be true that "summer and Sauvignon Blanc were made for one another" and that Sauvignon Blanc is "the quintessential wine of summer," recent tastes in food along with the advent of fuller, richer, more complex styles of Sauvignon Blanc have rendered the noble Sauvignon Blanc a wine for all seasons. With this in mind, the 2006 Napa Cellars Sauvignon Blanc cuts a handsome figure with all kinds of salads, seafood, poultry, pork, smoked meats, and many of the worlds most exquisite cheeses. Smoked crab cakes, roasted oysters, tuna steaks with piquant fruit salsas, and ham (especially prosciutto) all offer complementary accompaniments to Napa Cellars' outstanding 2006 Sauvignon Blanc. Fresh honeydew melon wrapped in prosciutto and a Panini, with melted chèvre, fig preserve, and prosciutto are two of our favorite appetizer choices with this wine. Homemade red pepper humus provides another fine choice of appetizer with this wine. For more elaborate fare, why not try an Asian stir fry? The 2006 Napa Cellars Sauvignon Blanc accompanies all kinds of traditional Chinese, Thai, and Vietnamese dishes from the simple to the elaborate. Noodles, served with chicken, shrimp, tofu or vegetables, all provide a fine palette on which to pair the Napa Cellars Sauvignon Blanc. Yet, this flavorful wine will rise to such Thai specialties as Grao Prao (Stir fried fresh chili, onion, green bean, pepper, and hot basil) and Ma Kua (Stir fried eggplant, with salted soya bean and sweet basil), so no need to be bashful with the Napa Cellars or your menu. However, you may just want to have a second bottle on hand because the 2006 Napa Cellars is so easy to drink on its own that you may find you have finished the first bottle, even before you have had a chance to sit down at table.
Napa Cellars is a Napa Valley landmark. It lies just north of the now famous Mustard's Restaurant, on the west side of California Highway 29. Napa Cellars' Oakville address is about as close to the heart of Napa Valley as one can be. However, in the world of wine location means very little, until the vineyard's terroir yields results and the winery's good stewards know what to do with the bounty the land surrenders. At Napa Cellars, the past and present proprietors have been just stewards, and the consumer has consistently reaped the gustatory benefits. At this historic property one need not have any doubts about the quality of wine that flows from its barrels. In fact, this overachieving enterprise could serve as a model for other less serious-minded Napa Valley estates. Napa Cellars is a well-funded, solidly run property that fashions a fine array of good, old-fashioned Napa Valley wines. Napa Cellars was born in 1992, when Rich Frank, Chairman of Walt Disney Television and Communications, and Koerner Rombauer, proprietor of Rombauer Vineyards (one of Napa Valley's finest producers of Chardonnay and Cabernet Sauvignon) teamed up to form Frank-Rombauer. They later changed the estate's name to Frank Family Vineyards. Almost since its inception, the celebrated Napa Valley winemaker Todd Graff was the man behind the barrel and the reason for the outstanding quality at this landmark estate. He is, also, the person responsible for the current vintages and present releases at Napa Cellars. In 2006, Napa Cellars was sold to Trinchero Family Vineyards, one of the most quality-minded, environmentally friendly family enterprises in Napa Valley. However, Napa Cellars continues to operate as an independent winery and it will be home to Folie à Deux – another flagship Napa Valley wine within the Trinchero Family's growing portfolio of sustainably run wineries. If past performances on the part of the Trinchero Family at their home estate and the quality of Folie à Deux are any indicators of what the consumer can expect from this group, Napa Cellars will only continue its meteoric rise.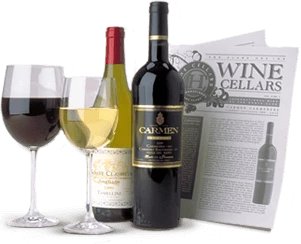 Enjoy Limited Production Estate
Bottled Wines
Discover limited production estate bottled wines such as Vergenoegd's internationally
acclaimed 2005 Cabernet Sauvignon, imported exclusively for our members.
DISCOVER OUR FOUR CLUBS