The 2002 vintage in Napa Valley was cooler than normal; a boon for the valley's early maturing Merlot. In 2002, Napa Cellars made an outstanding Merlot that is certainly one of the finest Merlot wines ever produced at this venerable property. The 2002 Napa Cellars Merlot is a juicy, plush wine that offers up plenty of ripe cassis, cedar, and chocolate tones, both in the nose and on the palate. Ripe, soft, but full-flavored, this Napa Cellars rendition of Merlot will please both the true Merlot aficionado as well as the most ardent detractors of the mercurial Merlot variety, who claim (and sometimes rightfully so) that the variety does not always proffer enough flavor or stuffing to support its frame. Such criticism will not be the case with the Napa Cellars, as it offers balance, flavor, and just enough tannin to enclose and highlight the finest attributes of one of the world's greatest red grape varieties. The 2002 Napa Cellars could easily serve as the New World counterpart to Bordeaux's Grand Cru St. Émilion. Enjoy!
Merlot is a wonderful accompaniment to a variety of foods, and the 2002 Napa Cellars Merlot is no exception. Its plush savory characteristics make it a natural companion to fine cuts of meat and poultry, especially duck. And in fact, the folks at Napa Cellars extol the virtue of pairing their Merlot with a variety of duck entrÉes. One of their chef's favorite recipes is Duck Confit, served with roasted fingerling potatoes and a cassoulet of flageolets and apple smoked bacon. In addition, we suggest serving this tasty Merlot with other duck dishes, including a simple roast duck with a fruit sauce or reduction: Blackberry, orange, and plum sauces all get our nod. Veal and lighter cuts of beef pair nicely with this wine, too. And when meats simply will not do, the elegant but flavorful 2002 Napa Cellars Merlot is a knockout with a plate of gourmet cheeses.
Napa Cellars is a Napa Valley landmark. It lies just north of the famous Mustard's Restaurant, on the west side of California Highway 29. Napa Cellars Oakville address is about as close to the heart of Napa Valley as one can be. However, in the world of wine location means very little, until the vineyard's terroir yields results and the winery's good stewards know what to do with the bounty the land surrenders. At Napa Cellars, the past and present proprietors have been just stewards, and the consumer has consistently reaped the gustatory benefits. At this historic property, one need not have any doubts about the quality of wine this small estate puts put. In fact, this overachieving enterprise could serve as a model for other less serious-minded Napa Valley estates. Napa Cellars is a well-funded, solidly run property that fashions a fine array of good, old-fashioned Napa Valley wines. Napa Cellars was born in 1992, when Rich Frank, Chairman of Walt Disney Television and Communications, and Koerner Rombauer, proprietor of Rombauer Vineyards (one of Napa Valley's finest producers of Chardonnay and Cabernet Sauvignon) teamed up to form Frank-Rombauer. They later changed the estate's name to Frank Family Vineyards. Almost since its inception, the celebrated Napa Valley winemaker Todd Graff was the man behind the barrel and the reason for the outstanding quality at this landmark estate. He is, also, the person responsible for all the current vintages and present releases at Napa Cellars. In 2006, Napa Cellars was sold to Trinchero Family Vineyards, another serious, quality-minded family enterprise in Napa Valley. Happily, it appears that Napa Cellars will continue to operate as an independent winery. At the same time, the winery will be home to the Trinchero Family's flagship Napa Valley wine, Folie à Deux. If past performances on the part of the Trinchero Family and the quality of Folie à Deux are any indicators of what the consumer can expect from this group, Napa Cellars is in very good hands indeed.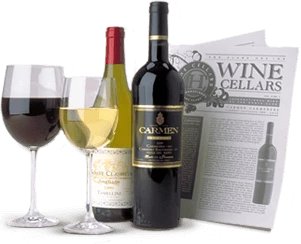 Enjoy Limited Production Estate
Bottled Wines
Discover limited production estate bottled wines such as Vergenoegd's internationally
acclaimed 2005 Cabernet Sauvignon, imported exclusively for our members.
DISCOVER OUR FOUR CLUBS