A fleshy, flamboyant, and just plain fun to drink wine, the 2004 Murphy-Goode Liar's Dice Zinfandelremains true to the estate's commitment to fashion plush hedonistic wines that offer complete and utter pleasure from start to finish. As one would expect, the 2004 Liar's Dice is richly colored and laden with the tantalizing aroma of top notch Zinfandel: crushed bramble and blueberries, hints of herb and spice, and everything nice come to fore. Isn't this what great California Zinfandel is about? And let's not forget the wine's lusty flavor, a heady combination of rich fruit, toasted barrel, and the distinctly Californian version of garrigue, that wild herb scent and flavor that permeates California's North Coast. It caresses the palate and satiates the senses, and that's before the wine's formidable alcohol courses through your veins. For our way of thinking, if there ever were just one style of Zinfandel in the world, Murphy-Goode's Liar's Dice would have to be it. This wine combines all of the rich, ripe fruit for which California is famous with a suave, sophisticated European elegance and style. We suggest serving this fine Zinfandel fairly cool (60°-66° F), with a minimum of aeration. Zinfandel is one of the few red wines that can optimally be enjoyed without extensive breathing. Enjoy!
What we like best about the 2004 Murphy-Goode Liar's Dice Zinfandel is how well it pairs with food, or not. Ultimately, we think Murphy-Goode's Zinfandel is a quintessential food wine, whether it's with Roast Turkey and all the trimmings, a simple burger off the grill, or better still a host of classic Mediterranean delights straight out of the brick oven. Southern Italian classics such as Baked Ziti, Eggplant or Zucchini Parmigiana, Lasagne, and Manicotti provide great complements to this wine. After all, Zinfandel, or more accurately its ancestor Primitivo, thrives in southern Italy, where it marries perfectly with the tomato rich sauces of Italy's Mezzogiorno. Moreover, Zinfandel became the grape of choice in the United States among many Italian immigrant winemakers, which they molded in the last century and half into an American classic. However, we should not lose sight of the fact that Liar's Dice Zinfandel is made with good old-fashioned drinking in mind, so it will complement both simple and sophisticated dinner party fare as well as provide a solitary respite from life's drudgery, with nothing but a glass to speak its praises, so as you like it.
Since its inception in 1985, the Murphy-Goode winery has consistently turned out a formidable portfolio of compelling wines at affordable prices. And as mind-boggling as it may be, this winery keeps raising the bar with each successive vintage. Murphy-Goode is a unique family venture, an enterprise some have described as an adventure as well as a model in cooperative excellence and marketing acumen. Call it what you will, this superb Sonoma County winery fashions some of California's most pleasurable wines at any price. Moreover, even with more than 300 acres of prime Sonoma County vineyards, Murphy-Goode remains a family owned and operated winery — a joint undertaking of two neighbors and long time family friends and grape growers, the Murphy's and the Goode's, along with their marketing guru pal Dave Ready. All three families still actively tend the vineyards, make the wine, and handle all sales and marketing for this estate — much to the chagrin of the less adept competition. From the beginning the Murphy, Goode, and Ready families have shared a singular mission: to make excellent wine from exceptional grapes, and "produce something that brings to mind a three-day weekend." Now these are our kind of folks. Who doesn't like three-day weekends? Stand up and be counted, and we'll cart you off to the asylum. And as true friends, the three families have been good to their word as well as their mission. Indeed, it is hard to get enough of Murphy-Goode's delicious wines — even over a three-day weekend. In the 1980s, Murphy-Goode first gained recognition for its bold, full throttle Fumé Blanc, which it still produces, but today the winery is more renowned as one of Sonoma County's best red wine producers, with gold medal winning Cabernet Sauvignon, Merlot, Liar's Dice Zinfandel, and Pinot Noir to complement the estate's white wine portfolio of Reserve Fumé, Chardonnay, and Gewürztraminer. In addition, Murphy-Goode's has introduced Wildcard, a plush blend of Cabernet Sauvignon, Merlot, and Cabernet Franc and All In, a luxury Meritage offering that highlights the very best that Sonoma County's Alexander Valley can produce. Murphy-Goode draws its fruit exclusively from estate hillside vineyards and prime bench land grapes for its reserve wines, utilizing minimal intervention and natural farming techniques to produce wines that are truly special, like a long three-day weekend. And when was the last time you heard anyone complain about having a three-day weekend? Tim Murphy was the initial guardian and impetus behind Liar's Dice Zinfandel, creating the name and fashioning the wine to his exacting standards. Regrettably, the affable and ever mischievous Tim Murphy passed away a few years ago, but as Murphy-Goode has always been a family affair, neither the estate's commitment to quality nor its style of wine has changed. Tim's three sons continue to handle much of the day to day management of the vineyard, while Dave Ready's sons still make up the formidable wine making team. Dave Ready, Jr. is Murphy-Goode's Winemaker, while his younger brother, Adam, serves as Cellarmaster. Dale Goode and Dave Ready, Sr. still put in a full day as well. The continued success of Murphy-Goode is a fine tribute to Tim Murphy, one of the premier architects of the post prohibition Renaissance in viticulture in Sonoma County. It feels good to still see and taste the legacy, which lives on and promises many more good things to come!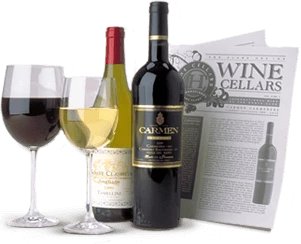 Enjoy Limited Production Estate
Bottled Wines
Discover limited production estate bottled wines such as Vergenoegd's internationally
acclaimed 2005 Cabernet Sauvignon, imported exclusively for our members.
DISCOVER OUR FOUR CLUBS