The 2014 Mr. Riggs Generation Series Montepulciano d'Adelaide Hills makes its North American debut with The International Wine of the Month Club. In short, this is an International Wine of the Month Club exclusive: we took the entire lot of this limited production. This rare beauty opens with an eye-popping violet hue and an intense aroma of red fruits, eucalyptus and mint. Smooth, rich and utterly entrancing in the mouth, Mr. Riggs' Montepulciano d'Adelaide Hills lacks for nothing but a clean glass. Velvety and lithe in the mouth, one wonders how Ben Riggs can pack so much flavor into such a smooth format. The wine's ripe tannins carry an abundance of berry fruit, mint, milk chocolate and subtle vanilla bean flavors as they glide across the tongue and fill the mouth. Ben Riggs captures the warm, extroverted nature Australia's top-rated wines and marries them to the suavity and sophistication one finds in the finest Tuscan reds. Although one of the smallest of productions from Ben Riggs, the 2014 Montepulciano d'Adelaide Hills has captured the attention of many of the world's most influential critics and earned 90+ point scores, which include 94 points from The Wine Front, Australia's most active review site for wine consumers. For optimal enjoyment, we suggest allowing Ben Riggs' 2014 Generation Series Montepulciano at least fifteen minutes of aeration before consuming at cool room temperature (no more than 65° F). Enjoy!
Mr. Riggs' intriguing 2014 Generation Series Montepulciano d'Adelaide Hills offers a unique opportunity to taste a limited production wine that consistently makes a strong case for cultivating traditional Italian varietals in Australia. In Ben Riggs' 2014 Montepulciano d'Adelaide, Italy truly meets Australia. Consequently, regional Italian specialties provide particularly tasty accompaniments to Ben Riggs' unique offering. For starters, consider pairing the Mr. Riggs' Montepulciano with Crostini with Wild Mushrooms or a heady Cream of Tomato Basil Soup topped off with basil/pesto butter. The savory notes in the wine complement both the pungent earthy aromas of the mushrooms as well as the herbal and tomato components of the soup. Grilled Red and Yellow Peppers stuffed with spicy Italian sausage, Parmesan cheese, orzo and zucchini provide more tasty complements. Agnolotti, a delicious cheese filled pasta, offers another tasty accompaniment. It can be served with a tomato or mushroom based sauce and served as either a first or main course. Grilled meats, sweetbreads, and sautéed vegetables can all be added as desired. Gnocchi, a specialty of Italy's Marche region, makes another splendid companion to Mr. Riggs' Montepulciano, especially when served with braised veal, porcini mushrooms and plenty of Pecorino cheese, but almost any savory meat (think Australian lamb), vegetable or cheese dish will provide memorable companionship to Mr. Riggs' compelling Montepulciano from the Adelaide Hills. Buon Appetito!
Mr. Riggs is Ben Riggs, former winemaker for Wirra Wirra in South Australia's McLaren Vale and traveling consultant to wineries around the world. Ben has consulted for wineries in California, France, Greece, and Italy. In Italy, Ben learned a great deal about Italian varietals such as Montepulciano working with wineries in Abbruzzo, Marches, Puglia, and Tuscany. He also continues to consult for local Australian wineries, including Pertaringa, Geoff Hardy, the highly esteemed Tatiarra wines and many others. Ben's specialty is what he refers to as "the grape to plate approach," whereby he conducts vineyard inspections, sources the fruit, makes the wine, and even works with wine journalists, restaurants and retailers to bring his wine to consumers. This is all on top of owning his own winery and vineyard, dubbed Mr. Riggs, a moniker Ben likes to say came about when he outgrew his dad (the previous Mr. Riggs). Ben is quick to add that "Mr. Riggs" [is], a title I would prefer to not outgrow."
At Mr. Riggs, Ben's great delight is fashioning limited productions of vineyard-specific wines, which ensures both high quality and a certain exclusivity. The high quality is noted in the awards and ratings Ben has received over the years, including many 90+ ratings for his limited production of Generation Series Montepulciano and knockout Shiraz-based offerings. Mr. Riggs' vineyard is located in Kangarilla, at the very edge of the McLaren Vale, where it contains an array of grape varieties, all of which are hand tended and extremely low yielding.
The Adelaide Hills lie just thirty minutes east of the city of Adelaide in the state of South Australia. The area stretches from the Barossa in the north to the Kuitpo Forest to the south. The green hills of Adelaide form part of the Mount Lofty Ranges, which on account of their altitude and proximity to the sea make the area one of the coolest on mainland Australia. Moreover, these hills provide the ideal climate for the cultivation of the vine. The Adelaide Hills experience warm days and especially cool nights, which afford the region's grapes long hang times on the vine in which to build aroma and flavor, yet still retain freshness and balance.
In addition to being home to many of South Australia's leading wineries and dozens of grape varieties, the Adelaide Hills serve as an important weekend and vacation destination for the inhabitants of South Australia. The area is rich in history, excellent restaurants, comfortable bed and breakfasts, and exceptional walking trails. If the Adelaide Hills sound like a good place to take a wine holiday, trust us, they are.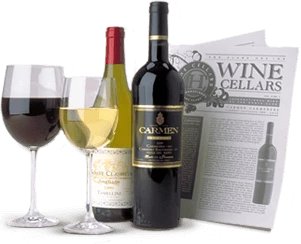 Enjoy Limited Production Estate
Bottled Wines
Discover limited production estate bottled wines such as Vergenoegd's internationally
acclaimed 2005 Cabernet Sauvignon, imported exclusively for our members.
DISCOVER OUR FOUR CLUBS