There is New Zealand Sauvignon Blanc . . . and then there is New Zealand Sauvignon Blanc that is a truly tasty and a cut above the crowd. Mount Fishtail's 2013 Marlborough Sauvignon Blanc is both tasty and more than a cut above. It recently received well-deserved accolades from the Wine Enthusiast and it earned a top spot on the magazine's list of Top Ten Best Buy New Zealand Sauvignon Blancs. Like its namesake, Mount Fishtail Sauvignon Blanc soars above the pack of pretenders that lurk below. For starters, the 2013 Mount Fishtail Sauvignon Blanc is a balanced wine. It sparkles in the glass with a sunlit pale straw color and a glint of green that reflect the Marlborough landscape. The wine expands in the glass with savory scents of gooseberry, grapefruit, box wood, lemongrass, and melon. The palate is fresh and vigorous with a creamy texture, the latter being a quality that is often missing in the multitude of ordinary Sauvignon Blanc wines from Marlborough. In the mouth, essences of grapefruit and melon hold court with juicy lime and passion fruit flavors. And most impressive is the wine's harmonious structure, which offers a superb balance between fruit and acidity. All of these attributes add to the wine's complexity and set up what amounts to a long, lingering and satisfying finish. We suggest enjoying the 2013 Mount Fishtail Marlborough Sauvignon moderately chilled (40° F).
In New Zealand, green-lipped mussels and Sauvignon Blanc are nearly synonymous. Many even claim this pairing to be a national dish. In the company of the 2013 Mount Fishtail Marlborough Sauvignon Blanc, mussels never tasted better, but the same could be said for almost any shellfish, or for that matter, anything edible that once swam in the sea. Fish is a good bet to pair with this wine, whether it is sushi grade Ahi tuna or a simple filet of cod or flounder that is sautéed in white wine, shallots, herbs and mustard. Herb crusted shrimp or prawns provide tasty treats, too. Shrimp Scampi makes another fine accompaniment. And for the more adventuresome, paella prepared with fish, chicken and spicy Chorizo sausage offers a mouth-watering treat. For those who prefer something other than seafood, chicken salads prepared with grapes, walnuts and Mediterranean herbs, and light vegetable curries also complement Mount Fishtail's extraordinary Sauvignon Blanc. But for most of us, a clean glass and plenty of Mount Fishtail Sauvignon Blanc will be the only accompaniment needed. Enjoy!
Mount Fishtail rises up high above the plains of Marlborough, New Zealand's premium wine growing region for Sauvignon Blanc. Its peak stands as a sentinel overlooking the many quality vineyards of Marlborough's Wairau and Waihopai Valleys. The name Mount Fishtail pays homage to the double peaked mountain that inspires Konrad and Sigrun Hengstler to make world class Sauvignon Blanc. Mount Fishtail is part of the Richmond ranges, which borders the Marlborough region to the North. It is also an integral part of the landscape that is most visible from the Waihopai Valley home and vineyard of the Hengstler family. The family decided that this double peaked mountain was an inspiring omen and named their vineyard in Foxes Island, Wairau Valley after it.
In addition to producing outstanding Sauvignon Blanc from their two vineyard sites in the Wairau and Waihopai Valleys, the Hengstlers also fashion delicious Pinot Noir under the Mount Fishtail label.
Marlborough is situated on the northern tip of New Zealand's mystical South Island, where it enjoys a unique dry maritime climate. High mountains isolate this enchanted land from the cold alpine interior of the rest of the South Island, while the spectacular Marlborough Sound to the North provides a conduit to the sea as well as the planet's most majestic view of New Zealand's North Island as it soars skyward across the swells of Wellington Straits – a sight that ranks as one of the world's most stunning vistas. Moreover, Marlborough is about as close to viticultural paradise as one can find, especially for Chardonnay and Sauvignon Blanc.
Marlborough's long, sunny, but not excessively hot growing season provides nearly ideal conditions for grape growing. The average summer daytime temperature hovers between 24° C and 28° C (72° - 80° F) depending upon one's altitude and proximity to the sea. The air is crystal clear and the light luminous; with nary an overcast day let alone much rain during the long growing season. Cool nights keep acid levels high in the grapes, even as sugar levels rise abruptly. Such conditions lend themselves to an extended growing season, which provide slow even ripening and extended hang time for the grapes. The result is ripe healthy fruit, with fresh vibrant flavors and a crisp herbaceous zing.
In addition to its superb summer climate, Marlborough also boasts excellent soil for grapes. Most of Marlborough consists of silty, free draining alluvial loams over gravelly sub-soils. In addition, river stones lie scattered throughout Marlborough, remnants of the many rivers that once coursed through the pretty valleys of Marlborough. These river stones store heat from the warm sunny days and radiate that heat back into the vineyards at night, thereby providing a unique microclimate and terroir, much like that of Châteauneuf-du-Pape. Moreover, most Marlborough growers are committed to sustainable agricultural practices in order to preserve the region's noble terroir. And the French thought they had a monopoly on terroir; we think not.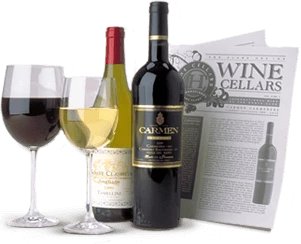 Enjoy Limited Production Estate
Bottled Wines
Discover limited production estate bottled wines such as Vergenoegd's internationally
acclaimed 2005 Cabernet Sauvignon, imported exclusively for our members.
DISCOVER OUR FOUR CLUBS