The 2005 Morazzano Re Rosso stopped the tasting panel in its tracks – the once-lively conversation became a hushed silence as each panelist sampled the lush rose petal, dark fruit, and Tuscan leather aromas on the nose of this stunner. Visually the wine promised to be quite muscular with its deep translucent purple color, save a bit of lightening along the edges of the glass. Though the nose was so seductive, none of us could move on to tasting Re (meaning King, a fitting name for a wine such as this) until we had fully enjoyed the intense pleasures of its aromas. But once we moved on to tasting, we were rewarded with a wonderfully balanced wine, showing both a strong backbone of tannins and a wealth of dark fruit flavors intertwined with complex notes of leather, earth, rose, and espresso. Marvelously consistent upfront, through the mid-palate and the exceptional finish, and lacking nothing save perhaps some additional bottle time, the 2005 Re is an outstanding example of the finest that Sangiovese can offer – a wine that can go toe-to-toe with all but the most sublime, well aged Brunellos. We recommend serving the 2005 Re fairly cool (59º F-65º F), with or without extended aeration depending upon your preference.
A complex Tuscan red such as the 2005 Morazzano Re provides the ideal complement to traditional Tuscan specialties as well as all kinds of beef, lamb, and game. Stuffed Quail, served with braised vegetables, porcini mushrooms, and a hint of truffle, offers a winning accompaniment to Re. Grilled Venison Backstrap, double marinated, wrapped in bacon, and grilled over a charcoal fire with sprigs of fresh herbs, offers another noteworthy accompaniment to Re, one that will please even those who have never before enjoyed venison. Veal and Mushroom Ravioli and traditional Italian bean dishes such as Maccu (featuring a variety of beans, split peas, and chestnuts) provide tasty pairings, too. Yet, Ossobuco may constitute the ultimate crowd pleasing companion to Re. It appeals to most tastes, can be prepared in a variety of ways, and one can choose between beef or lamb shanks to suit personal preference or to cater to guests. A plate of semi-hard and soft, un-crusted cheeses from around the world also provide an ideal way to finish a bottle of 2005 Morazzano Re, should you be disciplined enough to have more than a thimble full remaining in your glass. Provolone, Gouda, Munster, and Port Salut are just a few superb cheeses worthy of Michele Barbiero's Re Rosso, but many other gourmet cheeses will perform equally well. Buon Appetito!
Michele Barbiero's illustrious Morazzano estate has long been hailed as one of Tuscany's finest properties. Morazzano lies nestled in the hills of the Montescudaio DOC, just a little over four kilometers from the hallowed ground of Sassicaia. Morazzano and proprietor Michele Barbiero are renowned for their Brunello di Montalcino and Super Tuscan reds (full-bodied blends made from Sangiovese, Merlot, and/or Cabernet) of which the most notable is Re, the winery's flagship offering. All of Morazzano's wines are farmed organically. Moreover, no added sulfites or other chemicals are used in making Re – further testament to Michele Barbiero's commitment to crafting pure, natural wines at Morazzano. In addition to Re, Michele Barbiero fashions an outstanding Brunello di Montalcino from a 4.5 acre vineyard in Brunello. Morazzano turns out at least two other red wines: Ribuio and Morazzano Rosso, a lighter and less complex version of Re. Both wines contain varying portions of the region's most illustrious varietals, with Sangiovese always taking the lead and Cabernet and Merlot following as low keyed partners. The only caveat here seems to be Morazzano's limited production. Michele Barbiero's wines are highly regarded and much sought after, particularly in Italy and Great Britain where the 2005 Re is fetching up to $300.00 a bottle. Happily, we were able to secure just enough bottles of the 2005 Re to send to our Collector Series members. In the future, we hope to offer our members more of Michele Barbiero's outstanding organic wines.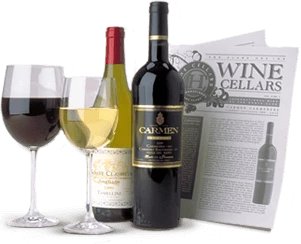 Enjoy Limited Production Estate
Bottled Wines
Discover limited production estate bottled wines such as Vergenoegd's internationally
acclaimed 2005 Cabernet Sauvignon, imported exclusively for our members.
DISCOVER OUR FOUR CLUBS